One of the most popular AskReddit threads from the last year is dedicated to the question: "What will be the 'turns out cigarettes are bad for you' of our generation?". It has received more than 40,000 comments and many times more votes. The question is a window of sorts into the anxieties and suspicions of a generation just coming of age. But it's impossible to understand at scale by simply browsing the forum.
So we used Quid to look at these comments at scale.
We uploaded all of the responses into Quid and were able to classify the responses into multiple themes. Below you can see that the top categories are Food, Drugs, Technology, Environment, and Politics.
Within these categories, we can go deeper to find more specific answers. It's also interesting to note that GMOs and microwaves, two health topics that are constantly debated are towards the bottom of the list. The image below shows a breakdown of all clusters, ranked and sorted by theme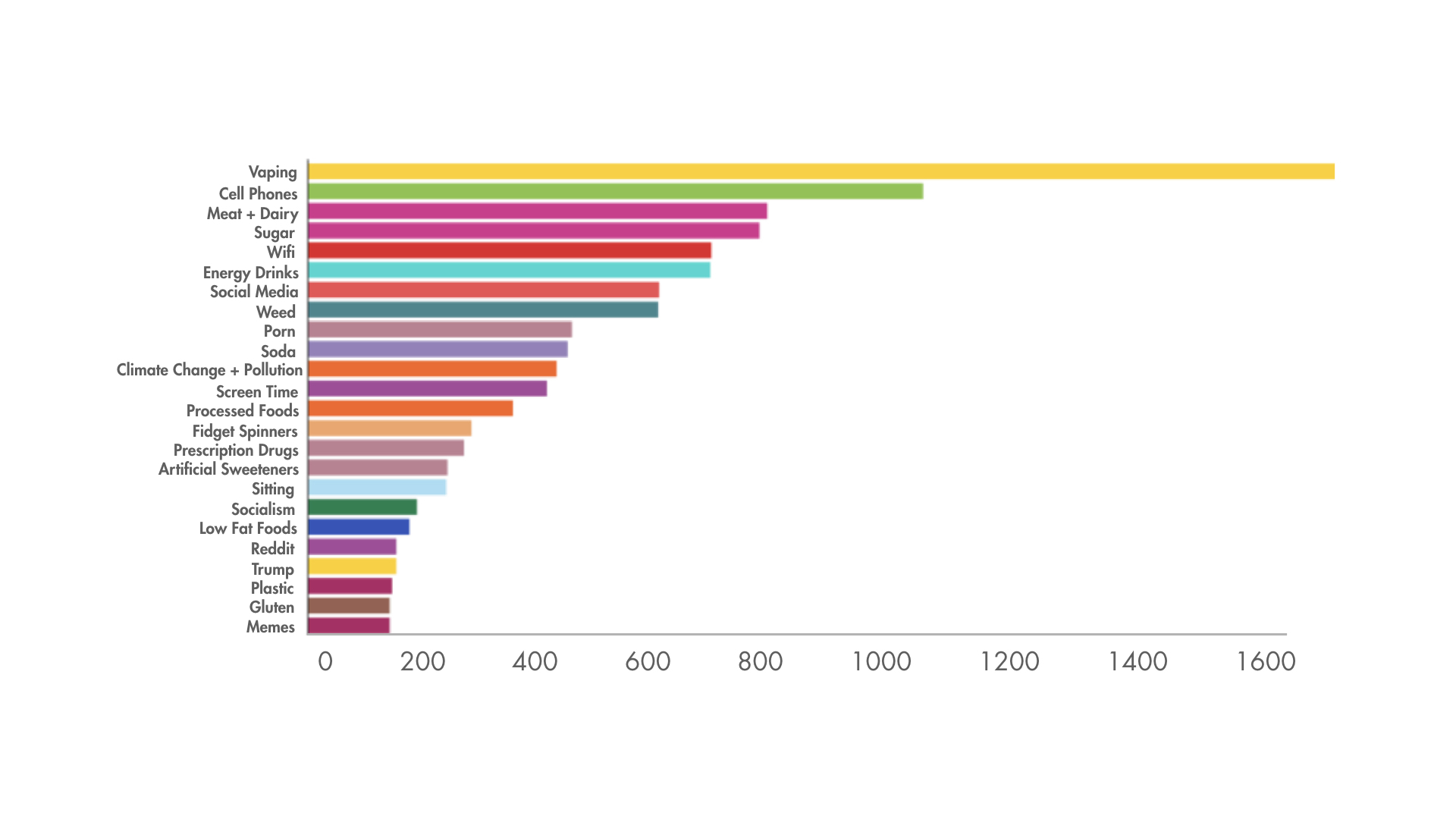 The overall top responses by volume are: Vaping (19%), Cell Phones (7.5%), Meat and Dairy (5.6%), Sugar, (5.5%) and Wifi (4.9%).
We can also utilize Quid's scatterplot to understand which responses received the most points (difference between the number of upvotes and downvotes) from the Reddit community. "Vaping" was by far the leader in number of points, but the question itself did mention smoking, so that could be the reason that vaping and e-cigarettes were top of mind for respondents.

After vaping, the "Headphones" cluster received the most points followed by the "Sitting" cluster. The most popular comment in that cluster around hearing loss received 43.4k votes.
Only time will tell if one (or more) of these issues becomes the next malady and coverup brought on by corporations and society.  Final outcomes aside, it's an important look into which industries are breeding suspicion and mistrust - a key challenge that should be addressed by the companies in those industries.
Intelligence in your inbox
Sign up for a monthly look into how data and visualization are changing the way we view the world.