Politics
What the French election means for business
The world seems fascinated — but a bit uneasy — about the prospect of Marine Le Pen winning the French presidency.
The 48-year-old far-right politician, once head of the pro-France, anti-EU National Front party, is often compared to Donald Trump, who supports her. She recently published a 144-point manifesto outlining her plans if elected, including curbing immigration and voting to abandon the European Union, aka a "Frexit." She could have a dramatic influence on the economy, as she's floated plans to drop the euro, boost taxes on imports, and force retailers to carry a certain percentage of French goods on their shelves.
At this point, the election is still a close call. In a runoff this weekend, Le Pen faces 39-year-old centrist and former investment banker Emmanuel Macron, who has never been elected to a political office and has been accused of elitism. He's ahead in the polls but struggling to unite disparate factions, even though all four final candidates have endorsed him.

We used Quid to analyze all global news and blogs surrounding the election from the past four months and found that Le Pen dominates coverage. No surprise, since she's known for her media stunts and is something of a made-for-TV candidate a la Trump.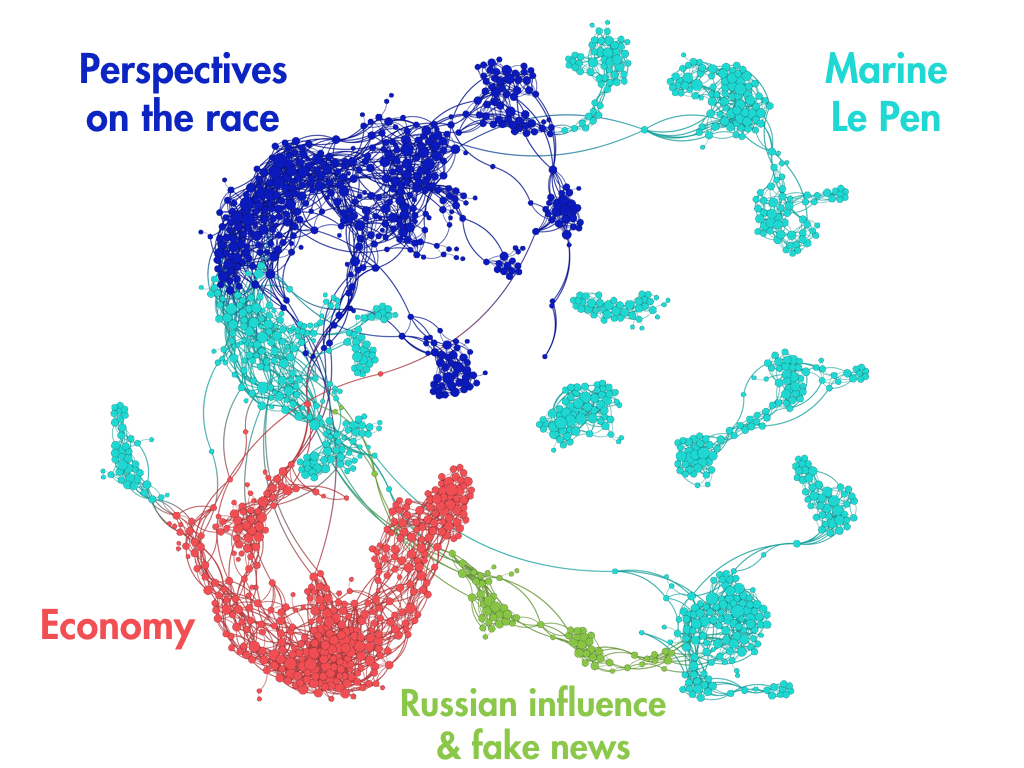 Le Pen dominates coverage
A Quid network shows 1,699 news stories about the French election between Jan. 1, 2017-April 19, 2017, colored by broad themes.
Taking a closer look, it is Le Pen's hardline stance against globalization and a promise to leave the EU that weaves a connective thread through the network. "The divide is not between the left and right any more," she told a campaign rally in February, "but between patriots and globalists."
Two clusters labeled Globalization and Le Pen promises form a bridge between the two main hemispheres of the network.
The divide is not between the left and right any more, but between patriots and globalists.
The meat of her anti-globalization argument: France should practice "economic patriotism" and "intelligent protectionism," she told a French TV station in January. This would touch many industries. For French auto manufacturers like Renault and PSA Peugeot Citroen, this could mean Trump-like tariffs for manufacturing cars in countries besides France. Employers who hire foreigners could pay an extra tax worth 10 percent of a worker's salary.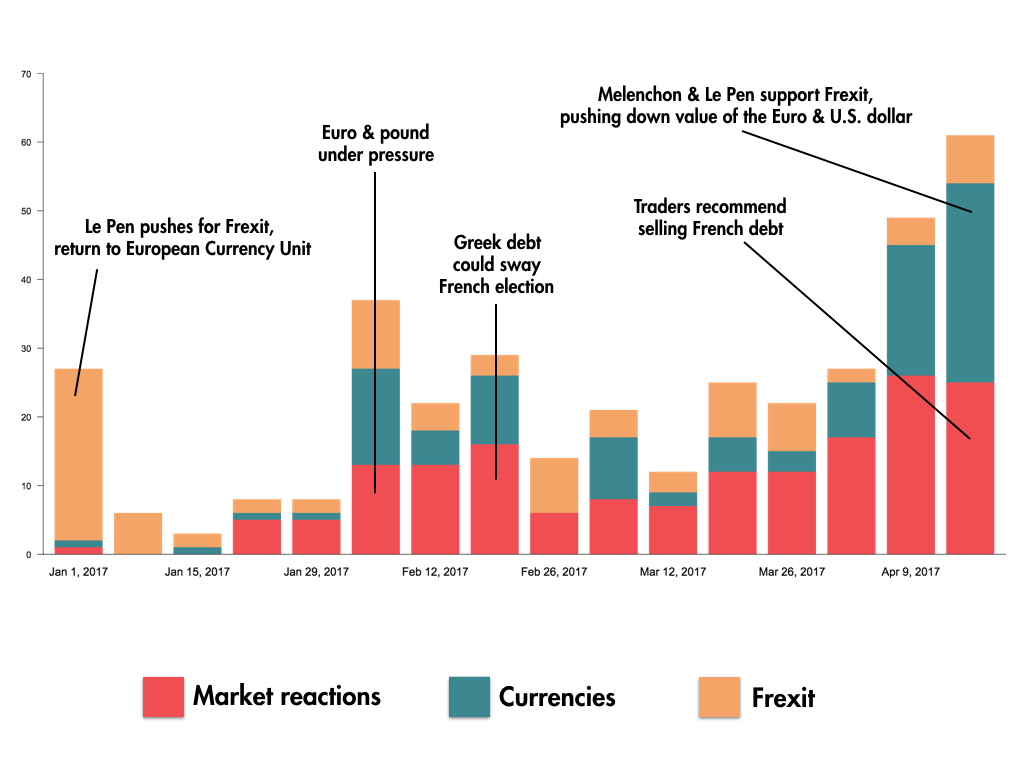 Impact on stocks
Since January, there's been growing speculation about what the election will mean for stock markets and currency. Le Pen, for example, would trade the euro for the European Currency Unit and the franc; and when Le Pen speaks, stock markets react. Market volatility has more than doubled in the past two weeks.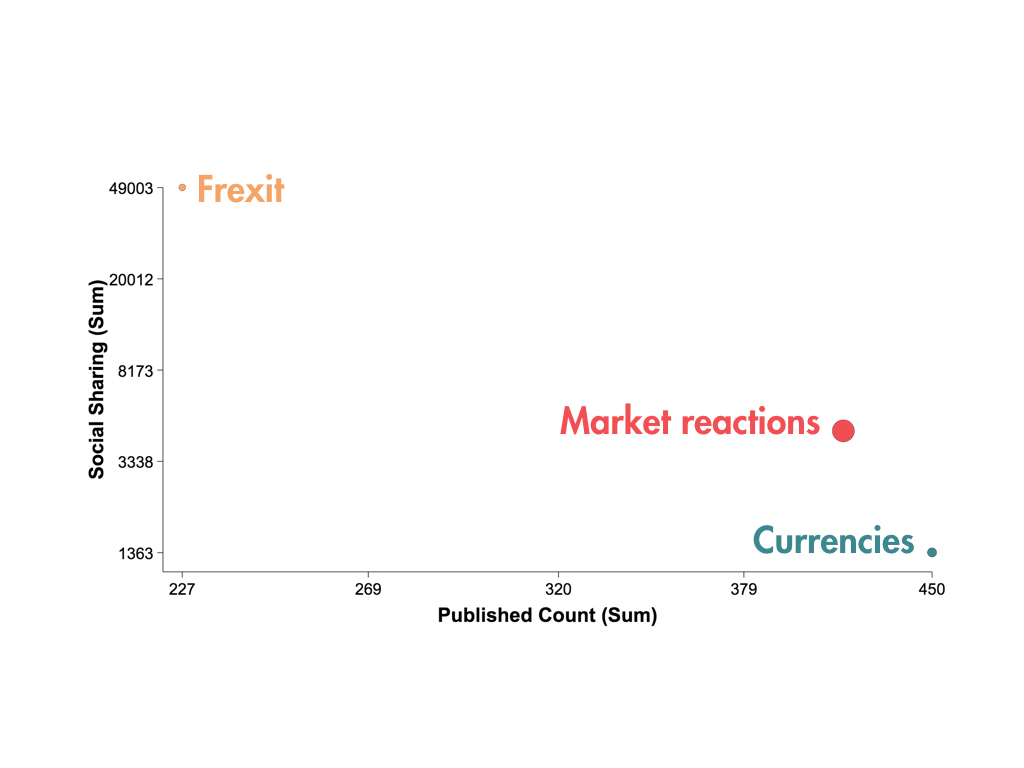 In a scatterplot view, we can see that the public is most intrigued by Le Pen's calls to leave the EU; the media, however, is covering market and currency implications.
Implications for Europe
If Le Pen wins, an EU referendum — along with several points in her National Front manifesto — could have ripple effects on currencies, bond markets, U.S. stocks and European stocks. News stories in Quid show that there could be significant devaluation of the euro, an across-the-board drop of 15% in European stocks, and problems in the French economy. A default on France's sovereign debt, for example, could create a financial crisis larger than the global meltdown in 2008.
Meanwhile, Germany seems to be on the edge of its seat and unequivocally in favor of a Macron victory, since Germany needs France to help keep the EU together. Macron has close ties to the German establishment and is expected to work on economic reforms like sharing the burden of bailing out Greece with Germany's full cooperation. If France is out, pundits predict a "tsunami" of economic volatility that would leave fewer countries to share the load of Greece's colossal mess.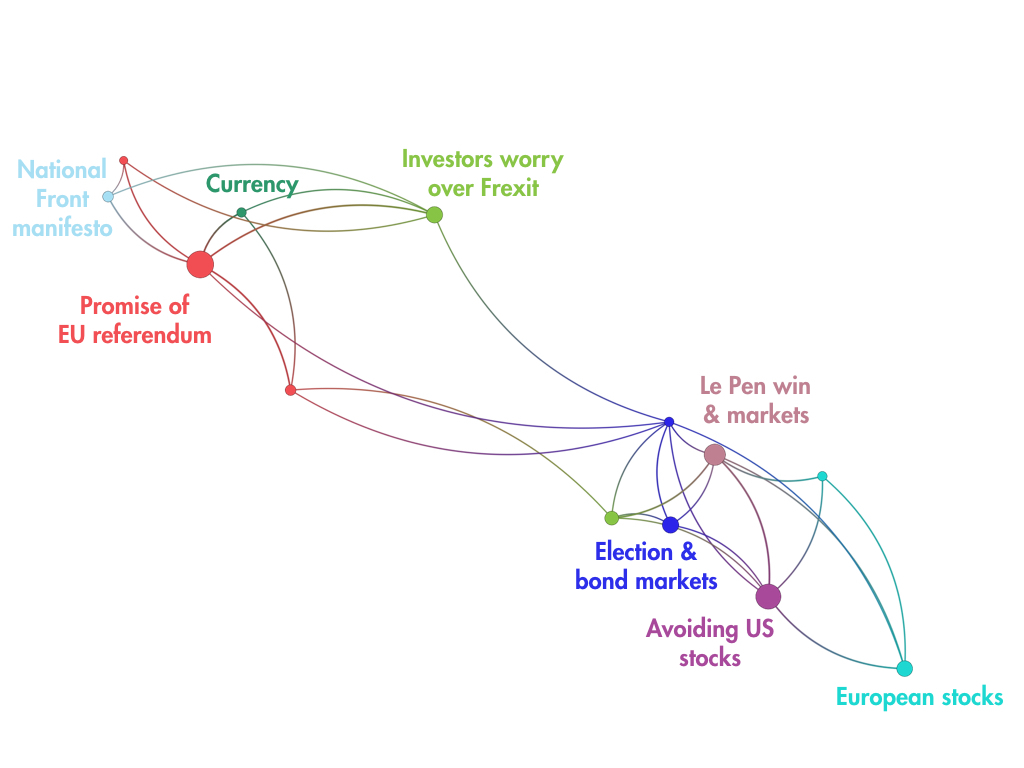 A Quid network shows nodes representing 497 news stories from Jan. 1-April 19, 2017, about Le Pen's impact on the economy.
In the network above, the nearly 500 stories about Le Pen and the economy divide roughly into two halves: big-picture cultural concerns in the upper left and tactical, market-related stories in the lower right. Though all the clusters are economic in nature, the notion of splitting from the European Union and dropping the euro are emotional touchpoints for French citizens, whereas the market-related stories land in the realm of the practical.
A Macron win would seem to be a stabilizing move for global markets. As Minister of Economy and Finance, he was generally pro-business. And yet, though he is firmly pro-European Union, he has acknowledged that the Euro as a currency may be gone in 10 years (see bar chart below). In campaign speeches, he's also been confronted with the fact that working-class families are angry about the current economic climate, something he would face head-on if elected.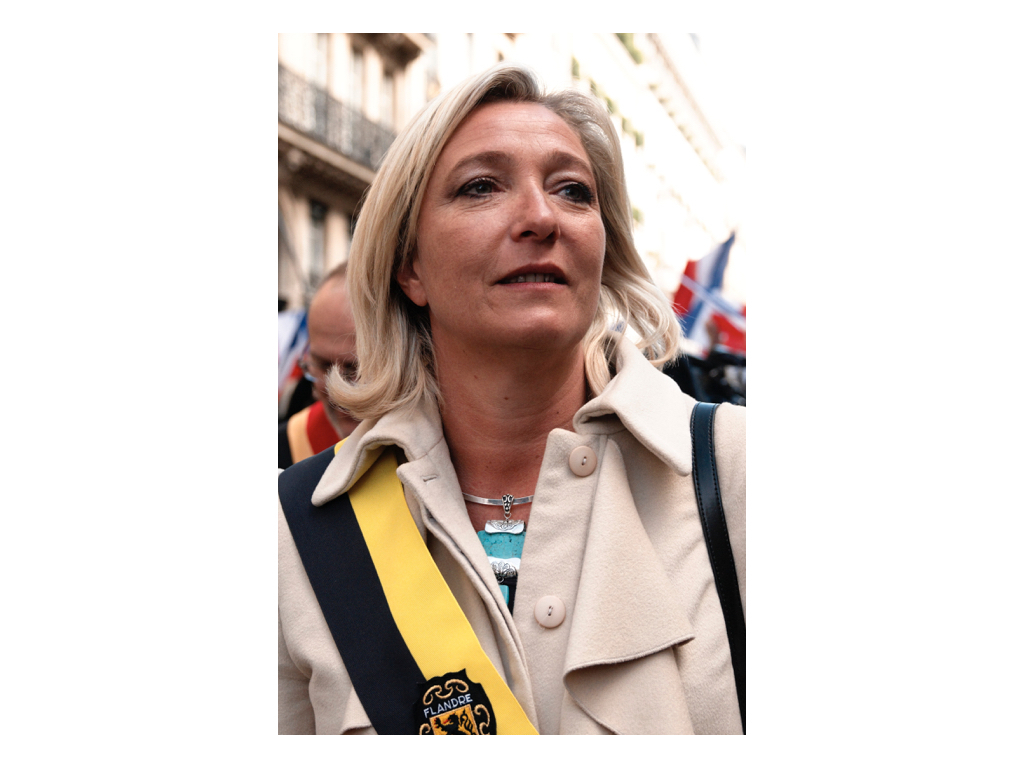 Larger than life
If the business angles on the race aren't intriguing enough, the contest also involves two larger-than-life personalities. Le Pen is in the middle of a family feud, mostly involving her 86-year-old father, who ran the National Front party until 2011. Two years ago, he told a crowd in Paris that his daughter wanted him dead; a week prior, she said in a statement that her dad was headed toward "political suicide" and should retire.  
(*Le Pen photo by Marie-Lan Nguyen)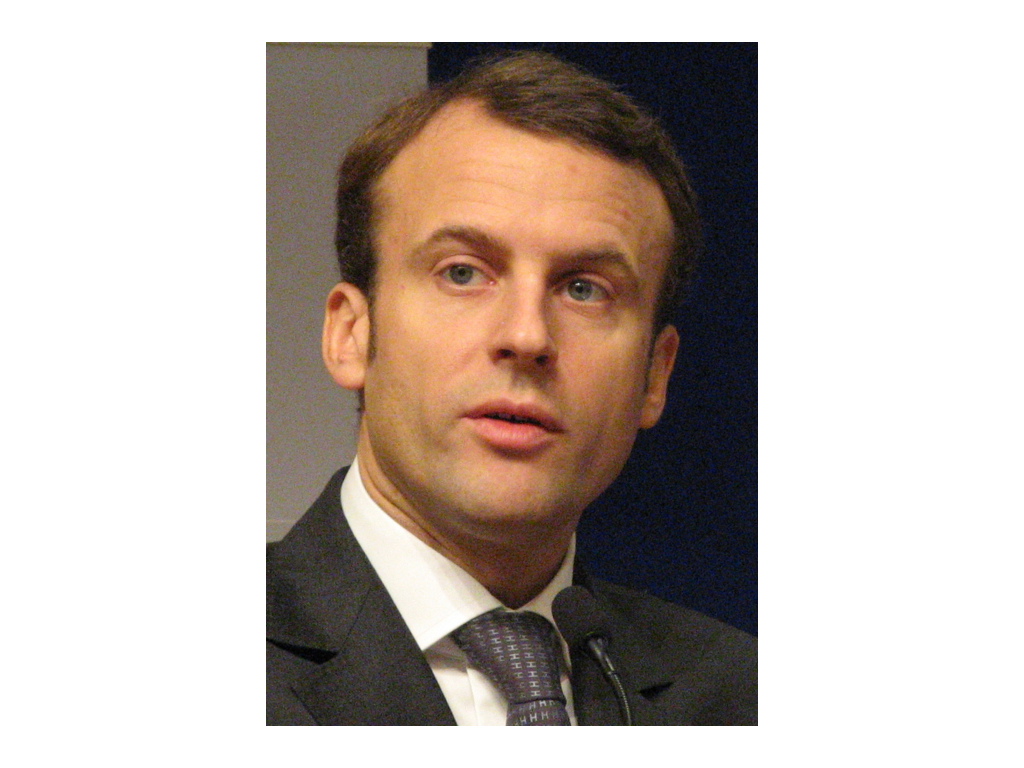 And Macron is no cookie-cutter candidate. At 16, he began an affair with his then-married theater teacher, who was 39. The two officially became a couple when he was 17 and are now married. After he stepped into the national limelight, all of France — indeed, the world — is peering in to gossip about their relationship.
Plenty of observers see Trump's election, Brexit, a 2016 Italian referendum, and Le Pen's rise in France as a populist domino effect spreading across the U.S. and Europe. Will another domino fall on May 7? Whoever wins, Le Pen seems to be riding a new wave of nationalistic fervor — something neither candidate can afford to ignore.
Intelligence in your inbox
Sign up for a monthly look into how data and visualization are changing the way we view the world.