Health
Using Quid Apps to track the conversation around drug pricing
The pharmaceutical industry doesn't like to talk about drug pricing, but they certainly need to know what other people are saying about it. With so much content out there across news outlets, blogs, and social media, what's the most efficient way to get up to speed? Using Quid's first three apps—Competitor Briefing, Key Opinion Leaders, and Content Strategy—can provide a quick, but comprehensive picture of primary topics being discussed, issues tied to specific competitors, influential voices in the space, and the social traction and buzz around established and emerging themes in coverage. With these tools, industry players can quickly understand everything they need to know to craft their communications strategy. 
Competitor Briefing
Competitor Briefing helps users understand how companies and their competitors are being covered in the media. 
Seen below, Pfizer has been front and center in the drug pricing conversation, and its share of voice is only rising. This year, the company saw a 26% increase in coverage compared to the previous 12-month period. For pharmaceutical companies not named Pfizer, this is a chance to drill down into what the company is doing to try and replicate the positive aspects of their coverage, while avoiding any negative narratives. In this case, some of the most negative coverage around Pfizer came from a lawsuit that said the company and other drug makers had kept the prices of generic drugs artificially high.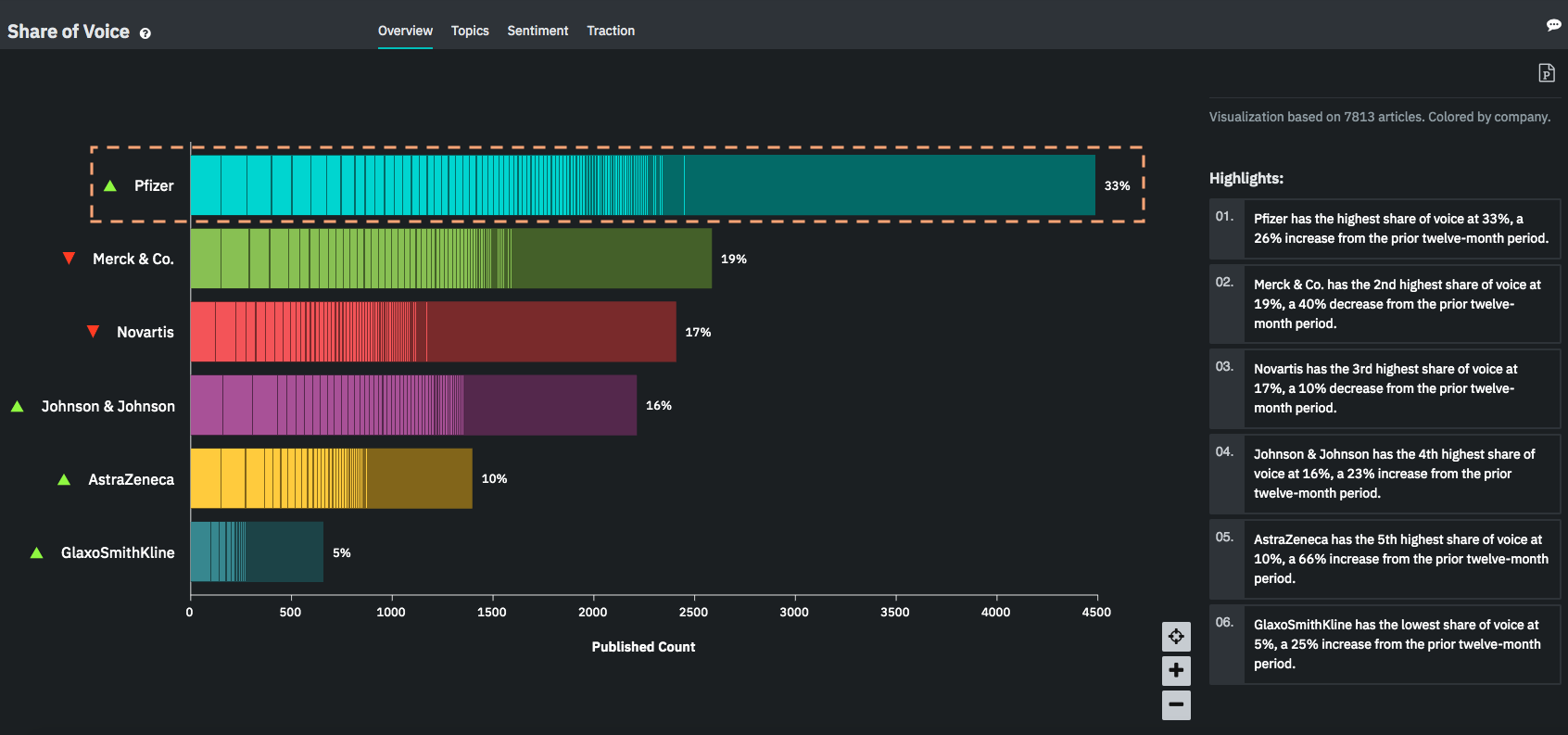 Pfizer captured 33% of the total share of voice in discussions on drug pricing, a 26% increase from the previous year
By shifting to the timeline view for the entire competitor sets, users can quickly see which issues drove high coverage rates across the given time period. Below, it's clear that no event was more impactful than the drug company executives' testimony to the Senate Finance Committee, illustrating the need to control the narrative around such events.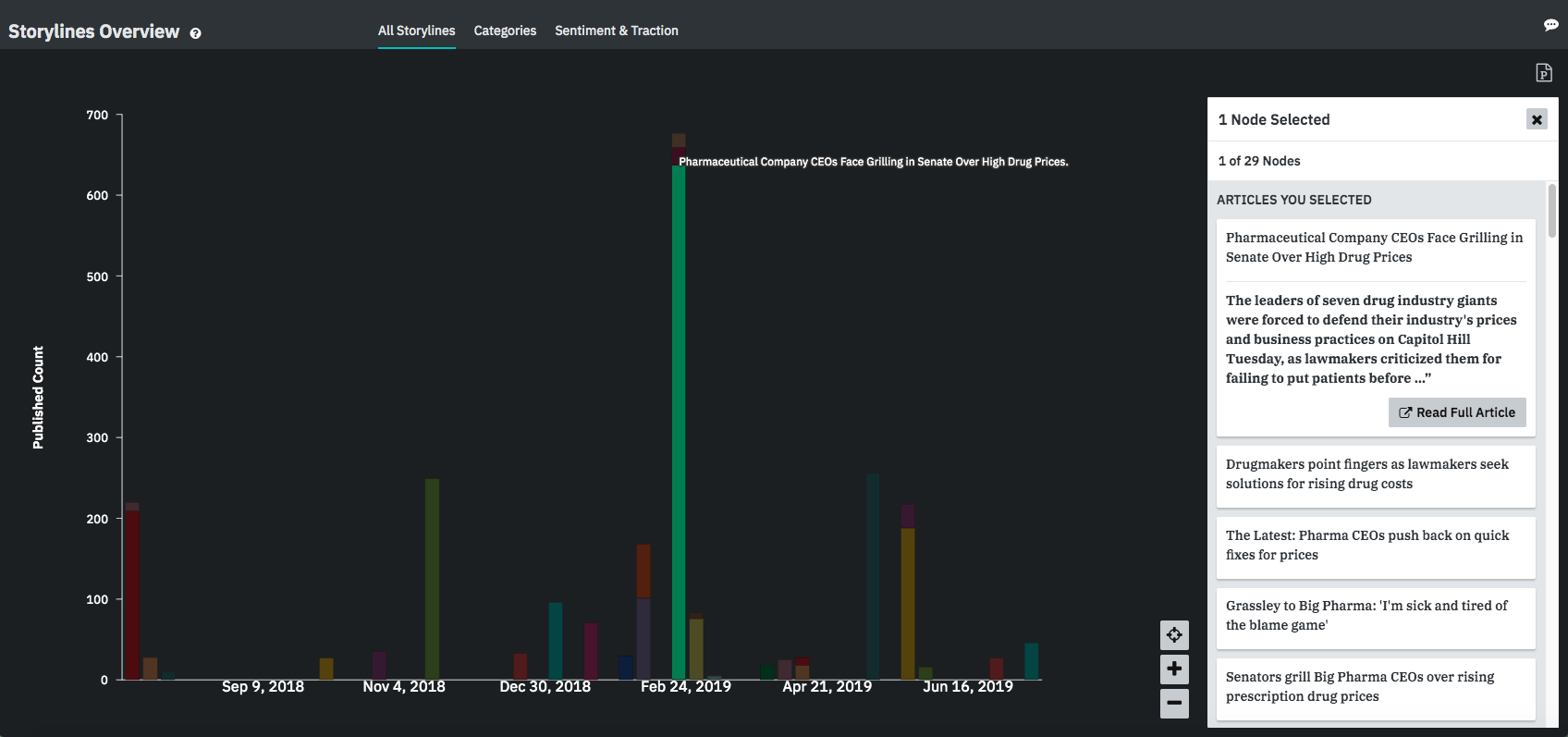 The appearance by pharma CEOs in the Senate drove the most coverage last year on the issue of drug prices
Pharmaceutical companies will also want to look into the negative coverage surrounding other competitors. Johnson & Johnson, who also saw a jump in coverage from the previous year, led the field with the highest percentage of negative coverage. As with others in this analysis, testimony by the company's CEO to a Senate committee about high drug prices led negative coverage, while the company also settled a lawsuit with the state of Minnesota for its hip replacement devices. While events like Congressional testimonies often can't be avoided, knowing the reputational impact they carry can help communications teams plan mitigation efforts.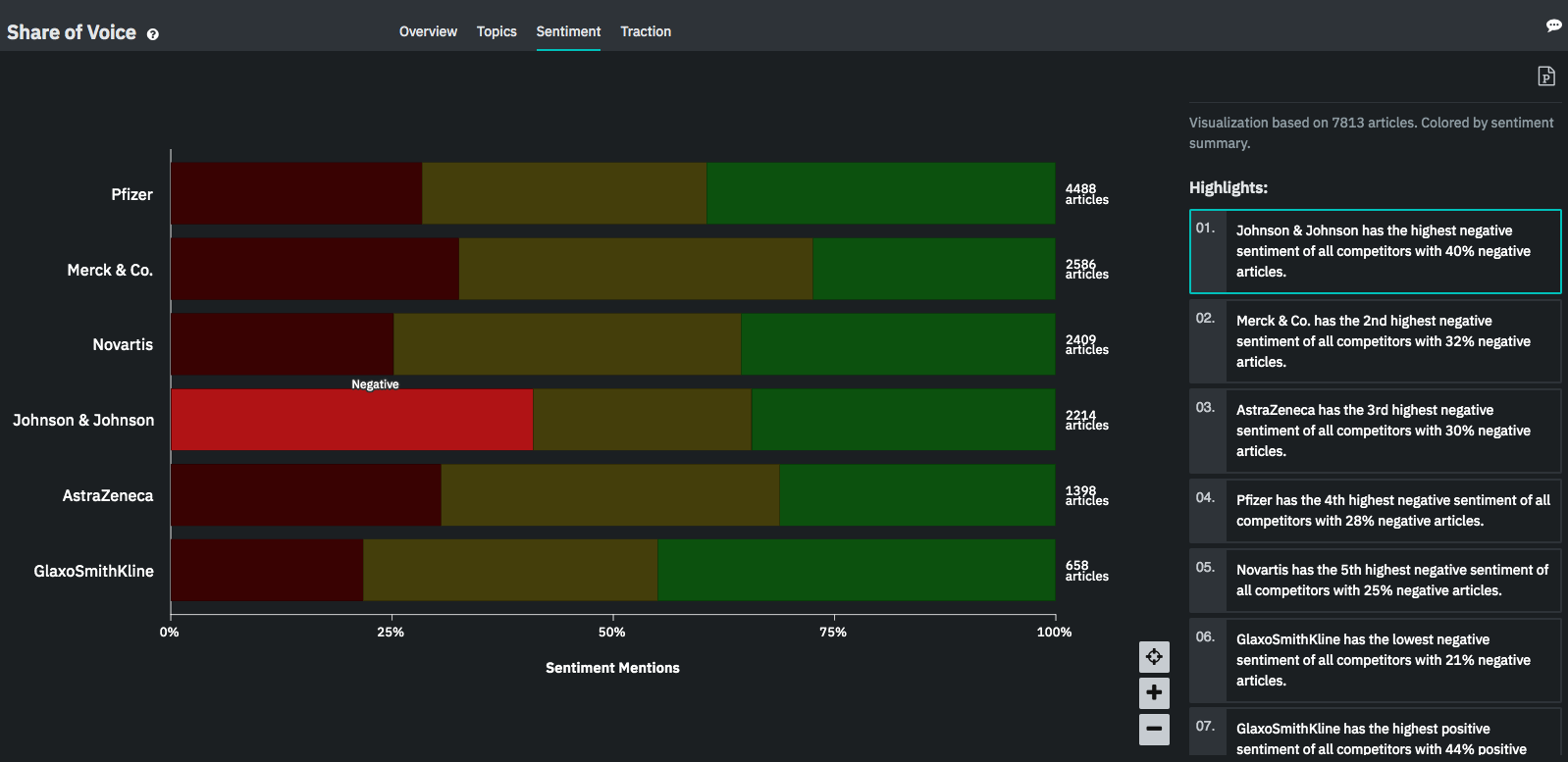 Johnson & Johnson had higher rates of negative coverage than any other company, while GlaxoSmithKline had the highest rate of positive coverage
Within the social traction scatterplot, users can click on each company to reveal headlines and links to the narratives that pharmaceutical companies should prepare their social media teams for. Along with higher rates of negative coverage, Johnson & Johnson also saw higher visibility across social media as people were more interested in reading coverage of the company than its competitors. Even Pfizer, which received much more attention in the media, saw lower engagement rates online. So what news made Johnson & Johnson stand out from the rest? Earlier this year, the company announced plans to list drug prices in its TV ads.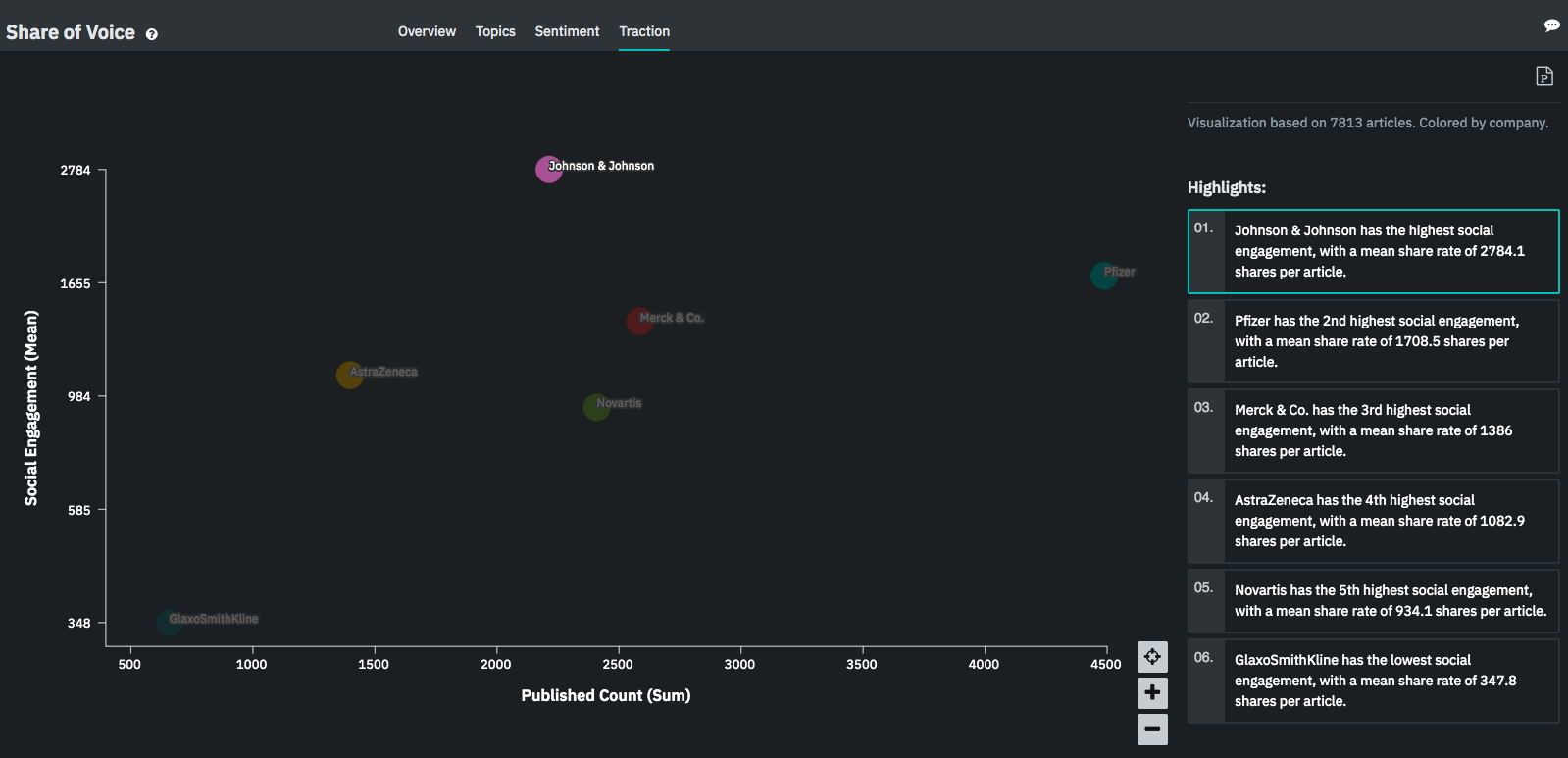 Johnson & Johnson had the highest rate of social engagement, despite the second lowest rate of media coverage among competitors
Key Opinion Leaders
Key Opinion Leaders surfaces the individuals, companies, and organizations driving the conversation around any topic. 

Shifting to Key Opinions Leaders app, pharmaceutical companies can quickly see which voices are most impactful in coverage of their industry. Seen below, President Donald Trump is highly prominent within the narrative, even though the platform would have given him a lower relevance score for not being directly connected to the pharmaceutical industry. This illustrates how executive involvement can commandeer issues far removed from their usual areas of focus. That the second most influential voice is the HHS secretary Alex Azar suggests the narrative is currently being owned by the executive branch of the federal government.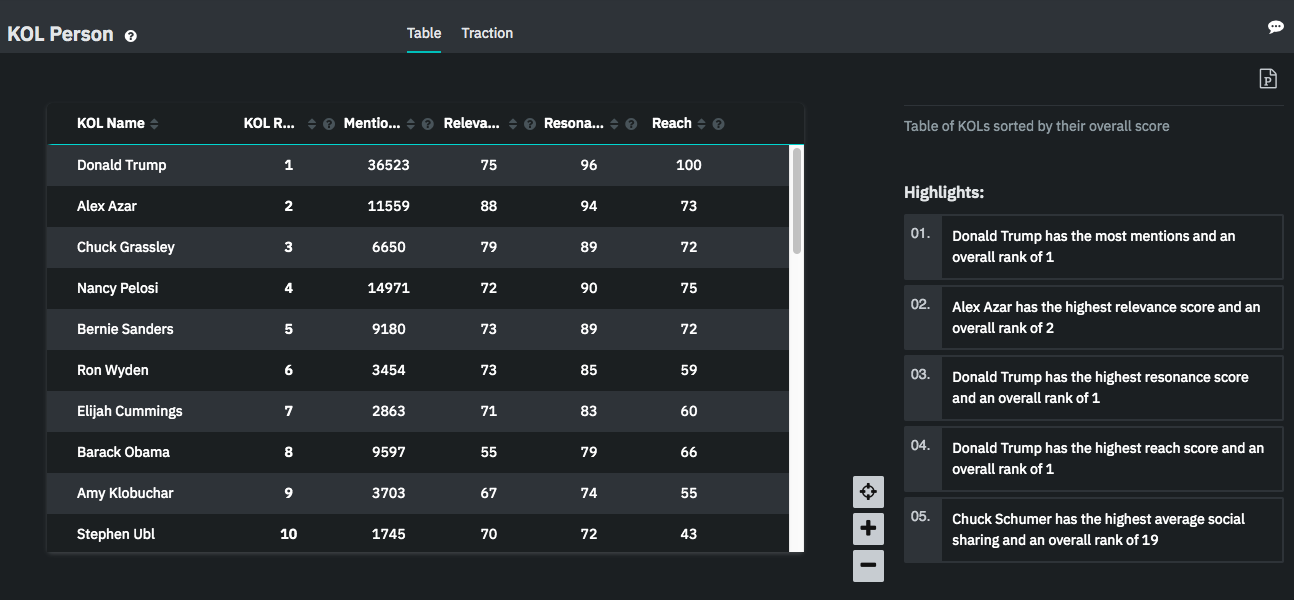 Key Opinion Leaders ranks top voices within the narrative around any topic based on their mentions in the news and a Quid-generated relevance, resonance, reach score
Users can get additional context by clicking on the names of influencers, including an automatically generated description of who they are, what companies and people are commonly mentioned alongside them in coverage, and headlines of representative articles. The fact that the conversation is dominated by politicians—PhRMA CEO Stephen Ubl is the only non-politician on the Top 10—indicates the industry's money is being well-spent on an association that can promote their messaging.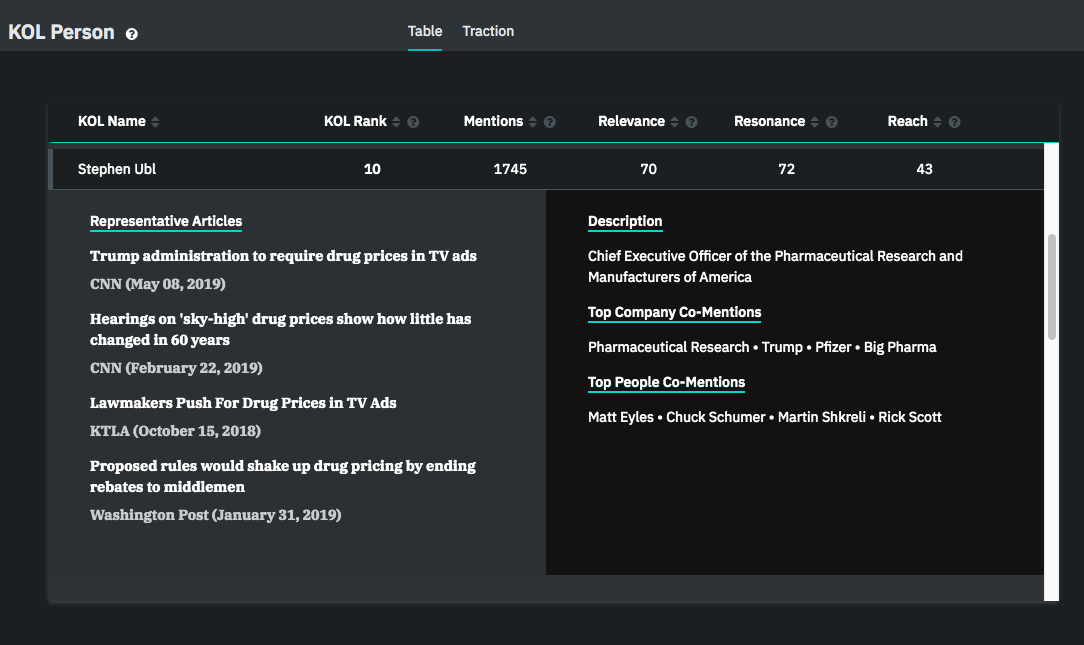 Clicking the names of any influencer pulls up valuable context for them, including who they are and how they're being covered
Content Strategy
Content Strategy helps users find resonant themes that can spearhead a PR or marketing strategy. 

Looking at the issue of drug pricing in the Content Strategy app reveals that much of the current conversation is political in nature, however, not every political action connects to the main narrative. For instance, a bipartisan bill to increase transparency in the drug pricing system (seen below as the "Bipartisan Carter Bill" on the right) has not yet been tied to President Trump's proposed executive order to cap US drug prices, and might not warrant as much attention as the bills that Senator Bernie Sanders and Representative Ro Khanna are introducing. News around the latter bills (see below in teal) are much larger and more connected to the central narrative.

Content Strategy also helps users see how these topics are resonating with the media and readers. Topics in the top right quadrant have broad interest across both groups, while those in the top left have less media interest but high engagement online, indicating potential future trends. From below, it appears that pharmaceutical companies should be most concerned about coverage around Gag Clauses, or the practice of prohibiting pharmacists from informing customers of the potential for lower drug costs for paying with cash, as articles on that topic have generated high reader interest and media coverage.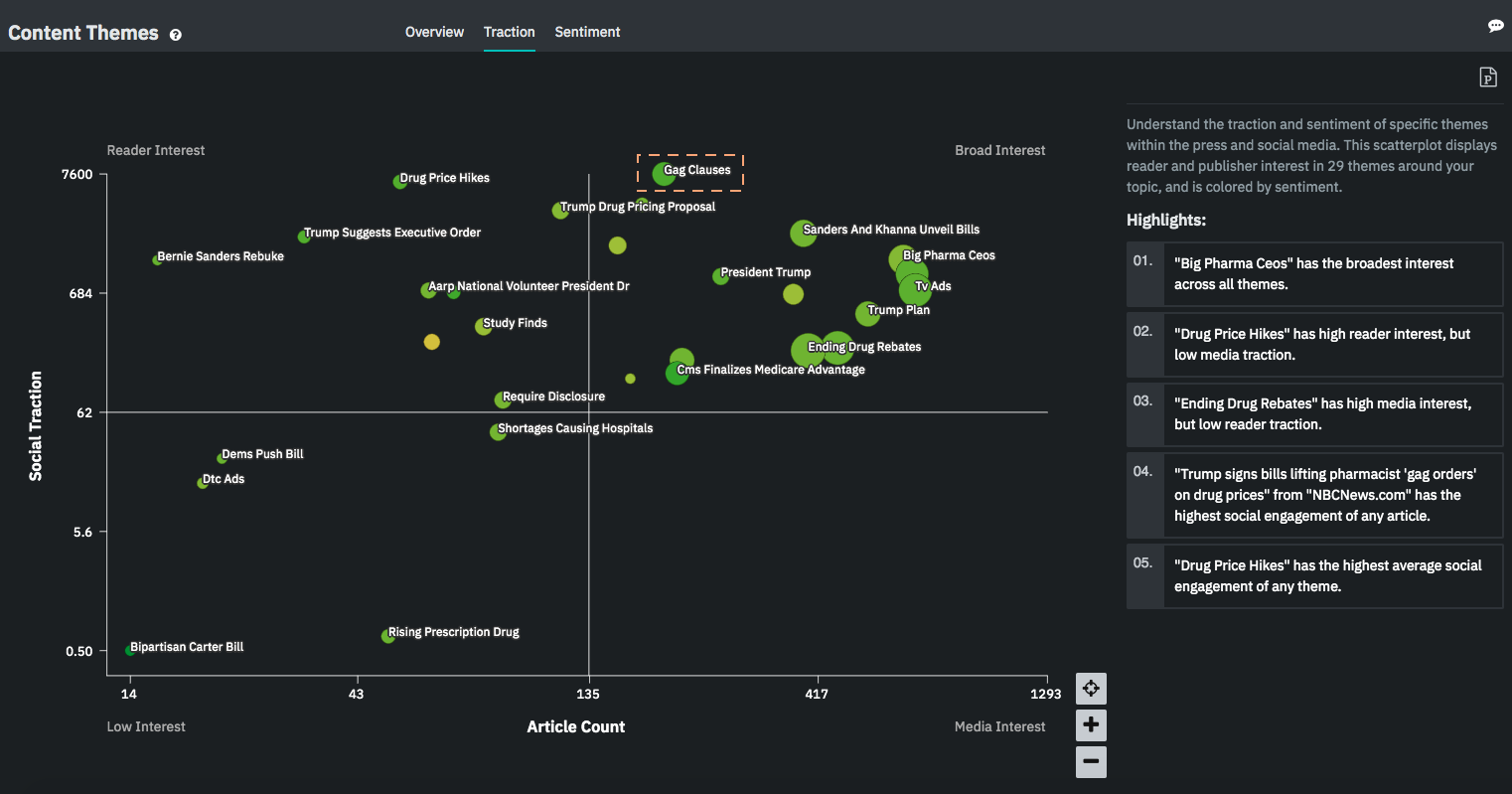 The traction scatterplot in Content Strategy is a helpful tool for understanding current and future coverage trends
Quid's suite of apps can help companies gain quick and actionable insight around their industry, from how their competitors are being covered to influential voices and prominent issues that pose opportunity or risk. 
Want to learn more about how Quid Apps can help you better understand an industry or topic? Check out our website or send us an email at hi@quid.com.
Intelligence in your inbox
Sign up for a monthly look into how data and visualization are changing the way we view the world.