Tech Trends
Understanding the first wave of Samsung Gear VR reviews
Virtual reality has arrived.
A new breed of VR headsets has hit the market, from Google Cardboard (which rolled out last year) and Oculus Rift (released in March) to Samsung Gear (released last November). Consumers are itching to get their hands on, and heads in, the new technology. It's always important for brands to understand what their consumers think and feel about a product, but the feedback is especially critical in the few months after it launches.
But what is the best way to do that? Focus groups are great but provide too small a sample size. Product reviews and survey results contain valuable information but are hard to understand at scale.
I used Quid, a data visualization technology, to read through all the Amazon reviews for the Samsung Gear VR headset. Looking only at reviews with substantial character count (sorry, "Cool" won't suffice), Quid visualized 630 reviews, identifying high-level trends and themes and the correlating star ratings.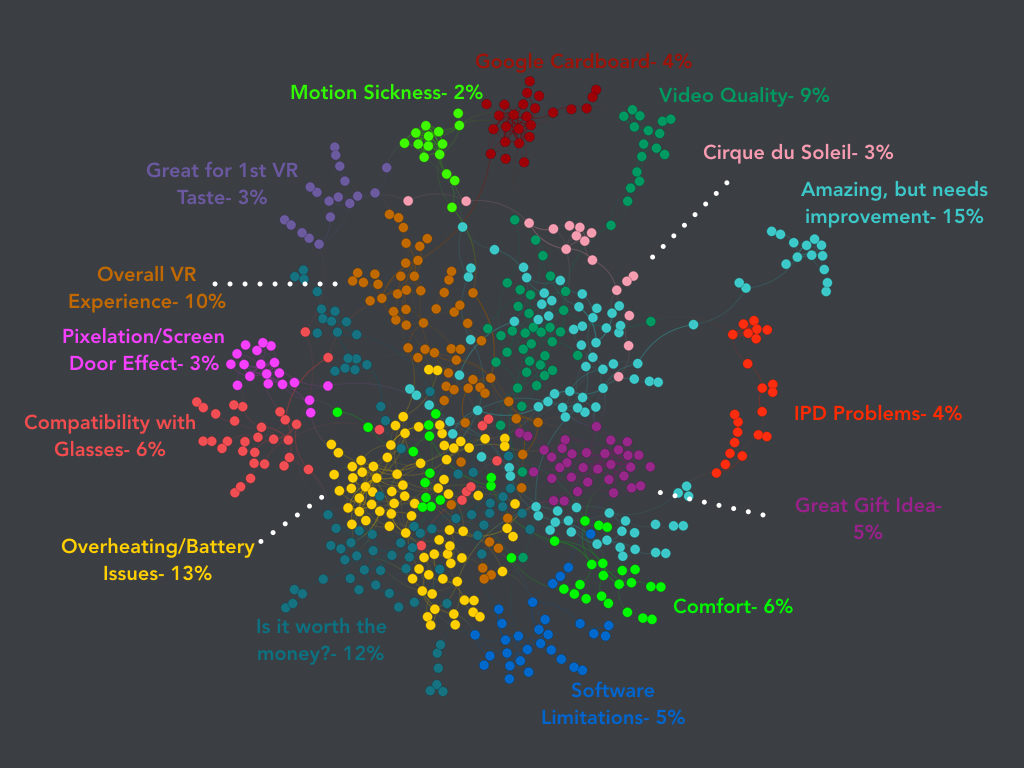 Fifteen key topics, or clusters, presented themselves. Here, percentages show how much of the network each topic makes up. The top cluster mentioned how amazing the Gear headset is, but also conceded it could use some work. Other interesting topics were around overheating and battery issues, whether the headset is actually worth the money, compatibility with glasses, getting motion sickness, and even virtually enjoying Cirque du Soleil shows.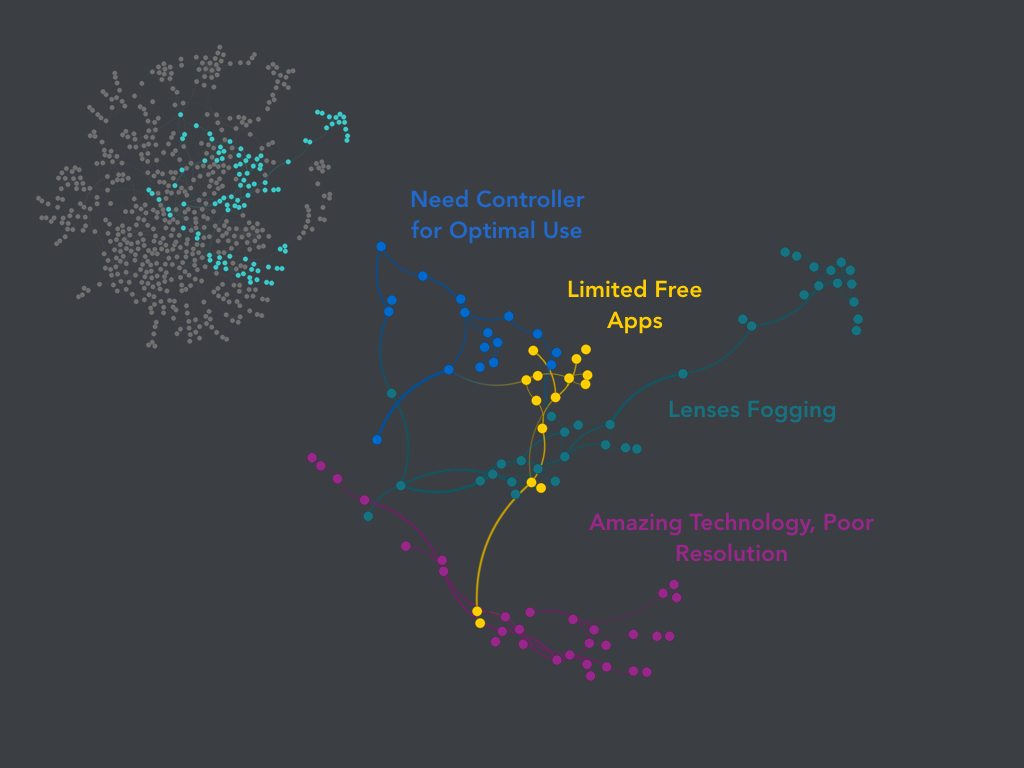 I decided to explore the top cluster —  around potential improvements to the Gear — in more depth, and found four key subtopics: limited free apps, lenses fogging, poor resolution, and needing a controller for a better experience (the controller isn't included in a headset purchase). For example, one user said the Gear was overall a "great product" and "solid," after trying it on a couple different phones. The only concern was: "lens will fog up and phone will occasionally overheat after constant use but this is not the product overheating, it's my personal phone." Another reviewer wrote: "The resolution just isn't there yet…" and the "games available are rudimentary as far as detail and graphical fidelity," but "putting this thing on was a revelation. Even with the resolution and power limitations, I was blown away by the experience and by the possibilities."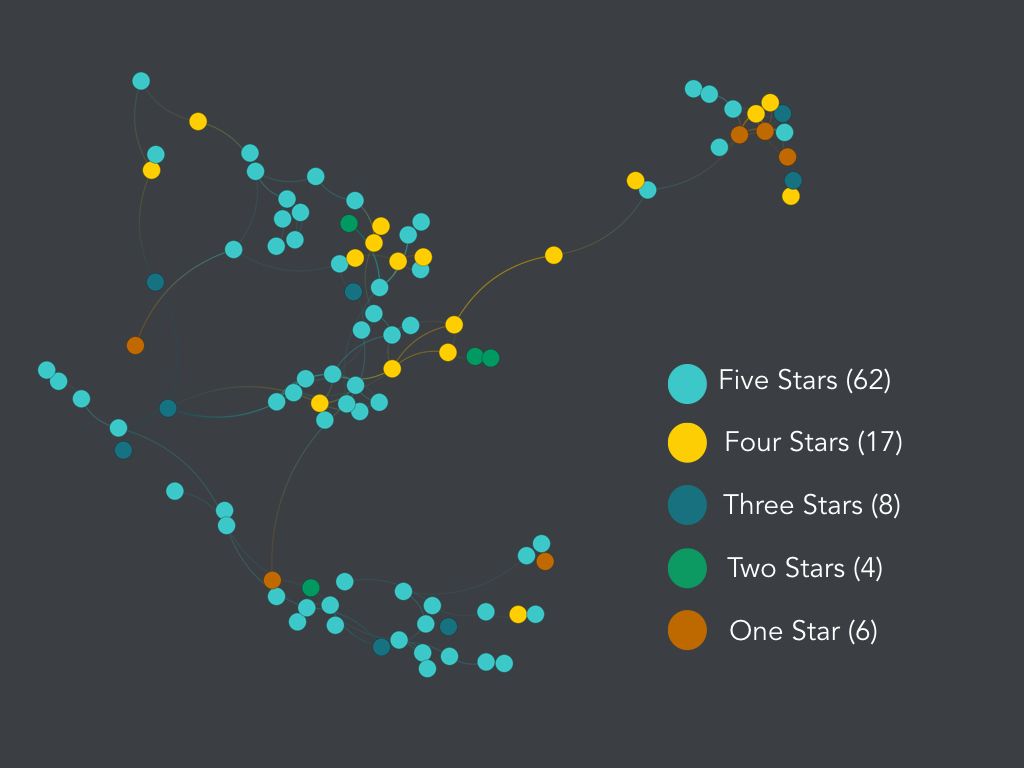 Within this same sub-cluster on potential improvements, rather than coloring by subtopic, I instead colored by Amazon star rating. I found it interesting how many 5-star reviews there were. This seems to indicate that even though consumers believe the product could be improved, they still loved using it.
To explore this further, I took a bit deeper dive, looking at the total number of star ratings by original topic.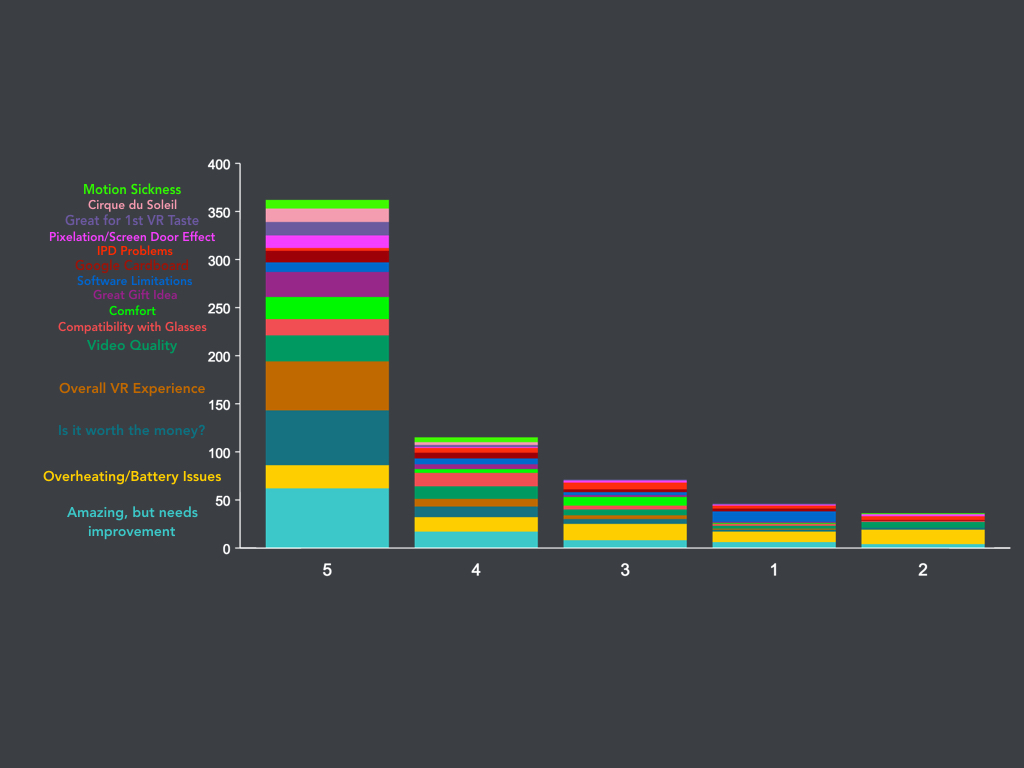 Tallying all the reviews, nearly 60 percent were 5 stars. Things like pixelating screens and getting motion sickness still weren't enough to keep people from truly enjoying the Gear. "Completely awesome, but not for the weak of stomach," one reviewer said. "A great and relatively cheap intro to the upcoming VR revolution."
 
The overwhelming consensus from the first batch of reviews? Despite the Gear's limitations, Samsung seems to have developed an appealing piece of hardware to give the public a first taste of virtual reality. Still, it will be interesting to see if Samsung addresses the early critiques — and interesting to see how the product reviews change over time. In another 6 months, we'll use Quid again to watch the Gear's evolution.
Intelligence in your inbox
Sign up for a monthly look into how data and visualization are changing the way we view the world.