A few weeks ago, a beauty company came to Quid wanting to understand the recent evolution of scent in hair care products to learn how to adapt in the changing market, something that Quid is perfect for answering.
We did a search in Quid's news and blogs dataset around hair care and hair products and confined the search to within the last year.
Below is the network Quid produced. Each dot or node represents a body of text, in this case a news article or blog post. Links between nodes represent semantic similarity between the stories. The stronger the similarity, the closer they get pulled in together.
The colored clusters represent unique themes. When we examined each cluster, we found deeper underlying themes that comprised the network.
Hairstyles and tips: Curly hair & hair care tips, haircare and hairstyle tips, and blonde hair & color care

Keeping healthy hair: hair nourishment, hair loss & growth, seasonal care, alternative natural hair cleaners

Product and corporate: beauty product review, dry shampoo, celebrity shampoo

Regulations & disputes: court disputes, safety issues & lawsuits
We noticed there wasn't a single cluster specifically around hair scent that stood out in the general narrative. However, many clusters contain articles that mention scent. The image below shows the top clusters mentioning scent.
Hair scent was the most mentioned within the "Dry Shampoo", "Hair Nourishment", "Beauty Product", "Blonde Hair & Color Care" narratives. Dry shampoo is a spray or powdered shampoo that soaks up oil and cleans hair without the need to rinse. Creating scents with dry shampoo that match current offerings is a significant driver for consumers. We also found that the 'Hair Nourishment' cluster includes several articles reassuring consumers that certain organic hair products have good smelling fragrances.
Even though the volume of stories is smaller, hair scent is mentioned more frequently in the "Intellectual Property" and "Baby Products" clusters. The "IP" cluster is closely connected to applications and development of new fragrances while the "Baby Products" cluster is focused on non-harmful dyes and fragrances or eliminating them entirely.
In order to find a stronger narrative around scent and hair care, we made a new network that includes search terms such as "hair care', "shampoo", "hair conditioner", "hair spray" with "scent, smell, fragrance". Below is the output.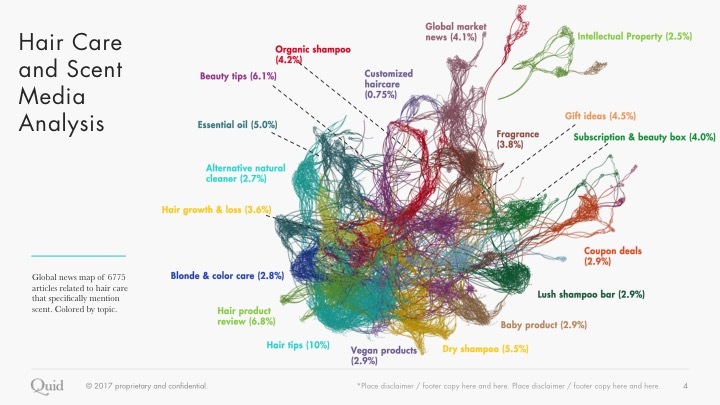 Clusters such as "Vegan Products" and "Lush Shampoo Bar" appeared as big clusters, which was not significant in the previous network. We wanted to highlight a few articles in these clusters. The first was around baking soda hacks, which shows that people are very interested in alternative treatments to consumer hair products. Some companies are even selling different scented and colored versions. Head and Shoulders is introducing new formulas and scents that leads us to believe the company is focused on the adapting to the newer scent trends. They list some of the scents contain floral notes of lily, rose petals and fragrant fruits. There are also mentions in the network about customizable and personalized hair care for millennials, which explains that consumers are interested in building personalized products based off of hair textures and scents.
We also took a look at the articles and themes around hair scent with highest social engagement. We found that articles about beauty/hair tips, alternative natural hair cleaner, customized hair care, and dandruff received the highest social engagement over time. You can see in the image below a few of the articles we found interesting and where they fall on the axes.
We then looked at top influencers, see below. The software identified which  hairstylists, dermatologists, or bloggers were most influential around hair scent.  In this view, we found that the mention of purple shampoo for blonde hair had the highest social sharing count. While Dana Tepper, a blogger whose article received 890 shares on social media, featured her no-poo experience. An article around an African-American Dermatologist solving a dry scalp problem happened to be the most published article but had a below average social share count. A few of the highest socially shared pieces were about testing a no shampoo lifestyle and different hair type specific products, not exactly related to scent.
In Quid, each network and view reveals a unique story. By looking first at hair care more generally, and then refining our search, we found that companies are focused on adapting towards healthier market by implementing vegan options and organic scents. We also found that consumers are interested in shampoo alternatives and personalized hair products.
Whether you're an analyst aiming to understand the evolution of certain industries, a technology company looking to track a competitor's moves, or a consultant looking to size up an industry, doing a deep dive in Quid can help you understand a market like never before. To see the full analysis or a demo of Quid, please email us at Hi@quid.com.
Intelligence in your inbox
Sign up for a monthly look into how data and visualization are changing the way we view the world.