Tech trends
The executive briefing on digital customer loyalty, part 2
Carlos Folgar
09.26.2017
In our first installment of digital customer loyalty, we learned how prevalent mobile is in establishing a strong digital customer loyalty program and looked into the latest developments from leading food & beverage and hospitality companies.
The analysis stemmed from the Quid network below of over 2700 news articles from 2017 on digital loyalty programs.
For this segment, we took a closer look at the technology-influenced consumer behavior trends -- click and mortar shopping, mobile wallet payments, and loyalty apps.
Loyalty apps is the key connector between mobile wallet payments and click and mortar shopping. We then wanted to dive deeper into the clusters and discover more granular concepts connecting the topics. In Quid we can isolate these clusters of our network map to target those regions of connectivity.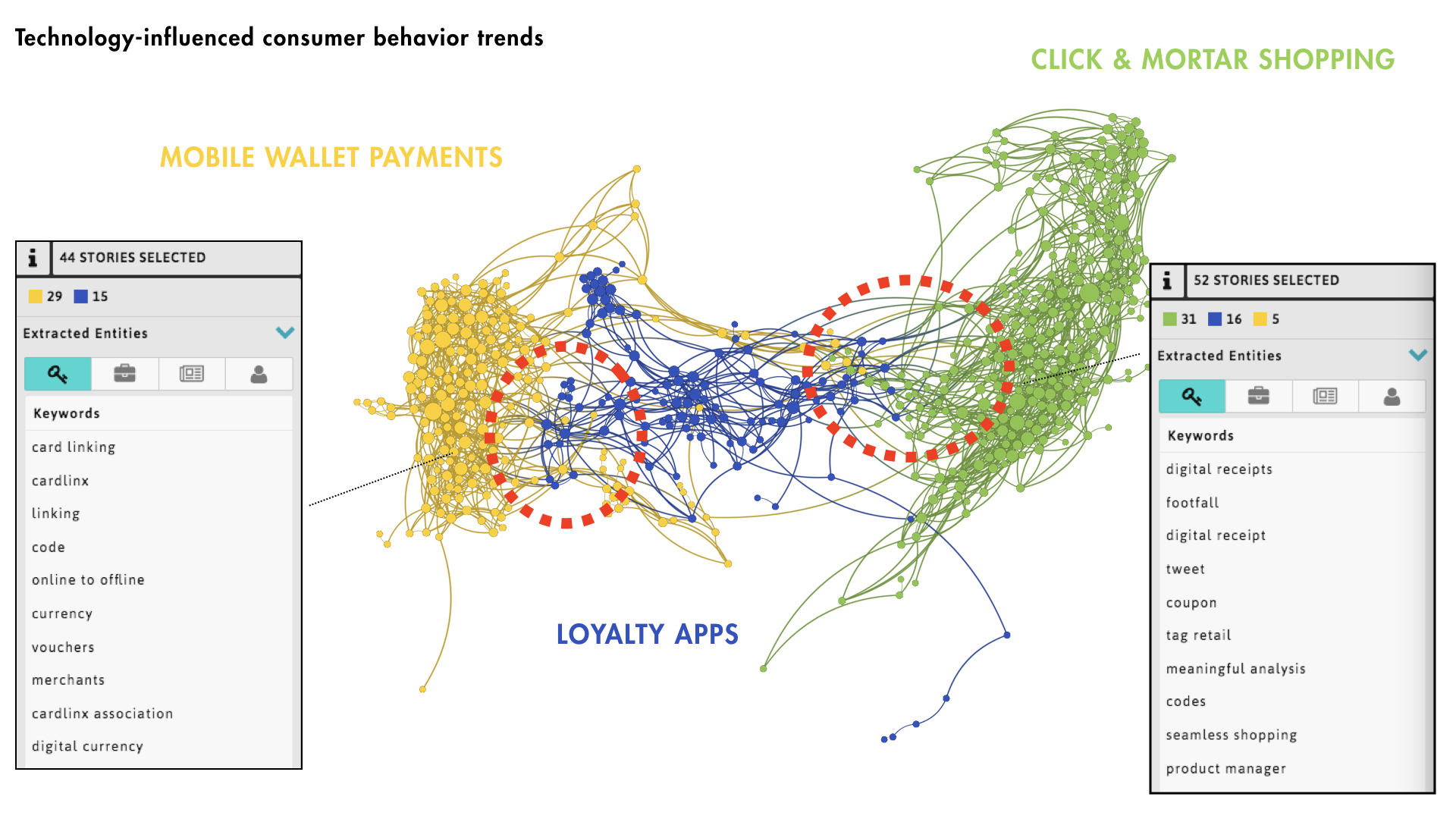 Mobile wallet payments <> Loyalty apps
In the image above, Quid's key word extraction modules show us the key concepts connecting mobile wallet payments and loyalty apps:
Card linking: a way for consumers to save money on purchases by "linking" their credit card to a merchant's digital ad or loyalty program. The practice has been promoted by the CardLinx Association, a non-profit professional consortium whose member list includes Microsoft, Mastercard, AirBNB, and Hilton.
Online-to-offline: identifying customers shopping online, such as through emails and internet advertising, and enticing them to make the actual purchases from physical business locations.
Digital Currency: money balance recorded electronically on a stored-value card or other device.
Within this region we also discovered how technology companies from both sides can gain leverage in their market through alliances. Earlier this year Wirecard and Austria-based Bluesource partnered to integrate Wirecard's mobile payment solution, Boon, into Bluesource's customer card app, Mobile-Pocket. By connecting the two applications, consumers can use Mobile-Pocket to manage customer cards and vouchers, as well as to make payments using Boon.

Click & mortar <> Loyalty apps
The key concepts connecting click & mortar shopping and loyalty apps:
Digital receipts: very valuable to retailers for capturing the consumer's email address, which provides retailers with a channel to send additional marketing and promotional material. In addition, they serve as a channel to engage creatively with consumers through dynamic digital receipts, on a much simpler and more cost effective basis. For the consumer, they are highly welcomed to reduce their carbon footprints and as receipts cannot be lost, returns can now be made as simple as possible. The receipt, app, web or email can all be used to communicate offers, rewards, and promotions directly to customers, increasing the connection between online and offline shopping.
Footfall: the number of people entering a store or shopping area in a given time. The metric is nothing new for retail, but technologies such as bluetooth, wifi and GPS tracking systems are allowing retailers to gather intelligence beyond simple people counts, in real time. Advanced footfall data can be a powerful gauge to measure success in connecting e-commerce and brick & mortar, as well as enhancing customer loyalty. 
Looking at connecting clusters is just one way to learn more about a topic at scale. For a more in-depth look at this analysis, or any other topic of interest, get in touch at hi@quid.com.
Intelligence in your Inbox
Sign up for the Quid newsletter for a monthly look into how data and visualization are changing the way we view the world.