Tech trends
The executive briefing on digital customer loyalty
Carlos Folgar
08.31.2017
What themes and companies are capturing attention in the realm of digital loyalty technology? How are they gaining influence over time? What does this mean for your business, and what should you focus on to drive greater engagement and loyalty from your customers?
We asked Quid to identify the global content around digital loyalty programs. Below is our map of over 2700 news articles from 2017.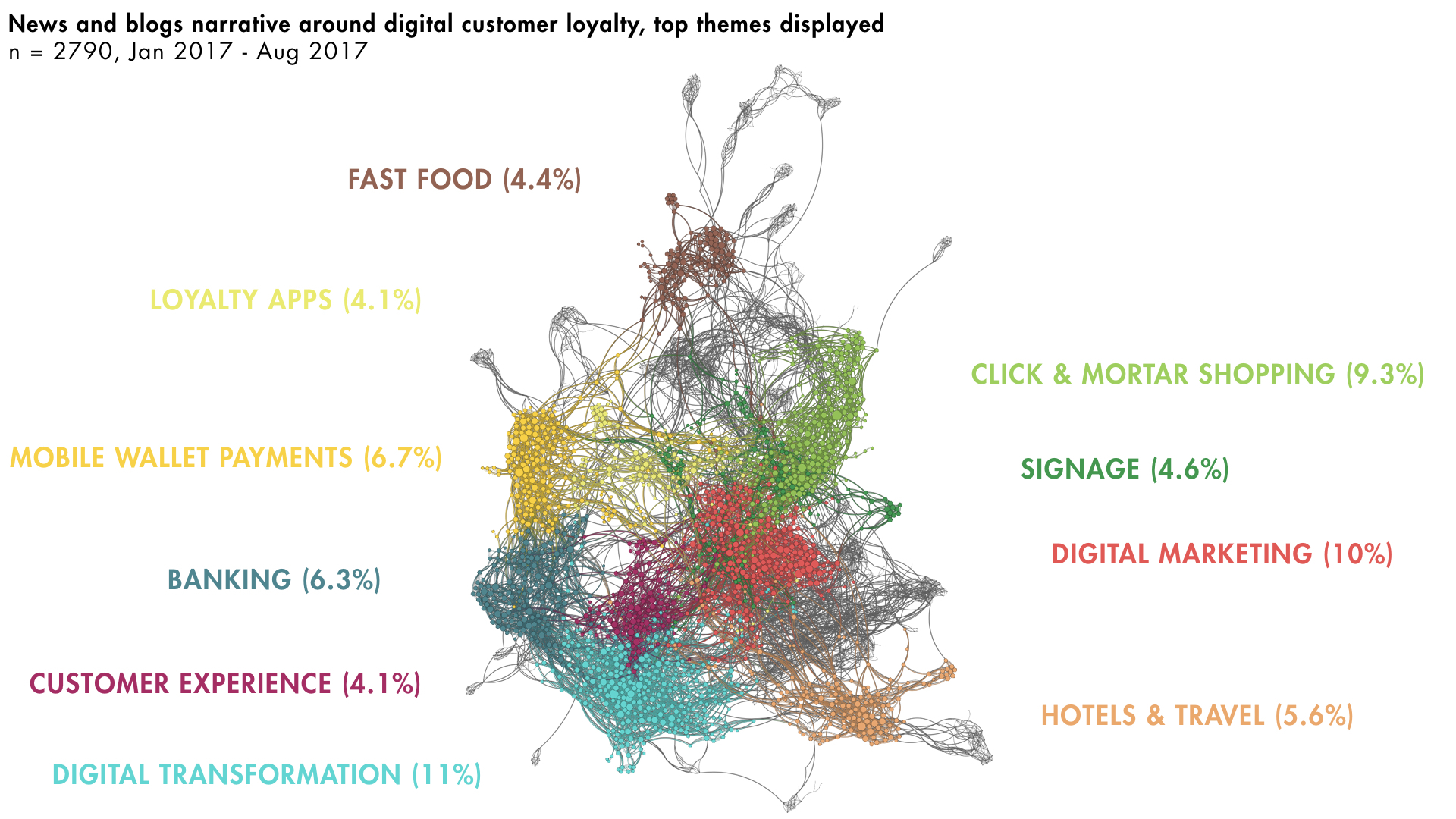 The ten largest topics comprise 66.5% of the entire narrative. They represent business best practices (digital transformation, digital marketing, signage, and customer experience), technology-influenced consumer behavior trends (click and mortar shopping, mobile wallet payments, and loyalty apps), and top industries implementing digital loyalty programs (banking, hotels and travel, and fast food). Quid allows you to dig deeper into whichever areas are most important to you. Here are a few of our key observations.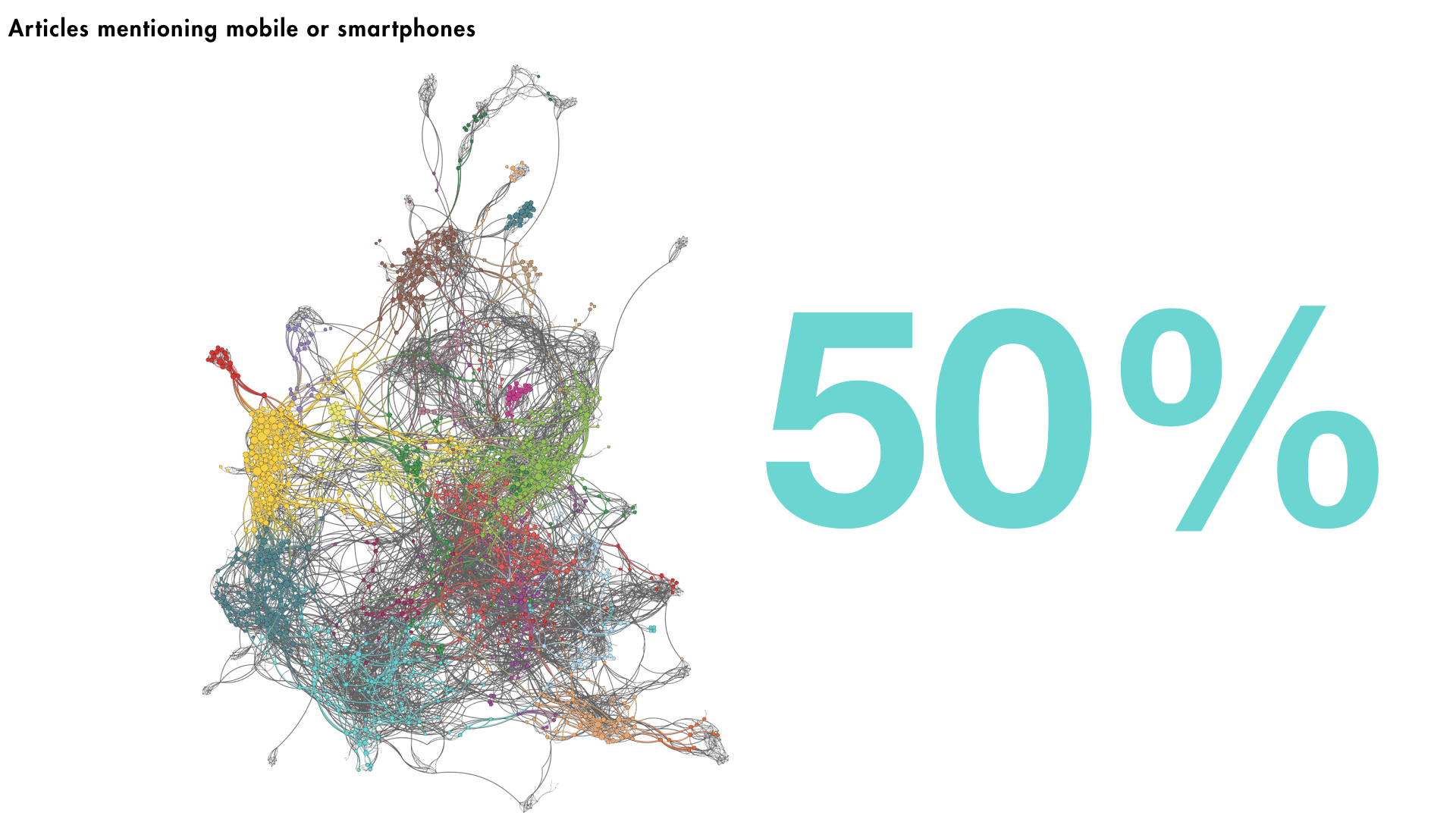 How important is mobile in establishing a strong digital customer loyalty program? One out of every two articles mentions either mobile or smartphones. Loyalty is about movement, and movement is digital. The world has moved beyond static cards and traditional media. To gain loyalty you need to be on the phone, at the consumer's fingertips, ready to act and transact. Loyalty roams in zeros and ones. Winning loyalty strategies must be at least as mobile as the loyalists they serve.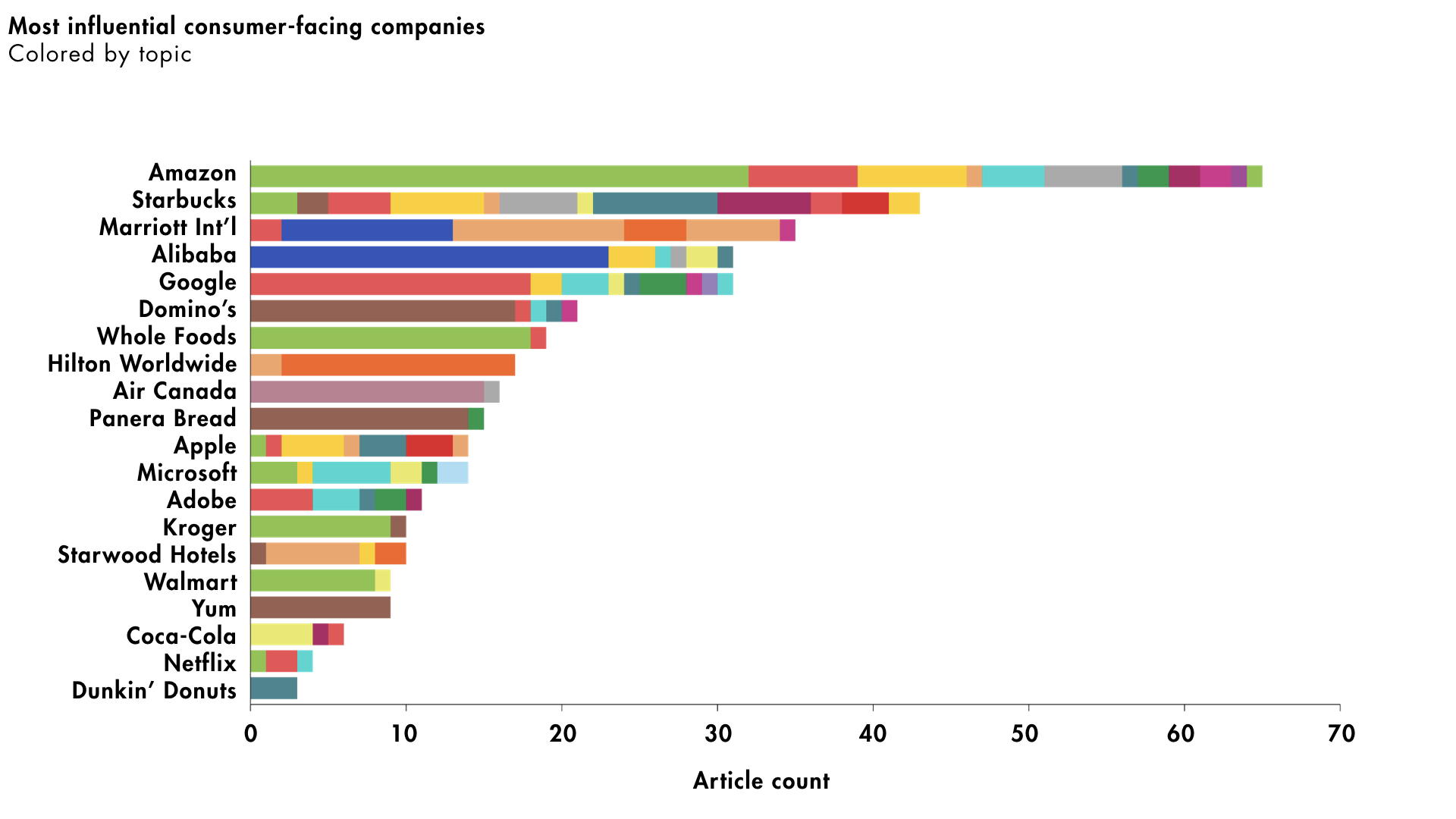 Regarding major influencers in the narrative, travel and food companies receive heavy exposure, as well as technology companies based on the products they develop and the personal data they collect. But we don't see any financial institutions ranking high; this is a sign that there are still no winners among banks in developing impactful digital customer loyalty programs.
In addition, the articles are colored by the topic to show the mix of subject matter associated with each. Note that Whole Foods, Hilton, Air Canada, and Panera are associated with only two topics each, overwhelmingly those areas of the network map focused on them. Amazon and Starbucks by contrast, appear in many topics throughout the news map, showing they are leaders involved in a wider spectrum of everything happening in digital loyalty and should be followed as leaders overall in the space.
So what are travel companies doing to build strong long-lasting relationships with their customers?
Earlier this year, Marriott improved its mobile app and loyalty program by implementing instant gratification, stronger personalization, and more effective design. More recently, Marriott teamed up with e-commerce giant Alibaba to form an enhanced travel joint venture that will link the two companies' loyalty programs. Air Canada will drop their externally-managed Aeroplan program and launch its own loyalty program to offer additional earning and redemption opportunities, a more personalized service, and a unique digital experience. The Emaar Hospitality Group have launched mobile apps for specific hotels their guests stay at.
And in fast food?
Domino's has efficiently developed their digital ordering model with 60% of orders now accountable to this method. Chipotle launched an online tool to help customers count calories and build a customized meal according to their dietary restrictions and preferences.
In our next segment on the narrative surrounding digital customer loyalty programs, we'll take a closer look at the three consumer trend topics: click and mortar shopping, mobile wallet payments, and loyalty apps.
For a more in-depth look at this analysis, or any other topic of interest, get in touch at hi@quid.com.
Intelligence in your Inbox
Sign up for the Quid newsletter for a monthly look into how data and visualization are changing the way we view the world.