By
hero asset source name test
hero asset source date test
Politics
The 7 CA ballot initiatives with the most buzz
Saad Asad
10.25.2016
California has 17 propositions that have qualified for the November ballot, which naturally makes it difficult to know which initiatives are more controversial or significant to voters. 
In fact, voters received a record-breaking 224 page voter guide to explain all the propositions. Absent a poll that breaks down which policies voters are most interested in, we used Quid to analyze media coverage of the 17 propositions.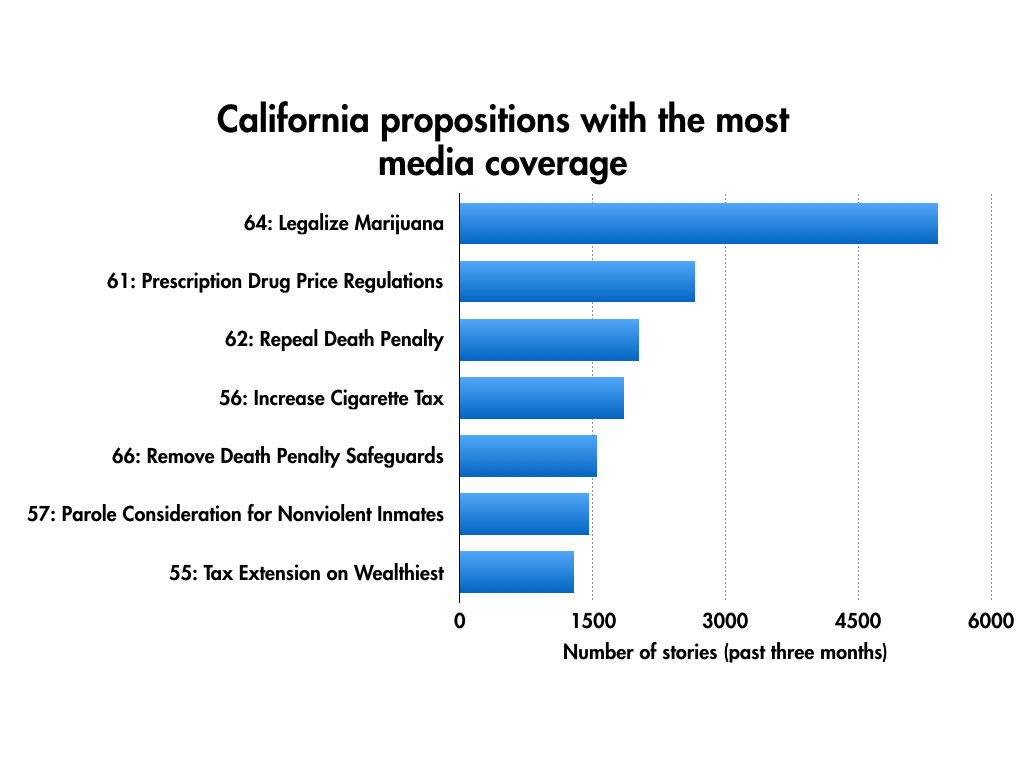 No surprise: Proposition 64, the initiative that would legalize marijuana, garnered the most media attention. Drug prices, cigarette taxes, and death penalty policies rounded out the top five -- all of which are relatively controversial issues.
What is surprising, though, is that the amount spent by opposition and supporting groups for a proposition is not a good predictor of media coverage. For instance, Prop 52 campaigns regarding hospital fees have spent over $70 million and received some of the least media coverage. On the other hand, Prop 62 groups campaigning about the death penalty have only spent $20 million combined but received relatively more media coverage.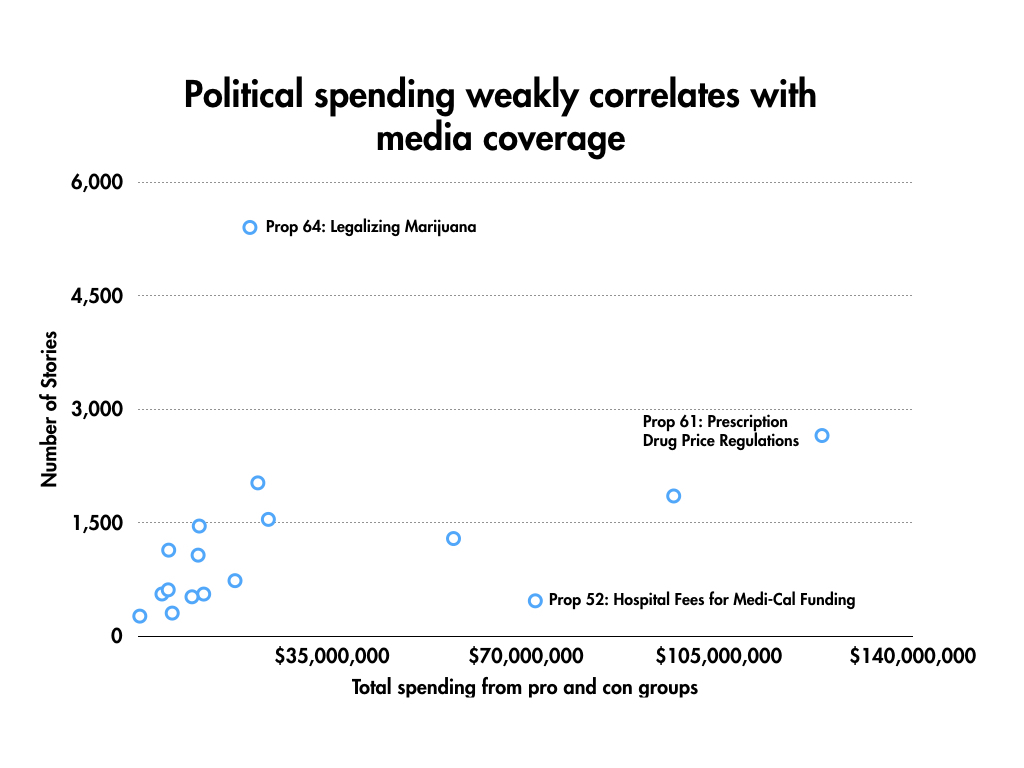 We can further use Quid to analyze what the different media narratives are for a proposition, such as that of Proposition 64.
What's most surprising here is the predominance of local and city discussion regarding marijuana use. About 20 percent of the news volume focuses on additional ordinances, regulatory measures, or taxes that cities are debating if Prop 64 passes at the state level because the proposition allows cities significant latitude on regulating the drug. Hence cities like Paso Robles, a small city in the Central Coast, passed measures to ban recreational marijuana shops in order to preempt passage of the initiative. On the other hand, Arcata, a city on the North Coast, passed measures that would apply similar regulations to recreational marijuana that apply to medical marijuana. This suggests that California could end up with a mismatch of different laws as someone crosses city boundaries.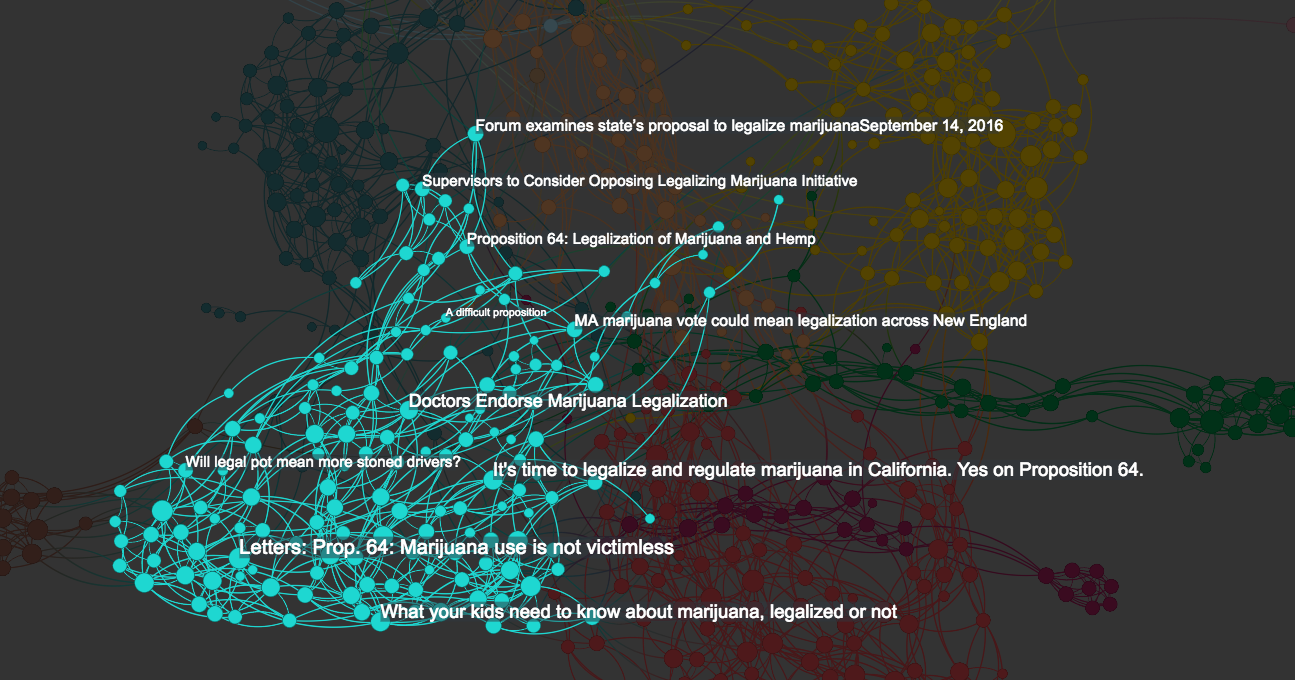 Another immediately apparent concern for Prop 64 supporters: about 22 percent of the media narrative is discussion of the potential harms of legalizing marijuana, such as effects on driving or children's health. The pro-legalization groups are then forced to combat these negative arguments, rather than building positive narratives for themselves. 
To be sure, while there are many more stories discussing the negative effects, Quid found that the most socially shared story is a short film narrated by Jay Z about the racially-biased impacts arising from the War on Drugs. Harnessing videos and messages like this, Prop 64 supporters could potentially create their own narrative rather than be forced in to a battle with opposition groups. 
Nevertheless, all the latest polls suggest the initiative will pass, and marijuana will be legalized in California. And if voters in other states like Maine, Nevada, Massachusetts, and Arizona pass similar initiatives in their own states on Nov. 8, then almost 75 million Americans could live in jurisdictions where they are free to use cannabis. If this pace continues, legalization of recreational marijuana could become the fastest social change in the country, surpassing even same-sex marriage.
Intelligence in your Inbox
Sign up for the Quid newsletter for a monthly look into how data and visualization are changing the way we view the world.