Which companies and topics attract the most media attention?
As American technology companies expand globally, corporate tax strategy and international policy has garnered significant media attention. Clearly this is a big issue and, as someone who works in technology myself, I wanted to know what exactly people are talking about. Which issues and companies have been dragged into the debate? Over time, will this damage the reputation of individual technology companies and our industry on the whole? 
To begin, I first looked at the dominant events and topics the media has kept a close eye on. With Quid, I get a categorical map where I can quickly understand which themes receive the most scrutiny and what language is used to convey impactful ideas. For this analysis I looked at all news articles from mid-2013 onwards that mention both corporate tax and technology companies.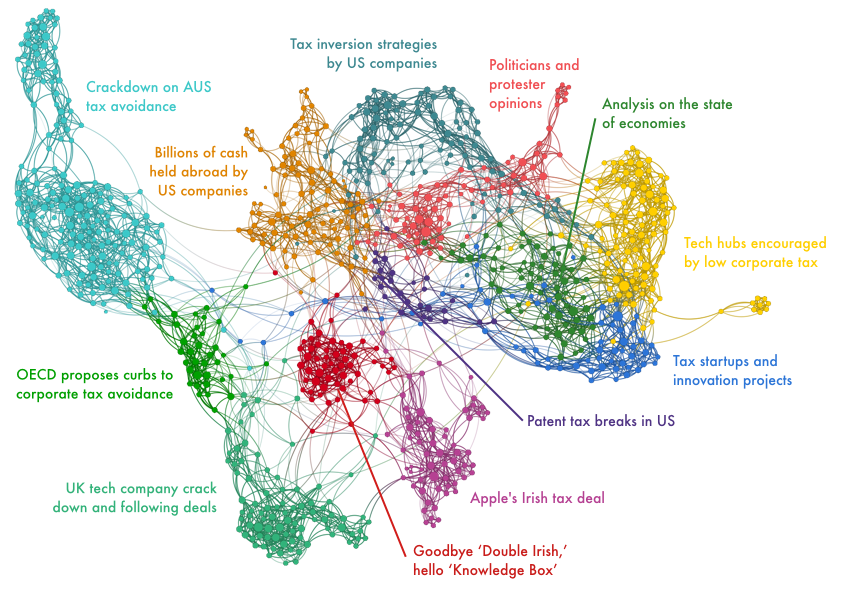 Each node in the network represents a piece of content and articles that are similar to one another are grouped and colored into clusters. You'll notice that three of the largest clusters focus on specific countries -- namely Australia, Ireland, and the United Kingdom -- cracking down on tax avoidance and loopholes that benefit foreign companies.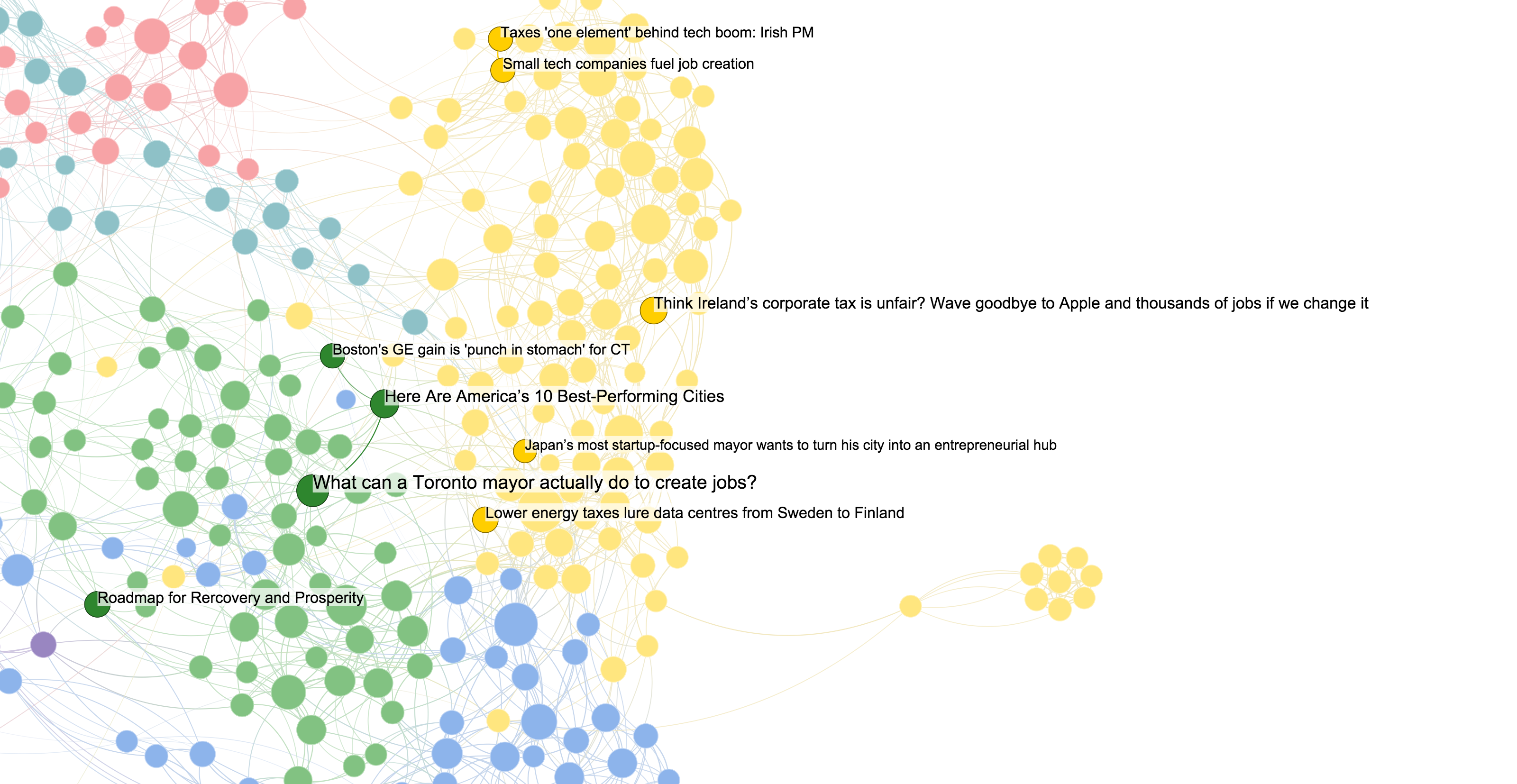 With any of these larger topics, we can dive deeper for more granularity, pulling up headlines and reading the individual articles. For example, looking more closely at analysis on economic development, we can see that cities and countries drive down taxes to encourage economic growth and job creation. Given headlines that use language such as 'punch in the stomach' and 'wave goodbye to thousands of jobs,' etc., it's clearly a high stakes battle for individual cities.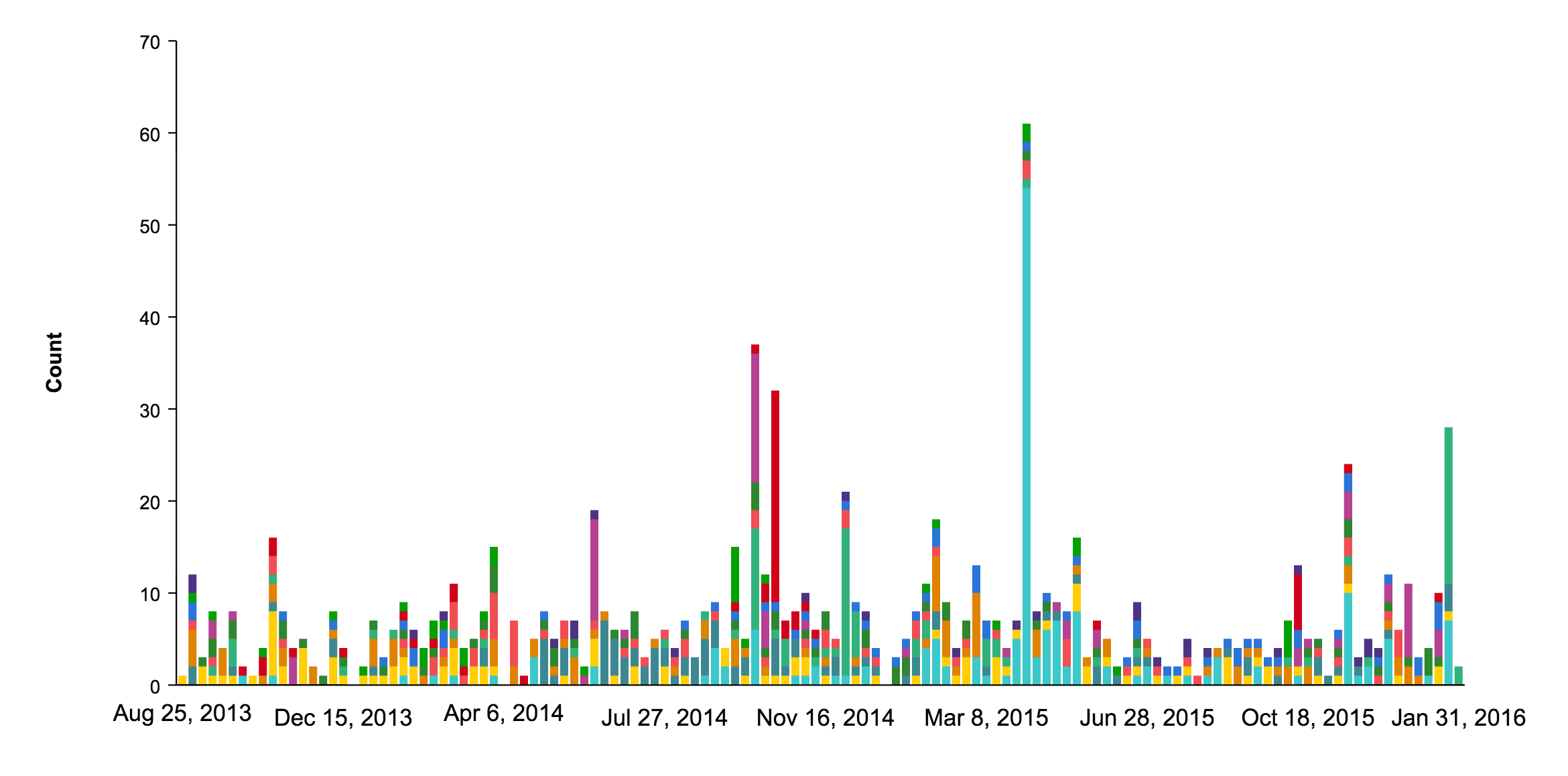 For most of us who have used Google maps, it can be helpful to look at street view, terrain overlay, or traffic patterns. Similarly with Quid, we can look at our content map in a variety of ways including social footprint, sentiment overlay, and more. I find that timeline view is one of the most useful, especially for complex topics that evolve and change over time.

Filtering my timeline to look at just the cluster whose coverage focuses on the UK government's tax structure, I can see that the media attention is quite sporadic and event-driven. The first major spike occurs when George Osborne, Chancellor of the Exchequer, announces higher tax rates for technology companies in an attempt to curb tax avoidance and inversion. The next spike follows after a year lull where then the media picks up what many consider to be a sweetheart deal with Google.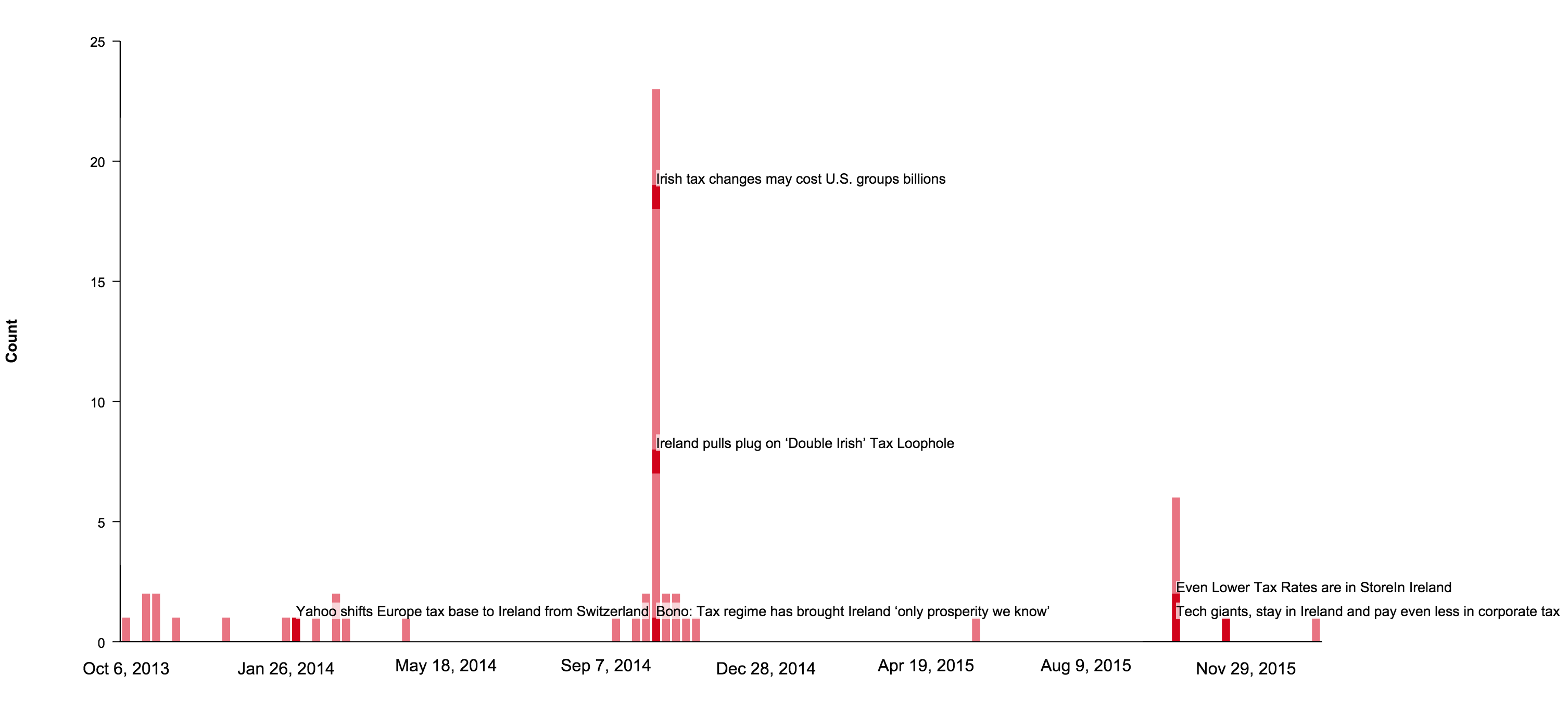 Looking at the cluster focused on Ireland, we see a similar trend. In November 2014, their government closed down Double Irish arrangements, which essentially allows for a mother corporation to set up two Irish-registered companies, one of which collects proceeds, and the other which holds intellectual property. A year later Ireland creates new policy, allowing for 'Knowledge Development Boxes' which essentially provide the same tax benefits as Double Irish arrangements but with a simplified tax structure.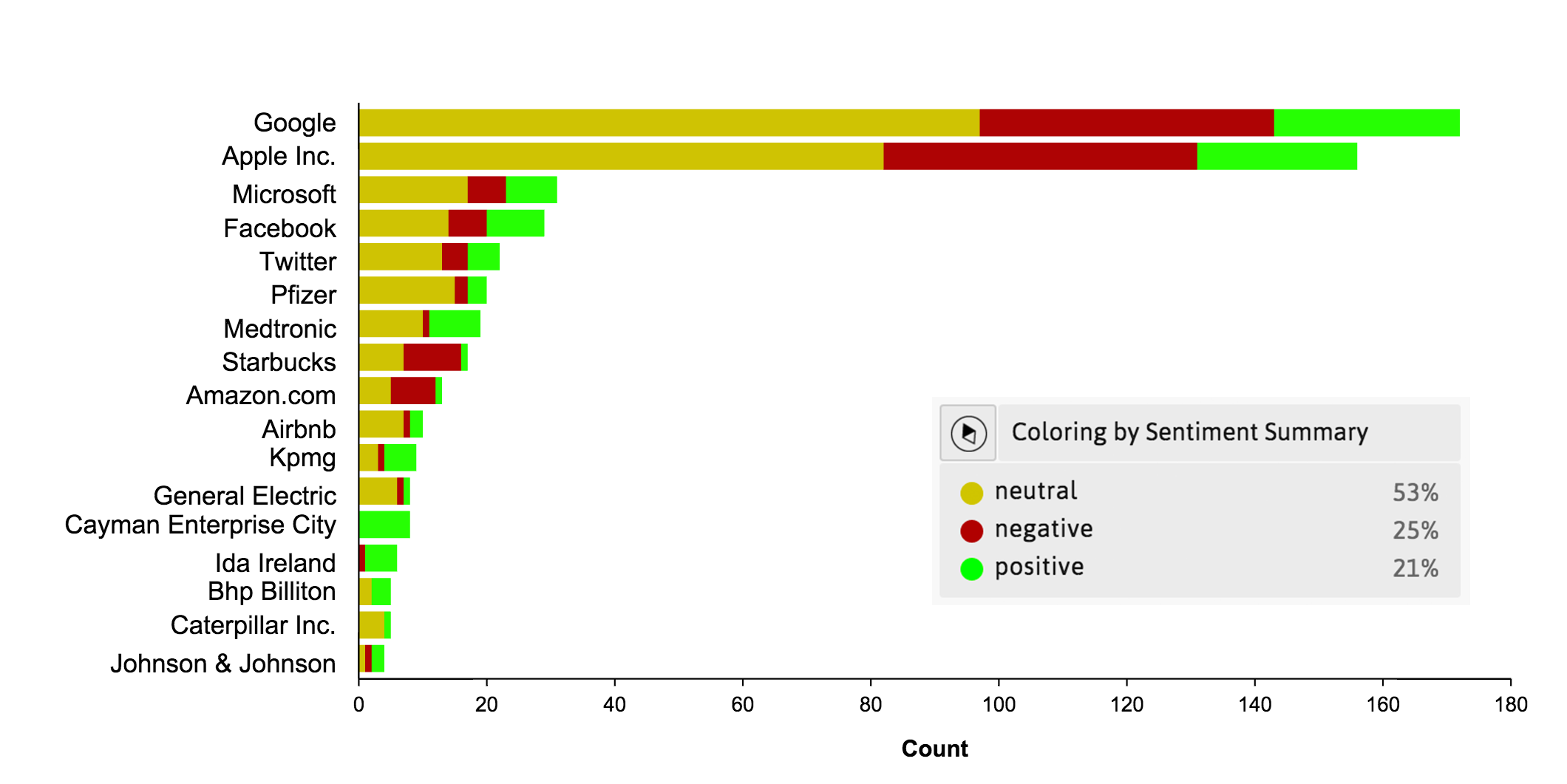 With Quid, we can understand most mentioned companies, people, keywords and more per topic cluster, social sharing metrics, time intervals, or the entirety of our article set.  In the graph above I looked at all clusters to see which companies were mentioned most across the network and measured their sentiment. Google and Apple receive the most media coverage with mixed sentiment, while companies like Amazon and Starbucks receive less attention, but when they do it's very negative. 
  
What I've showed you so far just scratches the surface of what's possible to look at using Quid. For most companies and industries there are complicated issues that directly impact growth and are influenced by media coverage. With Quid we can understand how prevalent these topics become in the public eye and start to realize where issues are headed next.
Intelligence in your inbox
Sign up for a monthly look into how data and visualization are changing the way we view the world.