Announcements
Quid Apps: Get smarter, faster on competitors within the electric car industry
Consumer demand for electric cars is rising—rapidly. In the US alone, EV sales rose 81% in 2018 and, though growth has recently slowed, this past March marked the 42nd month of consecutive year-over-year sales gains. As the race for greater market share heats up, how do auto manufacturers compare when it comes to visibility with consumers, market positioning, and public storylines?
To get quickly up to speed, we turned to our newest product offering, Quid Apps—targeted workflows that focus powerful core Quid technology on a single use case. In this instance, Competitor Briefing helps shed light on the potential impact of media coverage by analyzing up to a year's worth of reporting on a company and its competitors.
We began by entering Tesla Motors as our target company, since they're one of the most widely recognized players in the industry. From there, we narrowed the focus of the search to electric vehicles, and then selected competitors based on Competitor Briefing's tailored suggestions: BMW, Nissan Motor Company, General Motors, and Volkswagen. Within minutes, Competitor Briefing automatically generated a number of curated views to help us better understand media coverage of these companies from the past year.
Tesla winning on share of voice
Given the recent announcements of Tesla Model Y, V3 supercharging, and updates to Tesla Model 3 production, Tesla Motors captured a third of all coverage of the industry from the past year, despite a 2% decrease from the prior twelve-month period. Not far behind, Volkswagen actually saw a rise in coverage. The company captured 23% of the total share of voice, which represented a significant 9% increase from the previous period. At the lower end of the spectrum, only 11% of articles on this subject focused on General Motors, an 8% decrease from the previous year.
Stories with the highest number of published articles included Volkswagen's new North American electric car factory, Tesla's plan to cut their workforce, and—despite the company's low overall coverage—GM's push to retain tax credit for electric vehicles.
Despite high media interest in Tesla, consumers engage more with news linked to BMW and VW
By clicking on the Traction view, we can easily compare online consumer interest for each competitor with media interest. Though Tesla had the largest share of voice in the media, consumers engaged more—through likes, shares, and comments—with stories about BMW and Volkswagen. Despite similarly high traction online, consumers likely engaged with the two companies for different reasons, given the vast differences in sentiment that we found above.
Lastly, Nissan had comparatively low interest from both consumers and the media.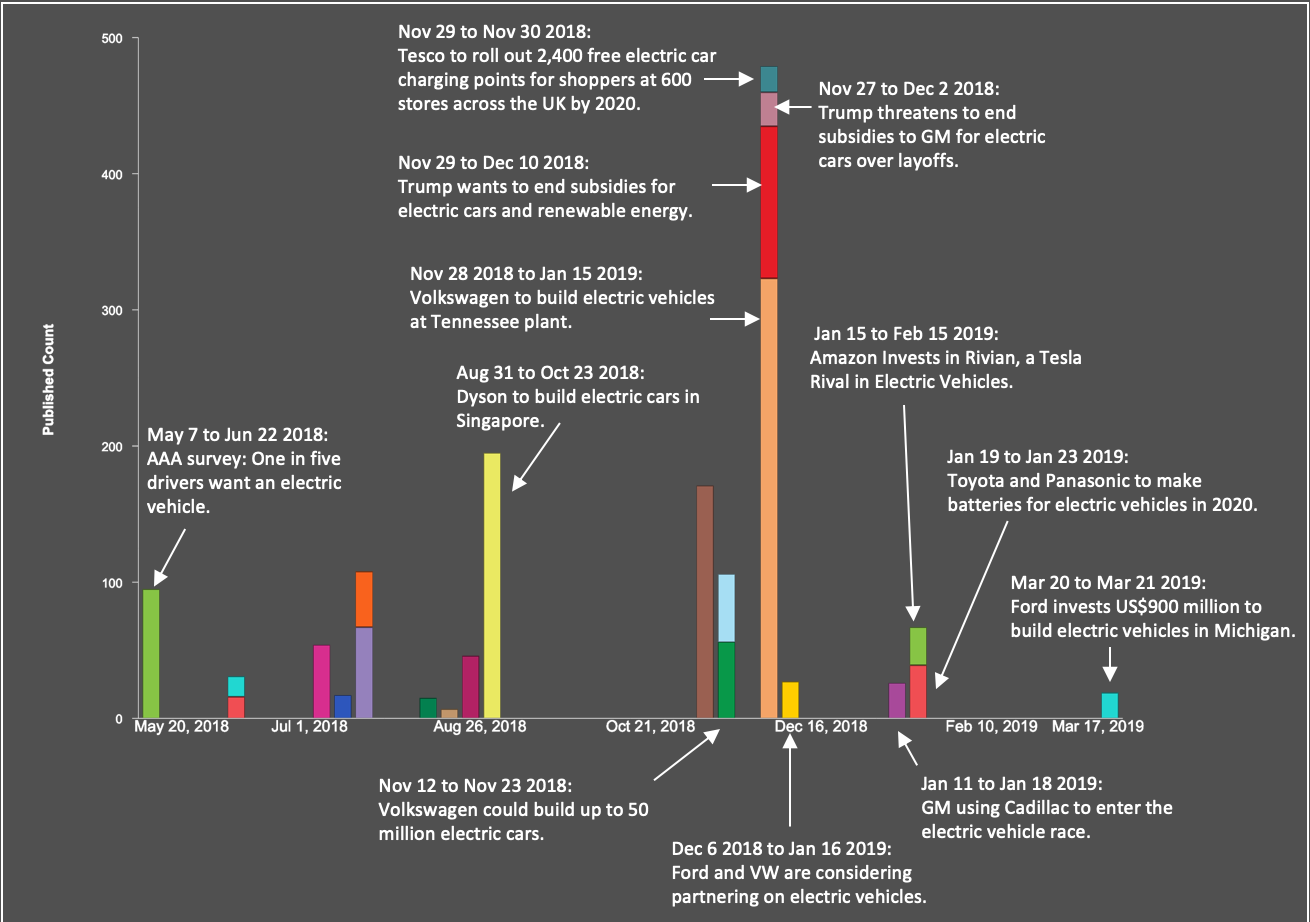 Timeline of events showing published count of 382 articles over time. Labels added to illustrate data that can be shown by hovering over each block.
VW plant expansion gets the most coverage for the year, followed by news of Dyson's entry into the market
Competitor Briefing also provides a timeline view of top storylines for the past year. In this case, while Tesla clearly lead on overall visibility within electric vehicle coverage, the most covered event was Volkswagen's decision to build electric vehicles at a Tennessee plant in late 2018. Earlier in the year, news around an entirely new market entrant, Dyson, captured the second highest amount of media coverage with news of their plans to build electric cars in Singapore.  These important storylines provide insight into how and when different competitors are referenced in the media.
Learn how your company can get smarter, faster with Quid Apps by reaching out to hi@quid.com, or visit home.quid.com with your Quid login to get started today.
Intelligence in your inbox
Sign up for a monthly look into how data and visualization are changing the way we view the world.