Market Landscape
Marijuana money: who leads the way in this budding industry?
Katie Chin
11.09.16
Now that three more states have legalized marijuana, we wanted to get a better handle on the investments at stake in the industry. In the Quid companies dataset, we can search both company and technology descriptions, and Quid found more than 700 companies dealing with cannabis or marijuana.
Using those descriptions, Quid analyzes and categorizes the companies to give you a bird's eye view of the landscape. In the network visual below, each node represents a company and each colored cluster represents a subsection of the marketplace. You'll notice that the network contains the full spectrum of companies related to marijuana, everything from edibles and dispensaries to business software and rehab programs.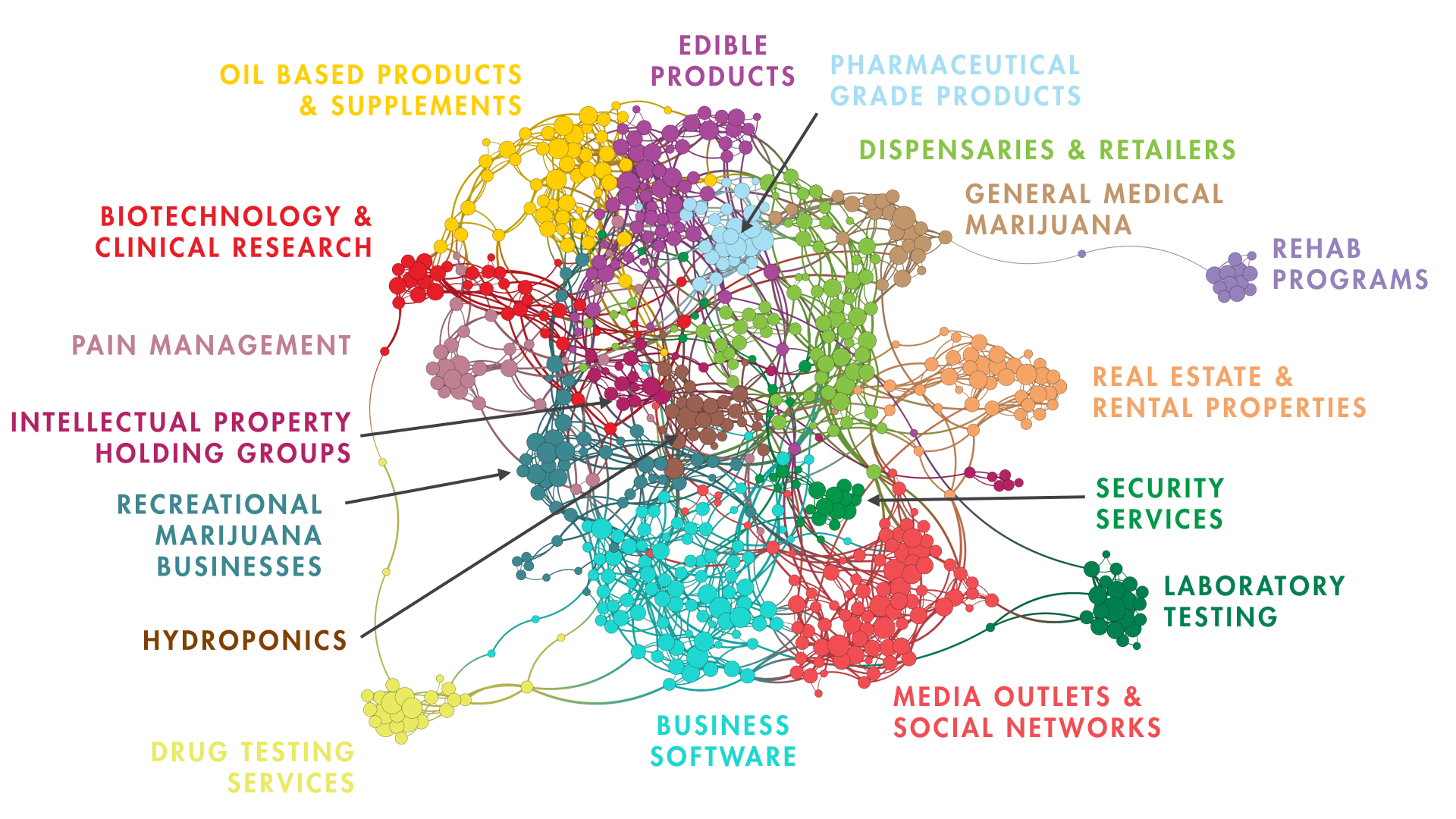 Marijuana market landscape
Each node represents one company, each colored cluster a subsection of the marketplace
Using Quid software you can overlay metadata on top of the network or switch your view to reveal more insights. To start we colored the nodes by state headquarters, filtering to look at the top five locations. California leads the way with 123 companies that have received $262.8 M in total investment. Colorado is second, followed by Florida, Nevada and Maryland. 
In total, the 727 companies across all locations received $1.2 B in total investment. 
When looking at the clustered subsections of the network, we noticed a stark divide in the products and services the companies provided. The top half of the network contains suppliers, producers, and distributors of cannabis products while the rest of the companies are business services that support the top half, such as security services and intellectual property holding groups. It's an almost 50/50 split between the two groups showing that the industry as a whole has developed into a robust ecosystem.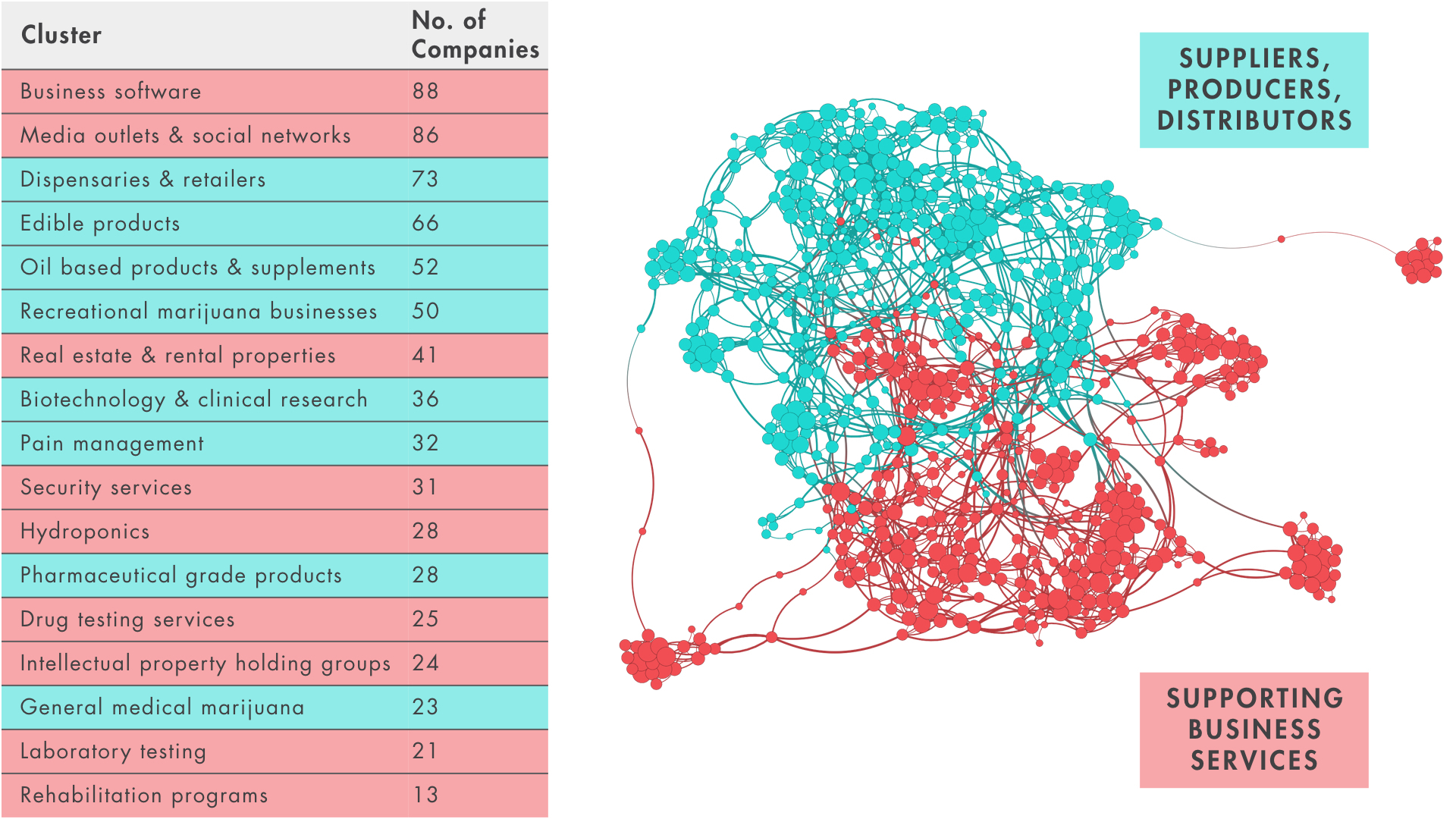 As mentioned earlier, you can switch your view within the Quid software to reveal additional insights. In this case, we focused on private investment over time for the two halves of the network. As expected, the suppliers group spiked much earlier than the supporting services group, with $116 M in private investment in Q1 '14 and $71 M in Q2 '16 respectively.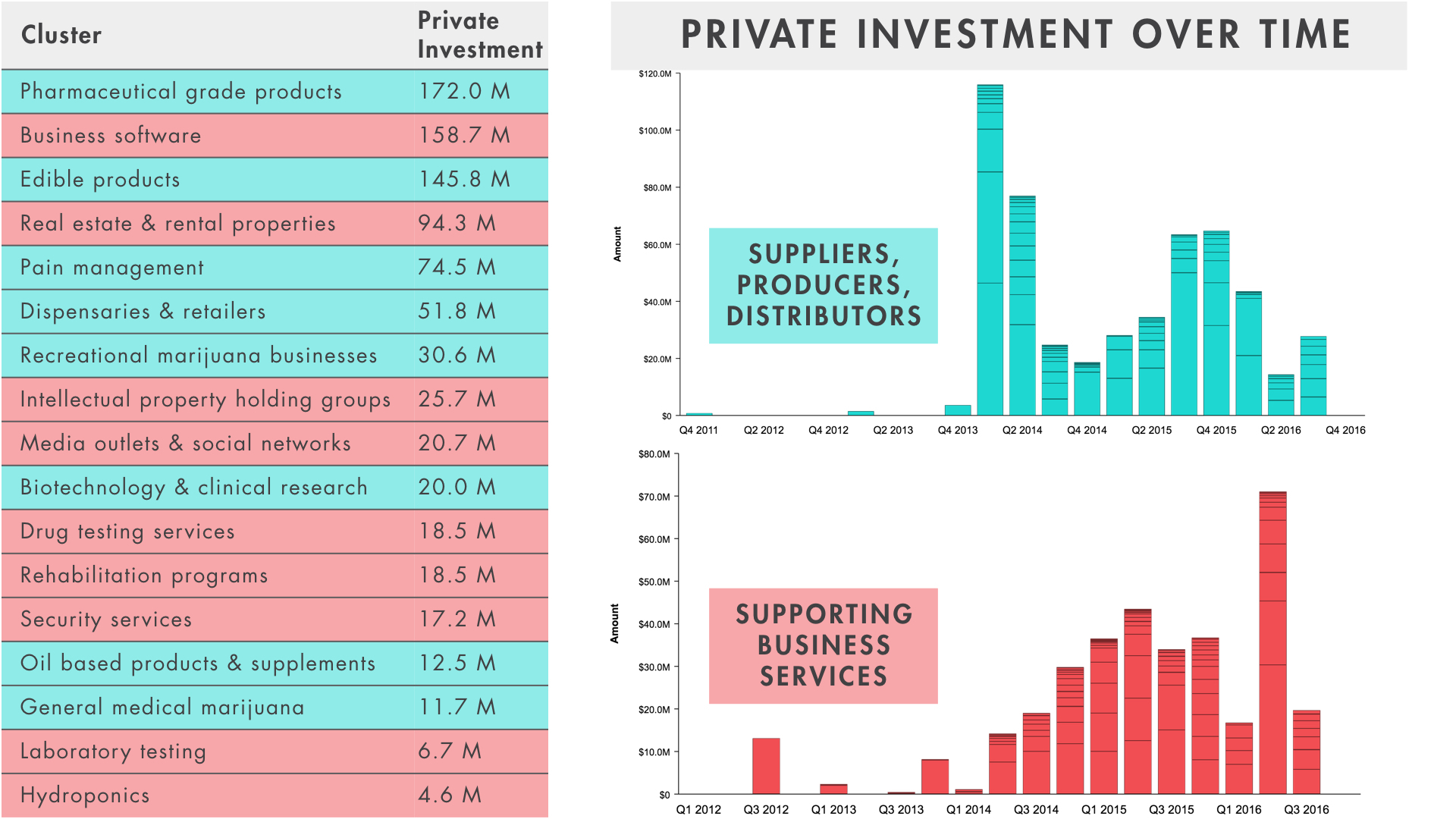 Outside of private investments, we can pivot our view to look at M&A and IPO activity. We've highlighted five of the highest-valued exits below.
Last we looked at each subsection of the industry, plotting total investment received by median founding year and sized by number of companies within the group. Immediately you'll notice that although the 'Pharmaceutical grade products' cluster is the youngest, it has received the most private investment. Similarly 'business software' companies, a supporting service to the suppliers, has received a significant amount of investment although there are many companies within the cluster.

Intelligence in your Inbox
Sign up for the Quid newsletter for a monthly look into how data and visualization are changing the way we view the world.