When we're in a new city for the first time, we often turn to a map. Maps give you a bird's eye view of an area so you can get a sense of how a particular place is laid out. Where are the main roads? The coast. The parks. How far do certain locations appear to be from each other?
I might be interested in certain information specifically:  Where are the landmarks I need to check out? Or maybe the tourist traps I want to avoid.
Maps are an incredibly handy way of organizing information visually so we can understand something like the topography of a place in better context. And in the age of interactive maps, you can search, navigate, and zoom in to really learn about a place in close detail. You can live in a place most of your life … and still get a thrill from seeing things in different perspective than you do normally.
But we can also learn about a place by looking at a different sort of map. In this case, instead of representations of roads and waterways, we're looking at text - namely everything that's been published about 'Venice Beach' as a topic via mainstream news sources and blogs in the past year.
So how do we get to a map like this?
It starts with natural language processing. We use software that essentially reads everything it can find about Venice Beach, while noting key words, phrases, names, and other significant entities.
It then compares every individual piece it read to every other piece. The individual pieces are represented in the visual as circles we call nodes. Where it finds two pieces have a lot in common, it adds a link that joins these two nodes together.
The software also seeks to understand written pieces which share thematic similarity - meaning they are about the same overall topic. Those nodes end up more heavily linked and form clusters.
By then employing a physics engine, the software considers each of these individual pieces, along with those links and clusters, and lays them out into a map.
And from here we can learn a lot simply by looking at the structure of this network. First, we notice this network in particular has a few distinct limbs to it. That means many topics here share similarity with the clusters closest to them but are fairly distinct from the rest of the network so it's quite stretched out.
And we can color these areas to better see how the network breaks out. In this case, we see four fairly distinct areas around the periphery: startups, fashion & celebrities, arts & sports, and society.
A fifth area in yellow falls right in the center of the network. You can see that it's Food & Tourism that is the hub of Venice Beach in a lot of ways, connecting across all these other categories.
With each of these themes, we can zoom in further to get additional detail.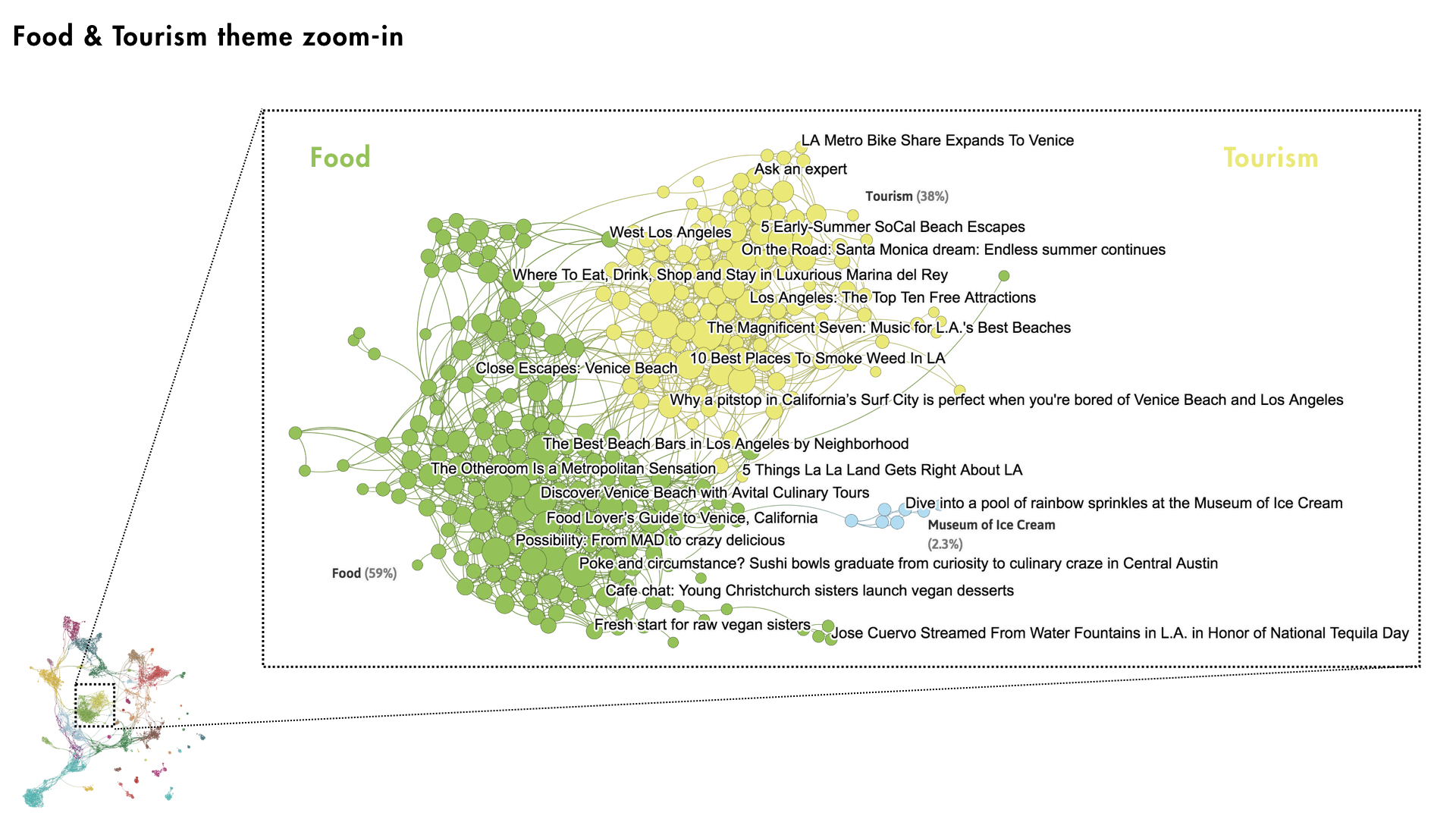 Food & Tourism
We see a food cluster mentioning vegan treats and poke bowls and plenty of lists in the tourism cluster around weekend getaways, best beaches, and best places to smoke weed.
The entire upper left of this network is focused on fashion and celebrities. Maybe not surprising for L.A. but Venice Beach specifically has a very prominent place in fashion, at least at this moment.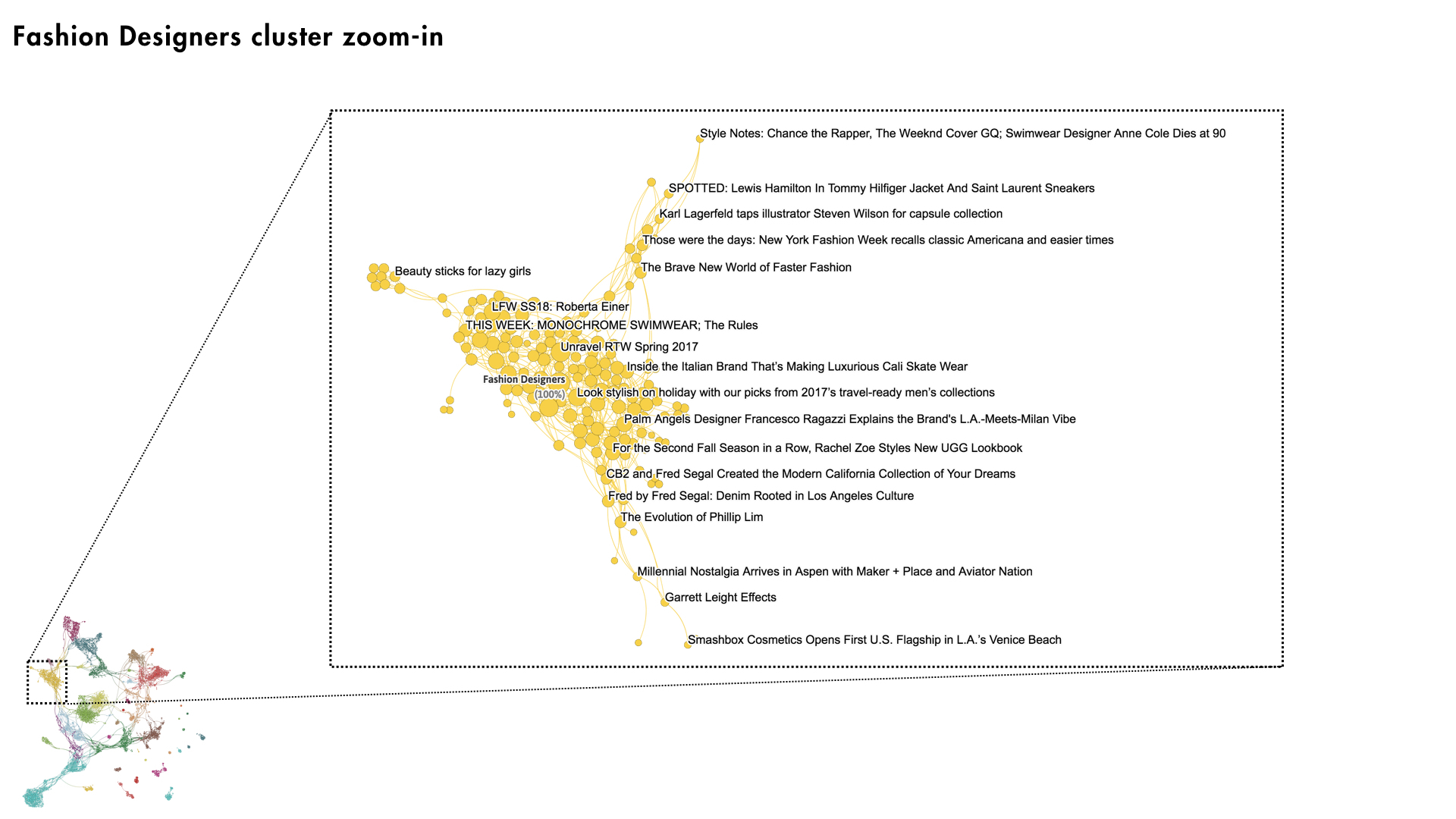 Fashion
We see Venice Beach come up again and again as inspiration on the catwalks in Milan and across collections including Moncler and Massimo Giorgetti. It's also home to local designers like Buck Mason.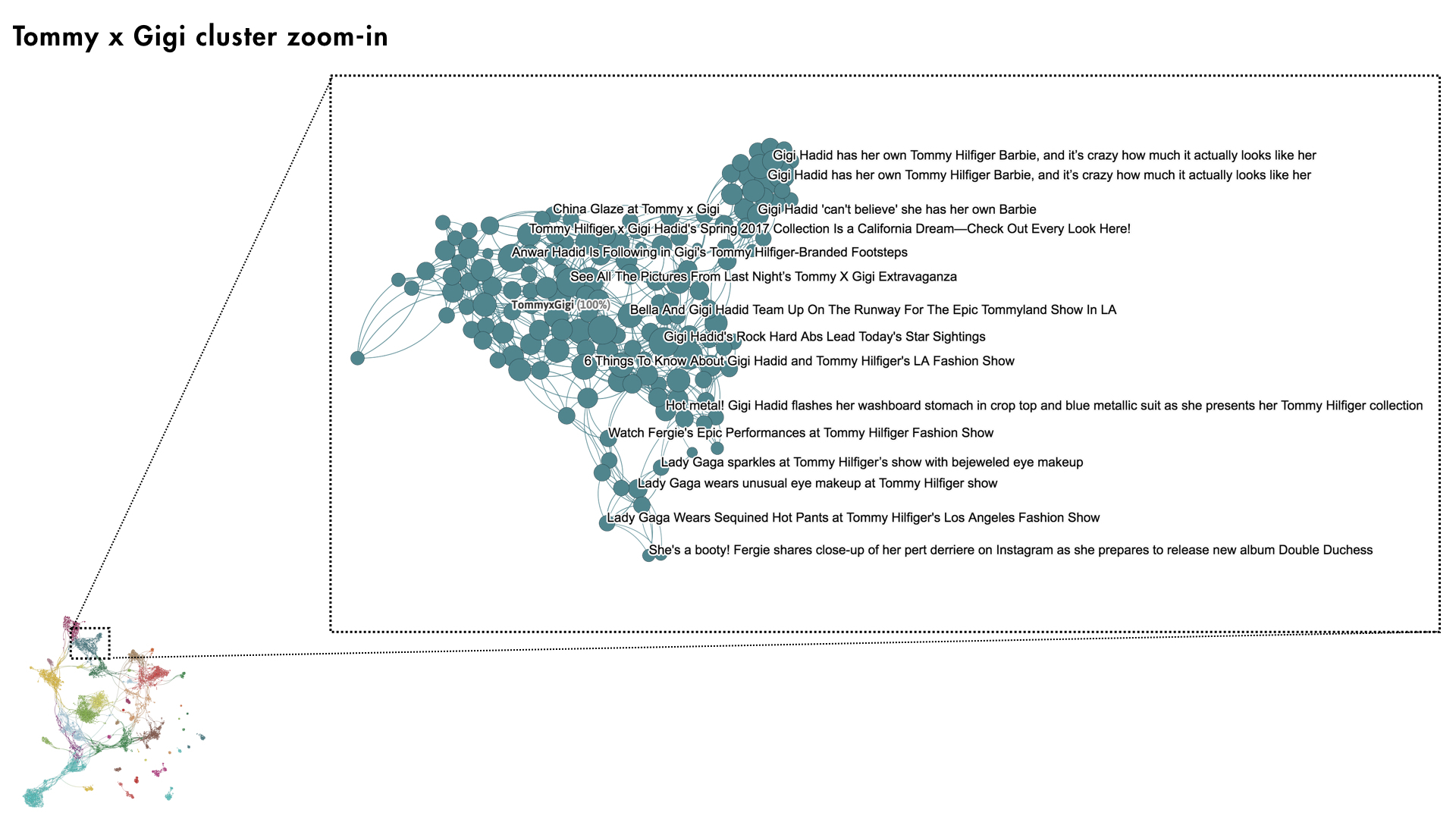 Tommy x Gigi
But one designer dominates the conversation when it comes to Venice Beach - Tommy Hilfiger. His TommyxGigi collection with Gigi Hadid is the sixth largest cluster in the entire network for his decision to put together a clothing line inspired by this place and then forgoing Fashion Week in New York to instead host a star-studded fashion show right here along the beach.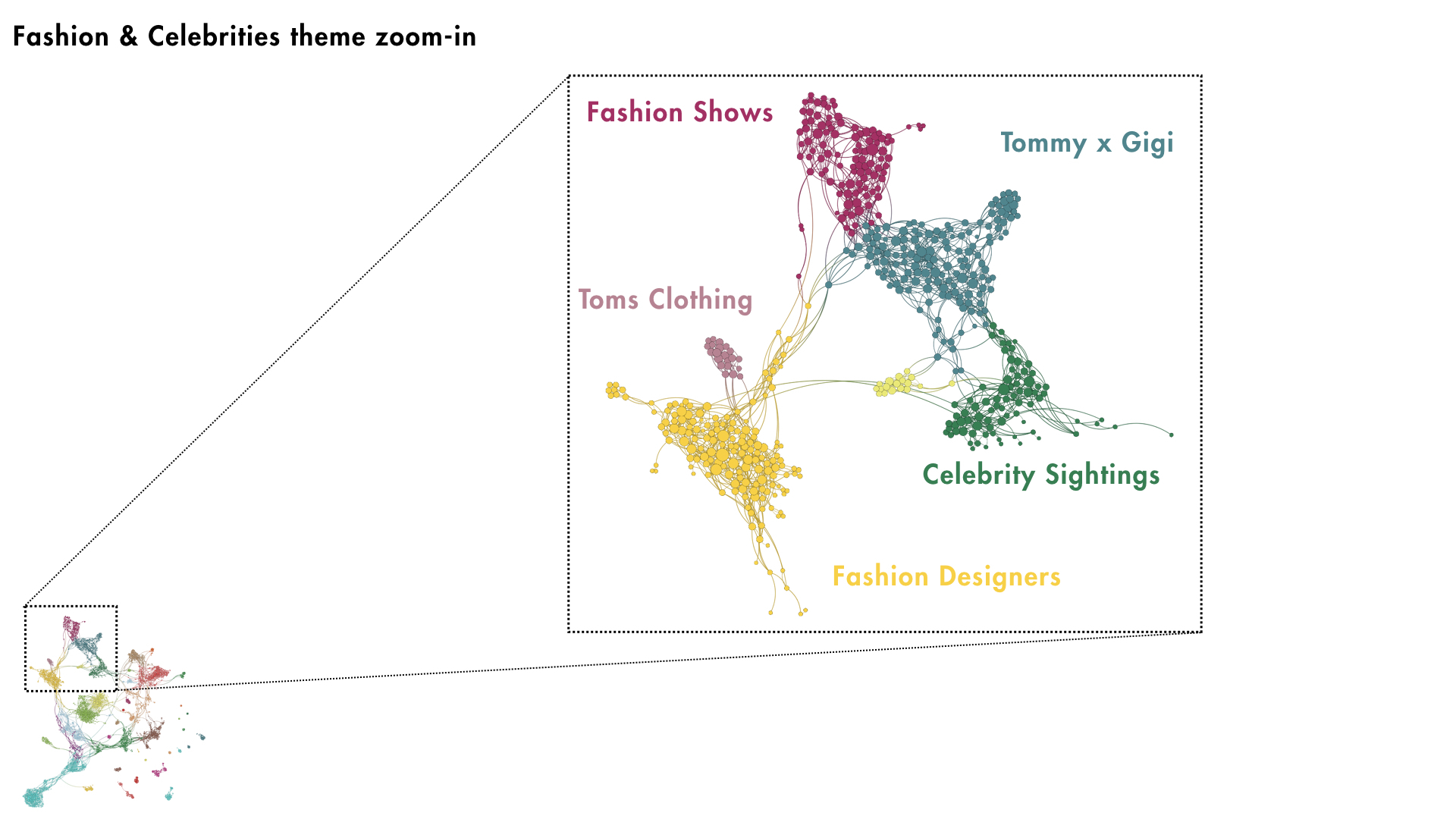 Fashion & Celebrities theme
We call this a bridging cluster because it falls right between and connects a few different clusters: Designers, Fashion Shows, and Celebrity Sightings which makes sense because this event was essentially a mix of all three. In fact, it even spawned that separate mini Lady Gaga cluster since she attended in one of her show-stopping outfits.
If Tommy and Gigi dominate the fashion part of this network, we can see that it's Snapchat that overshadows everything pertaining to startups in this network. In fact, Snapchat is, by far, the largest cluster in this network comprising 12% of everything written about Venice Beach in the past year.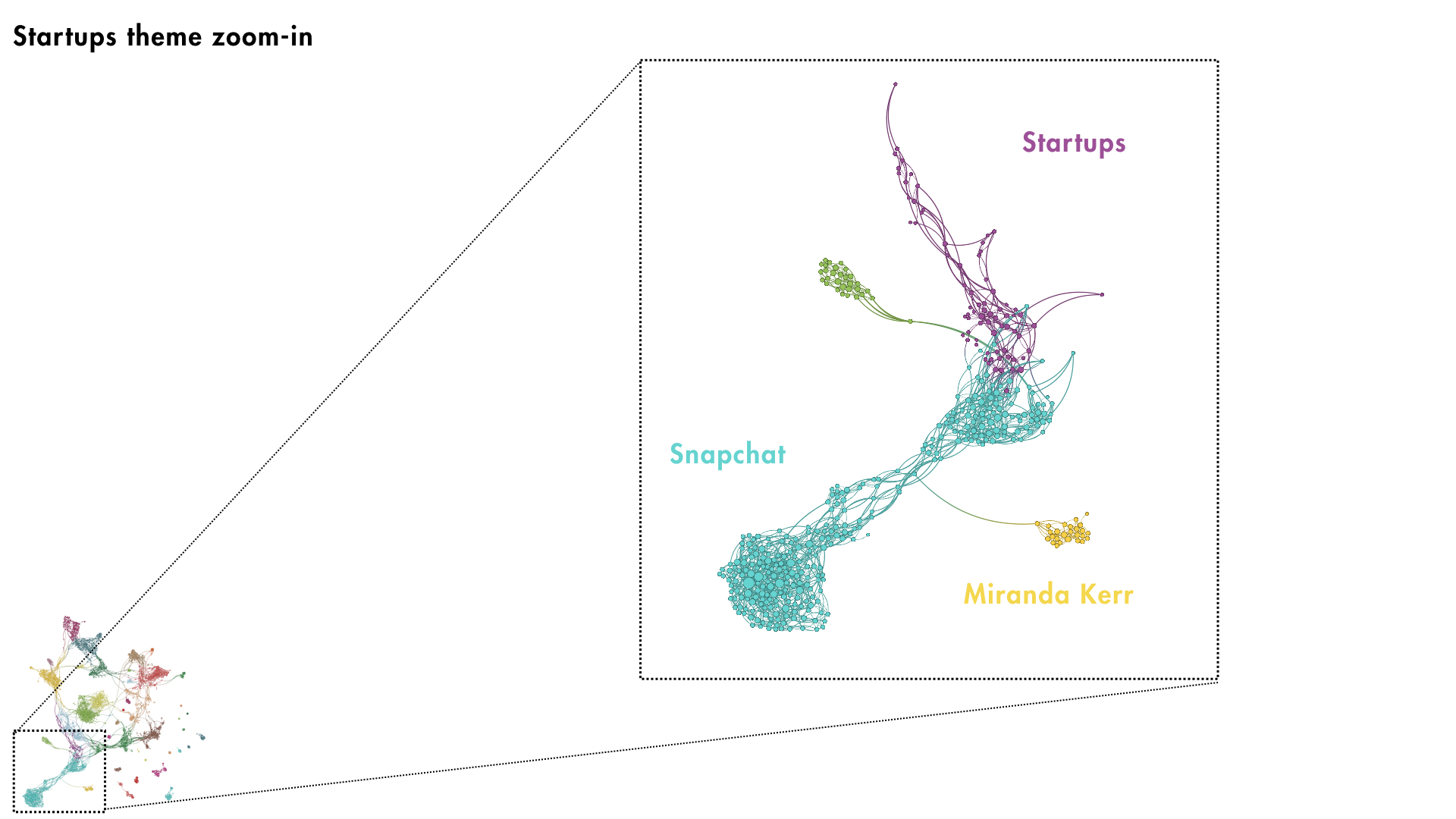 Startups theme
Most of the news is about the company's IPO and launch of Snapchat Spectacles. Then there is another little island off to the side, this time about supermodel Miranda Kerr who recently married the founder of Snapchat. That's a very L.A. phenomenon – networks with all these celebrity islands. You don't see that with other network maps.
Now let's take a look at the Society theme just above.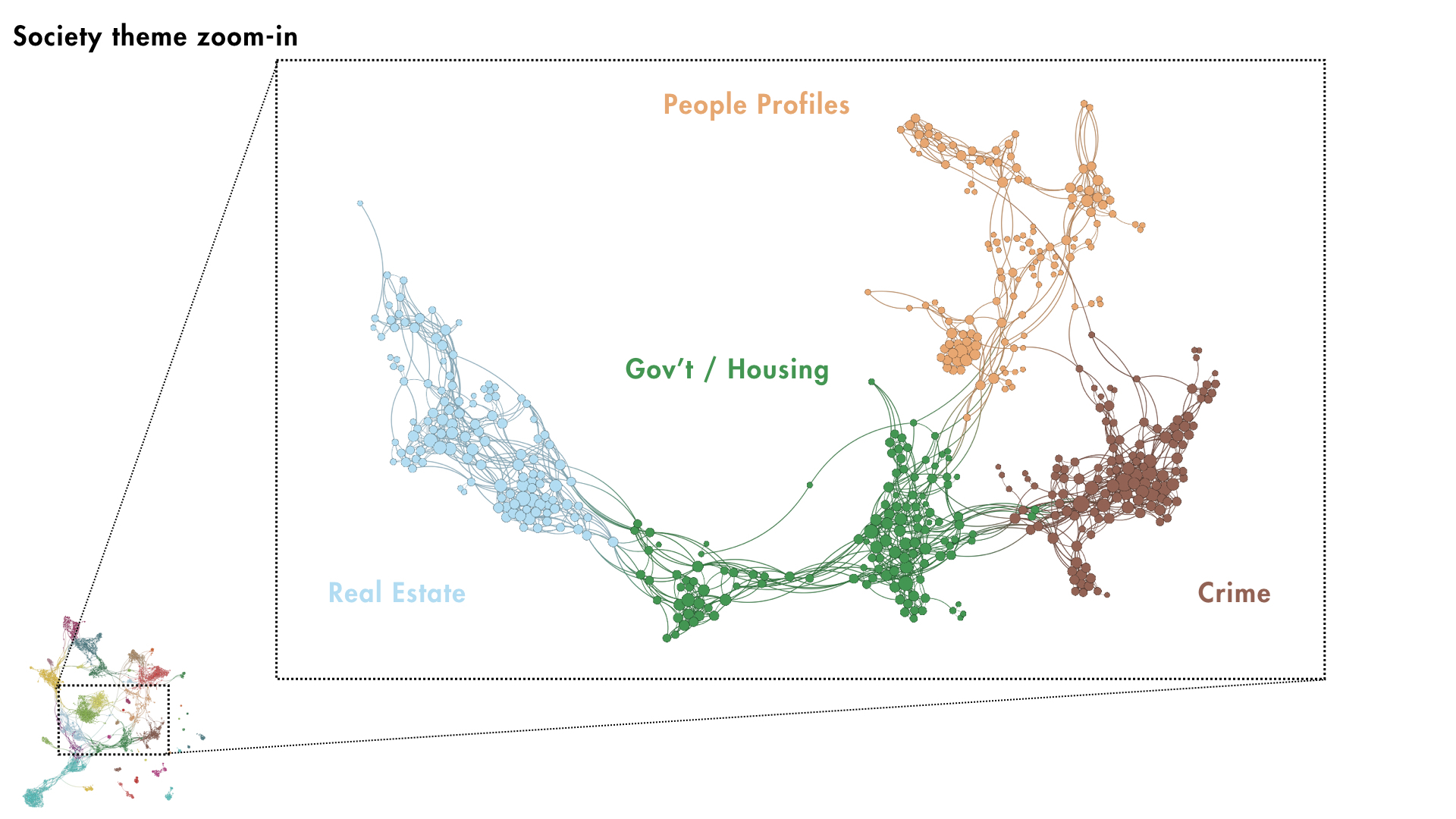 Society theme
On the left you see a cluster about real estate - houses up for sale, trendy home design, that sort of thing. On the top right are profiles of people who live (or died) in Venice Beach and the bottom right is all about crime committed in the area. But between real estate, crime, and people lies a cluster about the government and housing.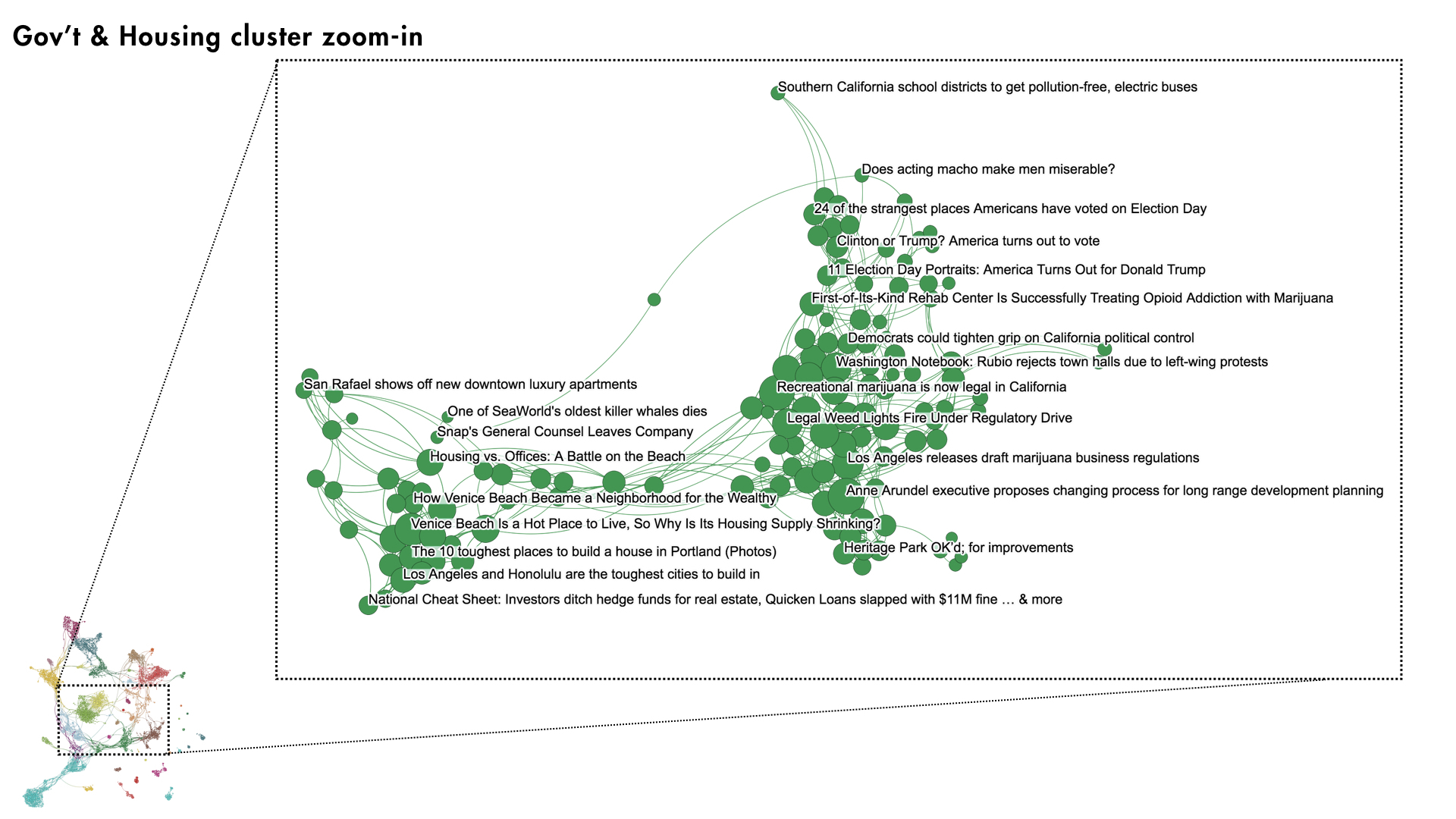 Gov't & Housing cluster
Zooming in on that cluster specifically, we see it's actually split into two sections. The section on the right is mostly about politics and marijuana becoming legal. The section on the left is about the difficult housing situation that's emerging in Venice.
There was a lot to be learned from digging into this cluster. 
For example,  media companies, startups, and notably Google have flocked to the stretch from here to LAX that many call Silicon Beach. It is also, according to the LA Times, the epicenter of LA's AirBnB problem where an already tight rental market hurts local residents as inventory instead goes to visitors looking for a place to stay for a few days. The Wall Street Journal called Venice Beach "the toughest place in the United States to build new housing" and there is persistent tension between the residents who already live here and want to keep Venice Beach the way it is vs those who want to make the neighborhood accessible to wider number of people instead of pricing them out.
In fact, we can see this tension if we go back to the full network and color our nodes, not by theme as we did before but instead by sentiment. Those articles and blog posts where the sentiment is mostly positive are colored green. You can see that is most of the network. If the language is more neutral, you see yellow. And negative is orange and red.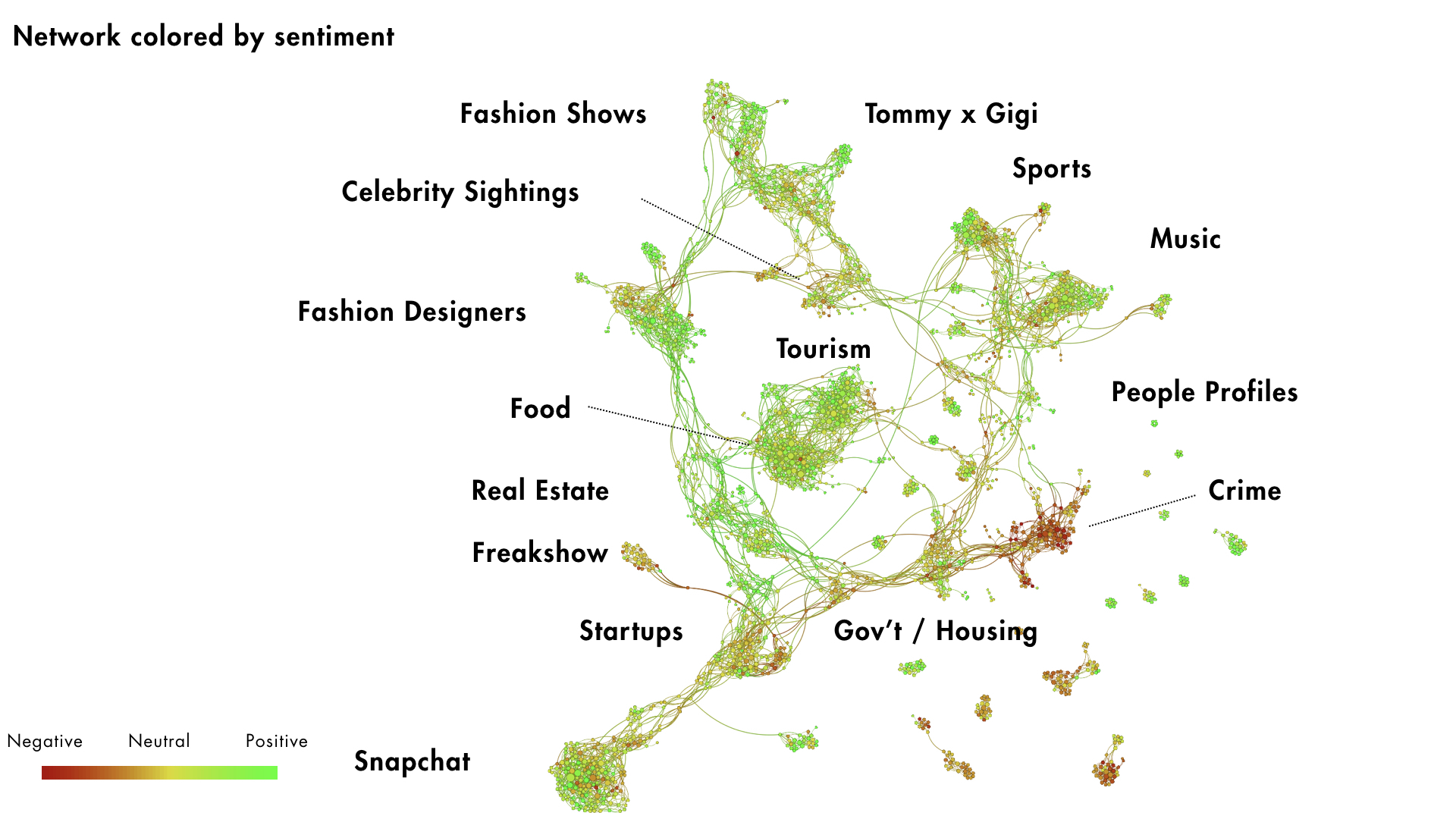 Not surprisingly, the crime cluster is deep red. Crime is never good. That includes articles about MMA fighter Ronda Rousey whose Venice Beach house was vandalized. Red is also the color of that island in the lower right dedicated to the Bruce Willis film "Once Upon A Time in Venice" which got brutal reviews.
But it also includes the territory we were just looking at about the anger over Venice Beach's transformation. And if we follow that area back down to the left we realize that the lead figure in that debate is Snapchat.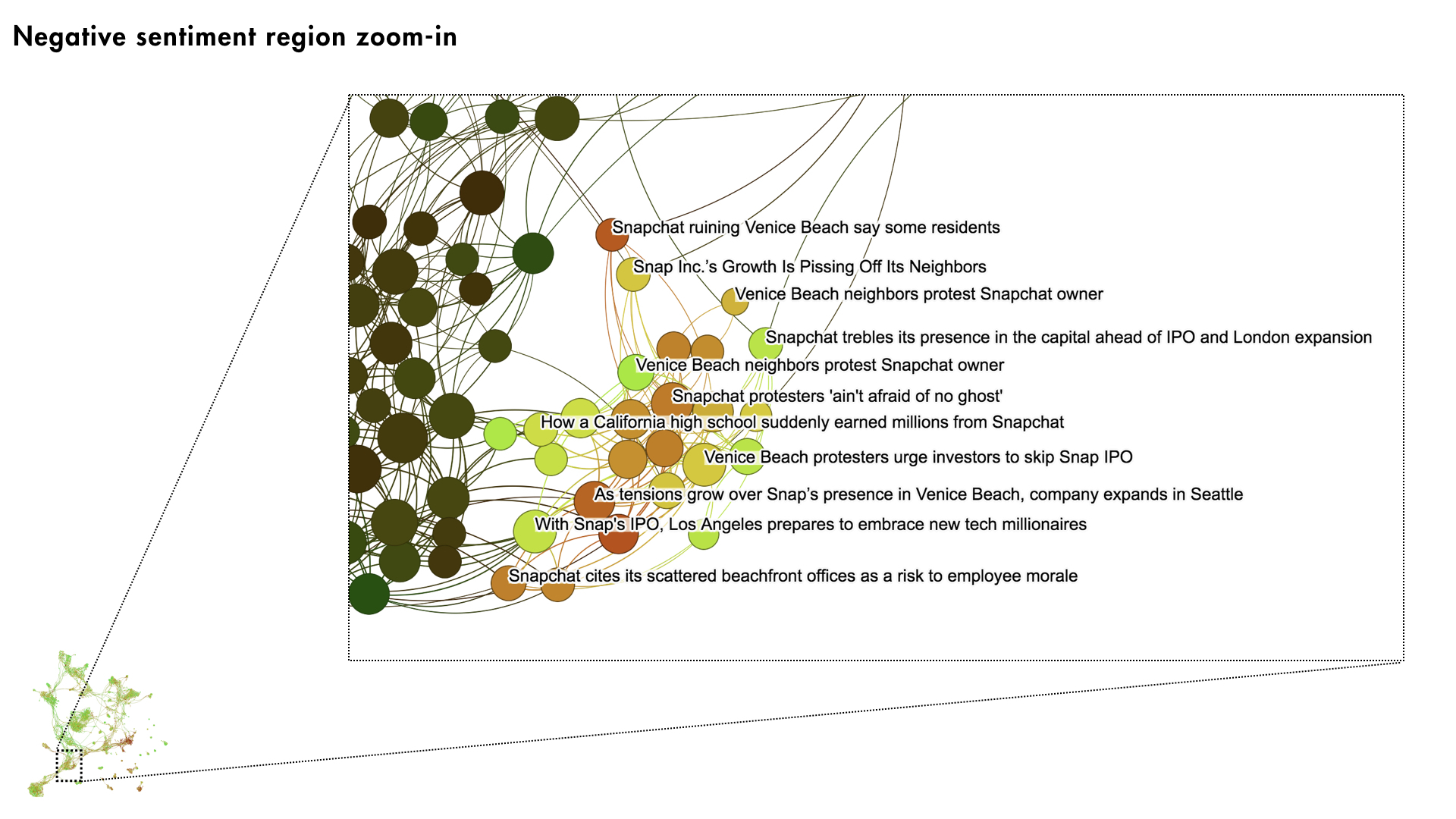 You can see there is a segment of the Snapchat cluster full of yellow and red that is specifically about this. The company has continued expanding in Venice by taking over houses, condos, and restaurants and displacing tenants rather than moving to a centralized location outside this heavily residential area. This has sparked protests and generated a lot of anger with residents.
And you may have noticed that Freakshow cluster earlier. The well-known boardwalk show featuring bearded ladies and sword swallowers is connected because they had to shut down and blamed Snapchat for their demise as rents soared and a landlord pushed them out of a building shared with the tech company.
If you are Snapchat or you're on the city council, this is all clearly a growing problem, at least in terms of public perception.
But those stories only reflect this moment in time. Venice Beach, like any place, is always changing to some degree and, just like we need to alter maps to show new highways or buildings, we also see these visual networks evolve over time.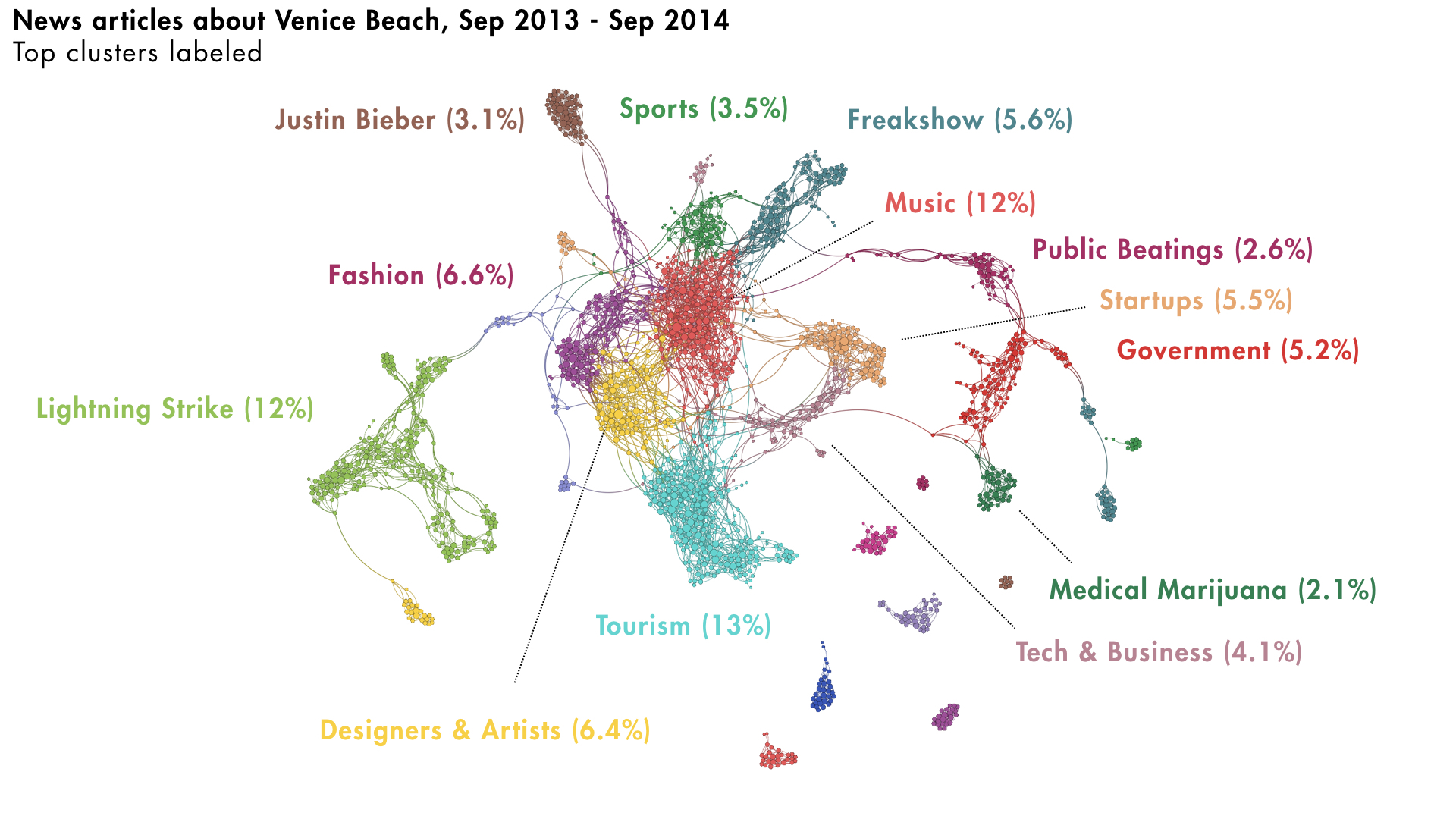 This is another look at Venice Beach, this time based on everything written from those same sources between 2013-2014.
Here we see a tighter central network with a strong core of Fashion, Music, Art & Design that connect and overlap more heavily that we see in 2017. There seems to be more of a community of creatives that are all linked to each other.
When people wrote about fashion in Venice Beach, they were more likely to link it to music. Music was being linked to Design which was being linked to art.
Startups are still here in this map but Snapchat is merely 1/3 of that cluster instead of the single largest topic in the network.
The government cluster is far less central and devoted to a range of different topics: tensions were around minimum wage, free wi-fi, making the boardwalk safer. The debate about housing is essentially non-existent.
Freakshow was alive and well - the 6th largest cluster in the network and subject of a show on AMC. And Justin Bieber? He had a celebrity-island cluster all his own back then.
Maps created out of language don't have to be just about a geographic location. We can also map out everything being written about childhood obesity. Or fake news. Or man buns. 
Regardless of topic, that ability to see the connections between language across many disparate written pieces allows us to form visuals about a particular topic that can give us an entirely new perspective and allow for more informed decisions going forward.
Intelligence in your inbox
Sign up for a monthly look into how data and visualization are changing the way we view the world.