Robots are doing more than just vacuuming those hard to reach areas of your home. In fact, they're poised to dramatically change the domestic labor market and fundamentally shift the way we approach companionship. At least that's what companies are betting on. But what do consumers think? And how can Quid help you better understand the future of the dynamic home robotics industry?  
To first get an overview of the industry and investment trends, Quid filtered its global database of 2.1 million companies for any working on "domestic" or "home" robotics. The resulting 375 firms were then organized into 10 unique clusters, with the largest categories being Service Robots, Caregiving Robots, and Robot Cleaners.
So, what can we infer from the network?
To start, the industry has seen rapid growth and market segmentation since the first generation of home robots.
When iRobot Corporation—maker of the Roomba robot vacuum—entered the home robot industry in 1990, they joined less than two dozen other companies who were largely focused on building robots to clean homes, and pools. Fast forward to 2018, and that number has ballooned to nearly 400 firms that want to make human-robot interaction a feature of everyday life. Quid found companies that are developing robot nurses, teachers, and even bartenders.
With the timeline view below, the evolution of the industry is clear. Cleaning robots were the early and dominant use case until 2011, when a new wave of investment and companies began to reshape the industry. To date, companies that are focused on producing service robots, such as Zoox Inc. (robot taxis) and Yunji Technology (delivery robots), have attracted the highest investment totals, with $250 million and $155 million, respectively. Other top investment categories include robots to help with childcare and/or parenting (seen below in purple), and those with natural language processing abilities (in yellow) that can communicate with their human counterparts.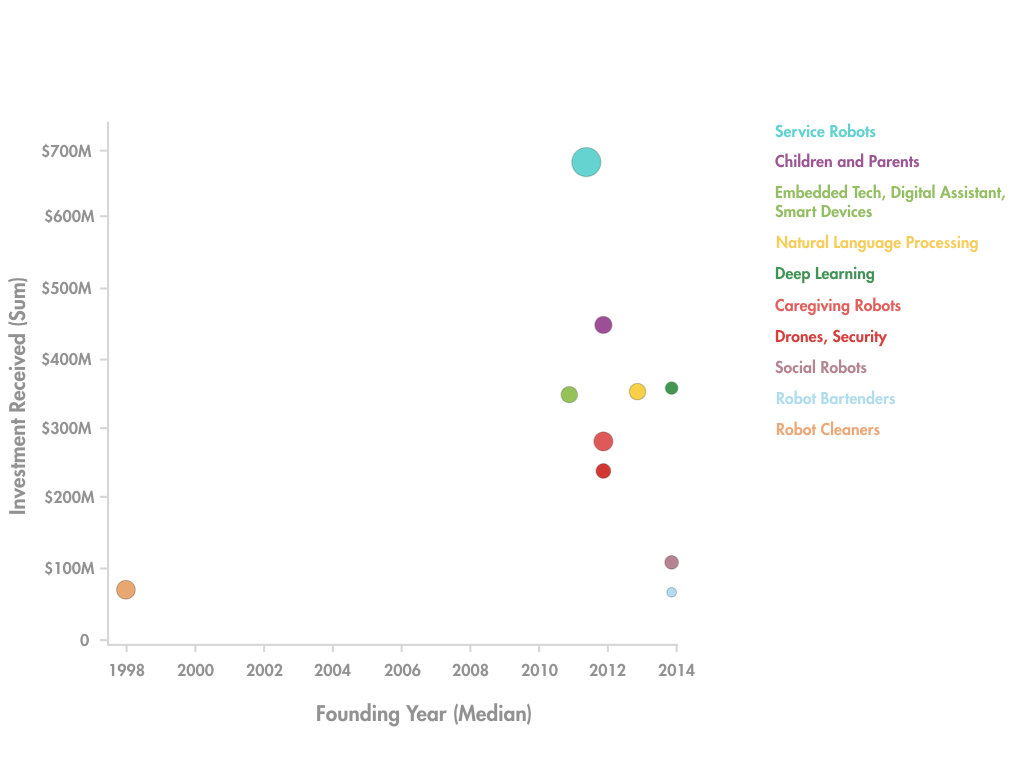 Investment peaked in 2016 with $675.2 million, but remained strong with more balanced investment across sectors in 2017.
Companies with a focus in deep learning ($163.8 million), security robots ($78.9 million), and natural language processing ($68.2 million) reaped the highest investment totals in 2017. Cambricon Technologies Corporate, which makes artificial intelligence chips for robots, netted the largest single amount ($100 million) from a group of investors that included Suzhou Oriza Holdings, Alibaba Capital Partners, and Yonghua Capital.
Amazon, Google, and LG Corp were mentioned most frequently in news articles about home robots in the past year.
Quid can also search for company mentions in the media, and highlight top firms associated with any topic. Out of the top eight companies mentioned in home robotics articles—Amazon, Google, LG, iRobot, Toyota, Boston Dynamics, Samsung, and Universal Robots, respectively—only Amazon had connections across the rest. This means that they were often mentioned in discussions of their major competitors and had a larger presence in the industry narrative.
Days after our analysis, new broke of a rumored Amazon project to produce an affordable home robot.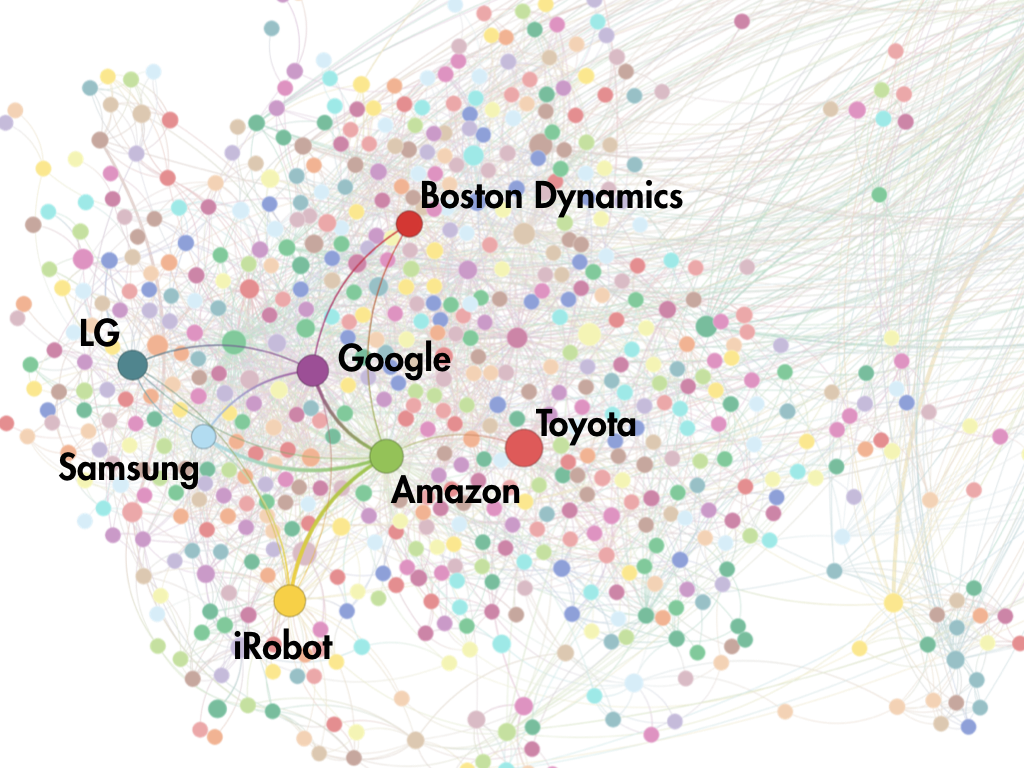 In addition to mapping out company presence in the media landscape, Quid can also use its global database of more than 550,000 news outlets and blogs to examine public and consumer narratives. The Quid network below represents nearly 3,000 articles written on home robots over the past year.
By volume, articles about social robots, robotic vacuums, and general discussion about robotics represent a third of all conversation about robots for domestic use.
Other top clusters included discussions about smart homes and the personalities of home robots, with 10% of the conversation each.
The public narrative around home robotics is largely split between social and functional robots, which differ in the types of services offered and their potential impact on jobs and roles traditionally filled by humans.
Functional robots (seen below left) are built to handle specific tasks—cleaning, cooking, gardening, and security, to name a few—and could drastically affect the domestic labor market. Coverage jumped in January 2018, when LG showcased three new concept robots: Serving Robot, Porter Robot, and Shopping Cart Robot at the International Consumer Electronics Show (CES) 2018. Quid also found articles that mentioned a robot that can climb walls to clean and sort tupperware, one that can show your home to potential renters, and a home monitor that tells you if your kids walk the dog.
Social robots (below right) aim to meet your emotional needs and are developed to provide companionship, care, or instruction. Discussion about social robots peaked in March 2018, with numerous articles addressing elderly care in ageing Japan. Caregiving robots can dispense medications and monitor vital signs, and may well eliminate the need for nursing staff in the future.
The network also featured use cases for children and lonely adults. Articles mentioned robots that can aid learning or even attend school for kids whose debilitating conditions make it impossible to attend in person. Other types can provide a substitute for friends and family by providing friendship and support.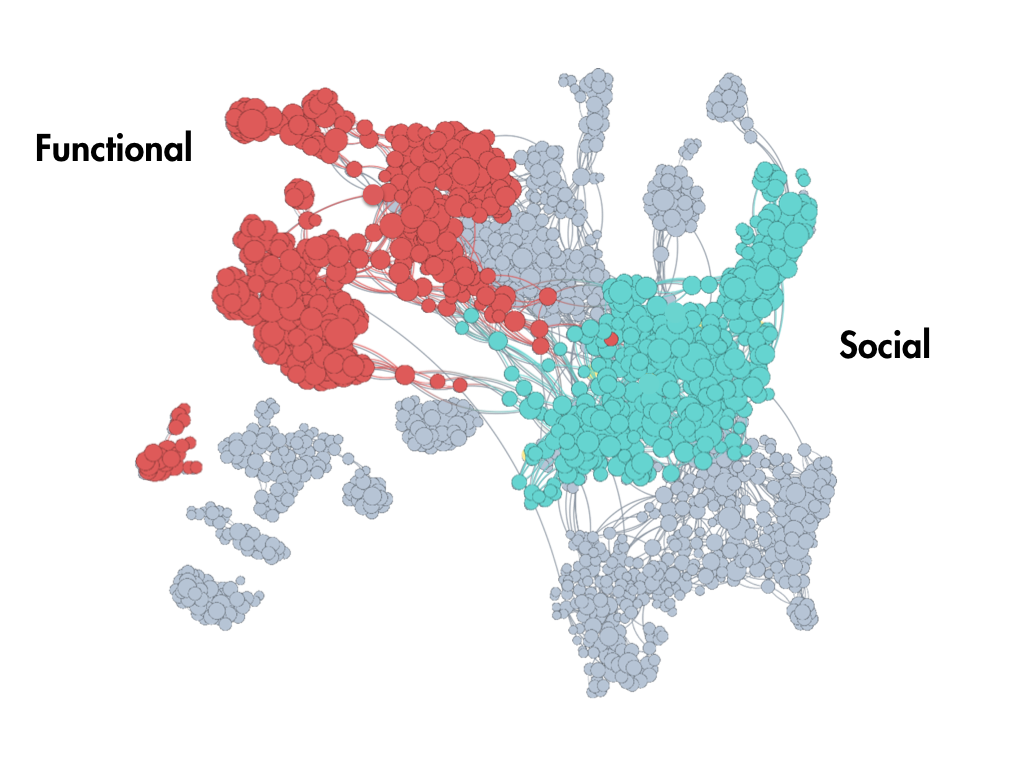 Between these groups is a category of robots that aim to be both functional and social. Not only can they take care of domestic tasks, but they're designed to act as a member of the household with a distinct personality. Within this cluster, articles mention robots built to resemble humans, dogs, and even stormtroopers. Sony, for example, is working on a revamped version of its robot dog, Aibo, that can function as a pet and control your smart home. According to an article in the network, the company is following a new strategy to produce robots that "win people's hearts.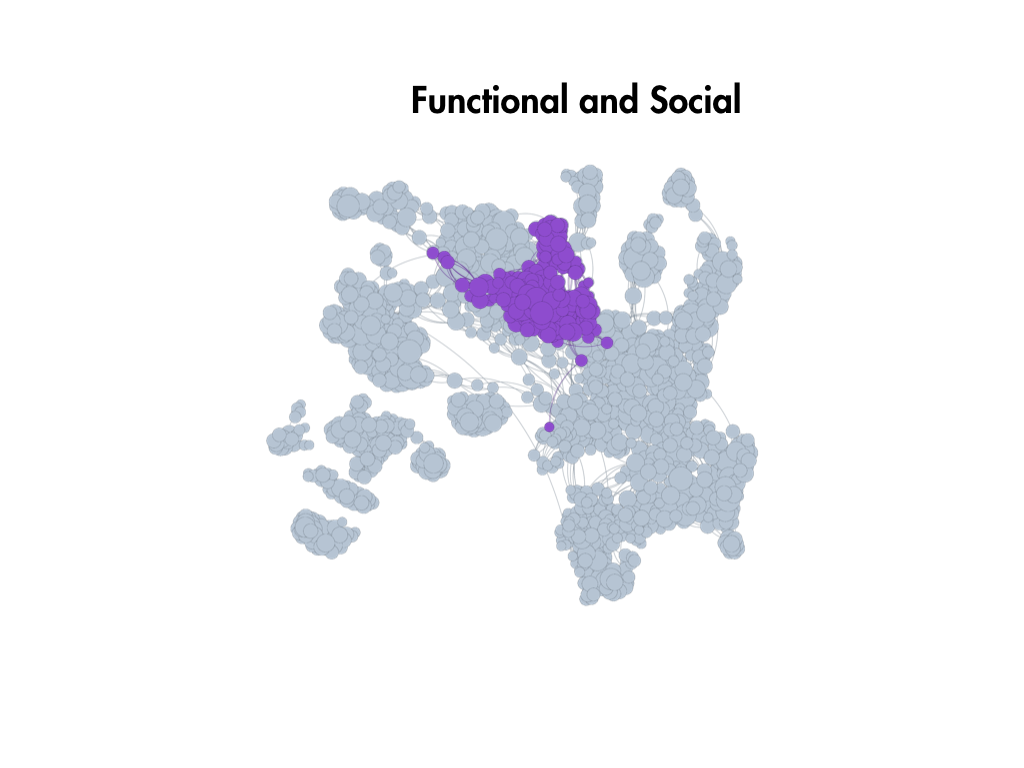 Public sentiment about the developments in home robotics is generally positive, but there are concerns about privacy and hacking, and whether humans will ultimately be replaced.
Quid can color the network to show sentiment in each article. Seen below, green represents positive language used, while red is negative
An entire negative-themed cluster formed around hacking. Here, some articles questioned whether robots that clean and service your home could be hacked and "weaponized." These devices could then be remotely used to spy on you or your home, or carry out a physical attack.
People are also concerned that robots might replace us in other ways. Perhaps they might get too good at what they do, or could be used to continue patterns of illicit behavior. Quid found negative articles that mentioned concern over a robot gracing a magazine cover, robot dogs that can open doors, and the development of "child sex robots," just to name a few. In fact, this negative sentiment toward robots has translated into a number of physical responses. A few articles mentioned assaults carried out on security robots in San Francisco, Silicon Valley, and Washington, D.C.
As humanoid robots become more integrated with our daily lives, questions over their rights, roles, and place in society are fueling public debate and will likely impact future industry development.
Articles, particularly in the Social Robot cluster, raise a lot of core moral questions that will be present as the home robot industry continues to evolve. Should they be presiding as priests over funerals as one is already doing in Japan? Should they receive citizenship and rights, which has already taken place in Saudi Arabia? What about kids whose best friend is a robot rather than another child? And how, ultimately, do we determine what exactly defines a robot and, by extension, what exactly it means to be human?
With the vast resources and search options in Quid, you can quickly get up to speed on any industry. Our analysis utilized the Quid companies and news/blogs datasets to assess the evolution of the home robotics industry, get an overview of the investment landscape, and gauge public sentiment about industry players and products. These insights can help you better understand the future trends, and anticipate potential opportunities and obstacles.
If you'd like to learn more about how Quid can help guide your strategic decision-making, give us a shout at hi@quid.com.
Intelligence in your inbox
Sign up for a monthly look into how data and visualization are changing the way we view the world.