From our Clients
Humanizing Customer Complaints using NLP Algorithms
Quid Staff
03.22.2019
Never underestimate the power of consumer feedback data. But who has time to read line by line through each submission, much less glean actionable insights from massive amounts of them? Until recently, data scientist Vishal Morde said much of this valuable data ended up lost, as no one on his team knew exactly what to do with it. Complaints were long, often mistagged by the customers themselves, and a comprehensive analysis was deemed impossible.
With the Quid platform's Natural Language Processing algorithms, Morde grouped customer feedback by similarities in language and eliminated existing difficulties with categorizing complaints. Feedback could be viewed as a single visual landscape, with the ability to measure sentiment in order to identify specific pain points.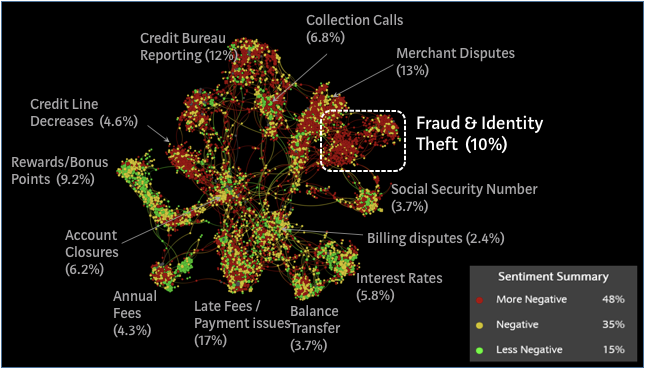 Network of customer feedback, sized by degree, colored by sentiment, with Fraud & Identify Theft cluster highlighted.
Want to learn more? Read Vishal Morde's full analysis on his blog. If you'd like more information on Quid or how to better understand your customers, send us an email at hi@quid.com.
Intelligence in your Inbox
Sign up for the Quid newsletter for a monthly look into how data and visualization are changing the way we view the world.