How To
How to get the most out of company networks
Quid is moving quickly to add new features and updates, particularly in its Companies dataset. The dataset includes 1.8 million public and private companies and fuels analyses like market landscapes and competitive intelligence.
Just three weeks after our last update — in which we added 350,000 new early-stage startups to Quid — we've refined our tools for analyzing companies.
See the new Companies dataset at work: find three new blog posts, an in-depth case study on artificial intelligence, and other tutorials here.
Company Count by Investor or Acquirer
This view gives you insights into private investment and M&A activity in a Companies analysis. Simply navigate to the Bar Chart view and set Bars Represent to "Investors" or "Acquirers" to track what an entity has invested in or acquired.

Investment Over Time
The events timeline in Quid for Companies now goes back 10 years. That means you can see which firms have increased or decreased their concentration of investments in a given area over time.

Merge Clusters, Move Nodes
If you believe certain companies should be recharacterized or focus areas combined, you can now do so with a single click. Quid lets you merge clusters and move nodes between clusters.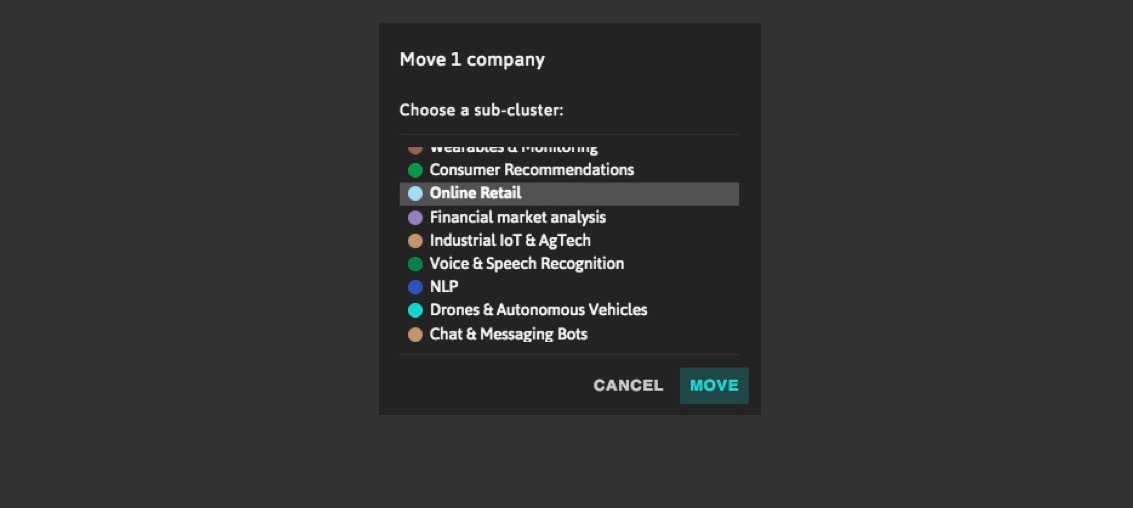 After selecting one or more nodes, simply right-click anywhere on the view. In the menu that appears, select the "Move" option and a destination.
Export to PowerPoint
A reminder: You can export saved images in Quid directly to PowerPoint. The feature works in one of two ways.

1. Bulk export saved views: After saving some views, you can click "Export All to Presentation" from the Saved Views menu to export all of your saved views in bulk into a single PPT file. 
2. Export your current view: Just need one image? You can also export your current view to PowerPoint by clicking "PPT Slide" in the new Export Menu.
Intelligence in your inbox
Sign up for a monthly look into how data and visualization are changing the way we view the world.