Events
Highlights from Quid Explore_NY 2019
Quid clients and prospective customers from around the world gathered in Manhattan on October 15th for Quid Explore_NY, our largest summit to date. Attendees had the opportunity to hear from some of the world's most impactful agencies, brands, and organizations, many of whom rely on Quid for complete visibility around any strategic question. Read on below for some highlights from the event:
Full-picture thinking takes center stage
The summit showcased the importance of full-picture thinking—strategy that considers all points of view, or all available information—with speakers from a wide range of industries. NASA's Kenneth Wright talked about how Quid helps the Research Directorate look into new technologies, while Intel's Michael Trudeau presented on the importance of greater visibility when making M&A decisions. Other speakers included McCann Worldgroup, Coca-Cola, Good Judgement, FleishmanHillard, Viacom, the XPRIZE Foundation, and sparks & honey.
What's next for Quid?
During the morning's product presentation, the Quid team gave the audience an introduction to the beta version of the new Demographic Data feature, which allows users to filter by the age, gender, and reach of sources in our News dataset. Additionally, the Quid team presented with representatives from Havas on Maps (also in beta), a new way to visualize and analyze location data in the platform.
Quid Stations 
Throughout the day, attendees got to interact with 3 Quid Stations: Quid Labs, Quid University, and Quid Platform. At Quid University, clients and prospects were introduced to Quid's new, on-demand training resource dedicated to making users more proficient in Quid.
At the Quid Labs station, members of our Data Science and Engineering teams walked attendees through several interactive presentations that showcase some of the 'behind-the-scenes' work that goes on in the Quid platform.  
Visitors to the Quid Platform station had the chance to learn about all of the use cases and features that Quid has to offer, with demos and walk-throughs provided by representatives from our Sales and Client Success teams. 
Bon Appetit - A 'bridging nodes' tasting
During the afternoon, Quid analyzed Bon Appétit recipe data to find some of the most highly-connected recipes in their catalog. Quid CMO Dan Buczaczer and Mary Nolan, executive chef of Bon Appétit, walked the audience through a tasting of the following recipes (links below if you'd like to try them at home):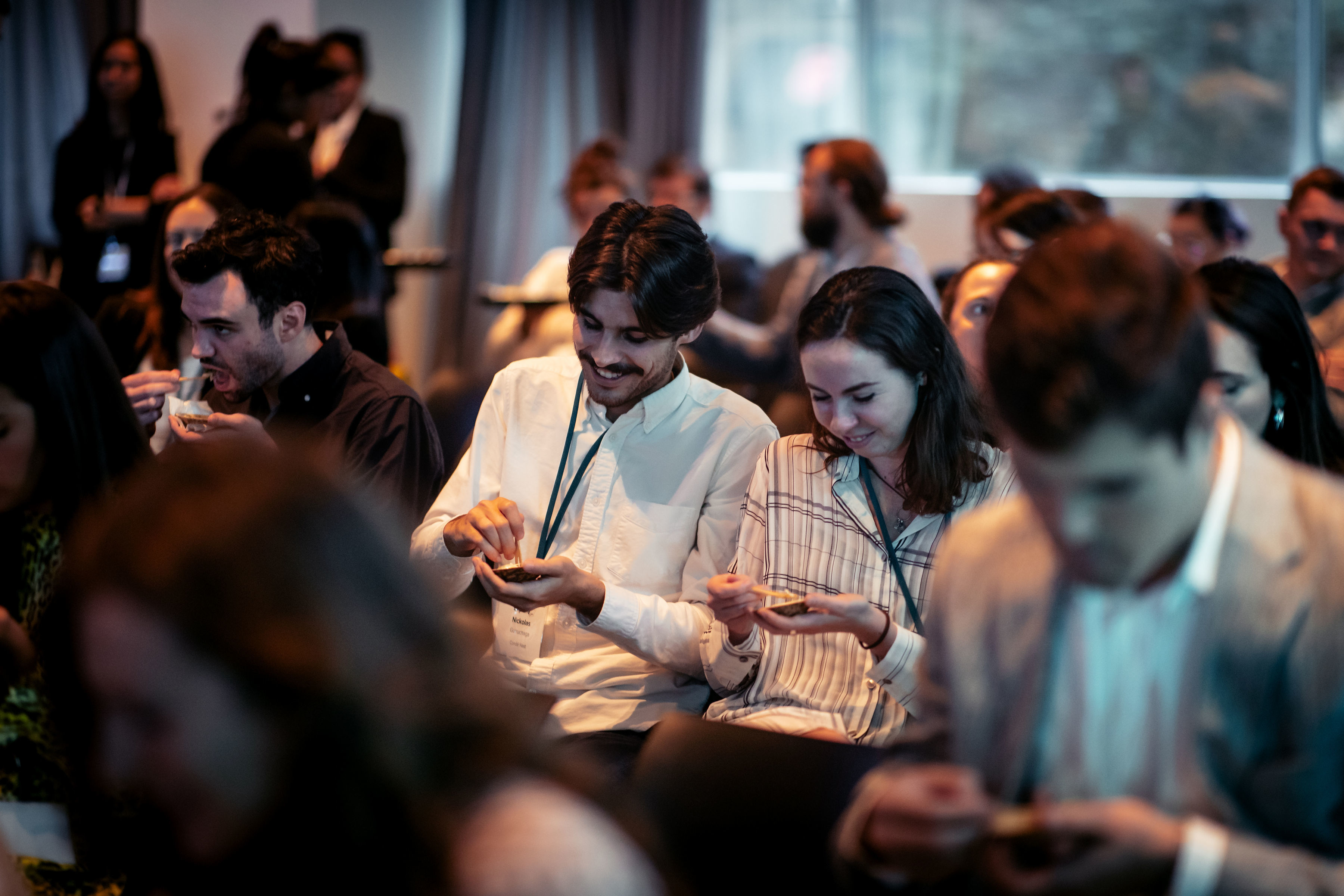 Maria Ressa on using Quid to fight disinformation 
Finally, the day closed off with a presentation by Maria Ressa, CEO and Executive Editor of Rappler and Time Magazine Person of the Year 2018 (read about her in the NYTimes here), explaining how data can be used as a tool for journalists fighting against disinformation. While walking the audience through her own experiences reporting on the Duterte regime in the Philippines, she highlighted how the future of tech and democracy are intertwined. 
We'll be hosting more Quid Explore summits in 2020, and will let you know as soon as dates and locations are finalized. Reach out to us at hi@quid.com for more information about attending upcoming conferences.
Intelligence in your inbox
Sign up for a monthly look into how data and visualization are changing the way we view the world.