Events
Highlights from Quid Explore_London 2019
Quid Staff
05.23.2019
Quid clients and prospective customers from around the world gathered in London last month for Quid Explore, our largest European event to date. Representing a variety of sectors, including marketing, finance, and healthcare, participants heard from some of the world's top minds on how they use data to advance strategy and innovation within their organizations. Read ahead for some highlights from the event, including more information about our upcoming Explore conferences in Tokyo and New York.
UCB uses AI to assess unmet needs of more than half a million patients
Bharat Tewarie, UCB Executive Vice President and Chief Marketing Officer, gave the conference's keynote address on his company's work with Quid and Artis Ventures. Using Quid, the project analyzed more than 500,000 anonymous public posts in order to better understand the needs of patients living with chronic conditions. "Artificial intelligence for us," he said, "is a way to listen to patients in their own voice, using their lens." 
Watch Tewarie's entire presentation below:
Wunderman leverages 17 years worth of consumer feedback to drive client impact
Anna-Lee Bridgstock, Digital Performance Director at Wunderman UK, demonstrated how AI-backed insights can drive real world impact. When Ikea came to their agency looking for creative ways to better engage with parents, her team went straight to the source. They worked with Quid and parenting website Mumsnet to analyze 50 million rows of anonymous comments in just a few days. The result? A campaign strategy built on an innovative solution to one of the most pressing concerns expressed by parents. Learn more by watching her full presentation here: https://www.youtube.com/watch?v=TSzytqzTOrE
Golin explains how data has transformed the customer journey
Social media and online review forums have upended the customer journey, according to Jonny Bentwood, Global Head of Data & Analytics at public relations firm Golin. "Now we have TripAdvisor, now we have Glassdoor, we have Yelp, Amazon reviews," he said, "so we find it's not actually a funnel, it's a circle." See how Golin uses Quid technology to gain insight around the five stages of the customer journey, from awareness to purchase: https://www.youtube.com/watch?v=OcUAiMeaVmE
Quid launches new Quid Apps product
Attendees also had the chance to see our newly launched Quid Apps product in action. Following a demo of our recently released Content Strategy app, Quid's product leadership team previewed the apps currently in development and what's to come for the rest of 2019. Learn more about how our first two apps, Competitor Briefing and Content Strategy, can help you get smarter, faster on any topic.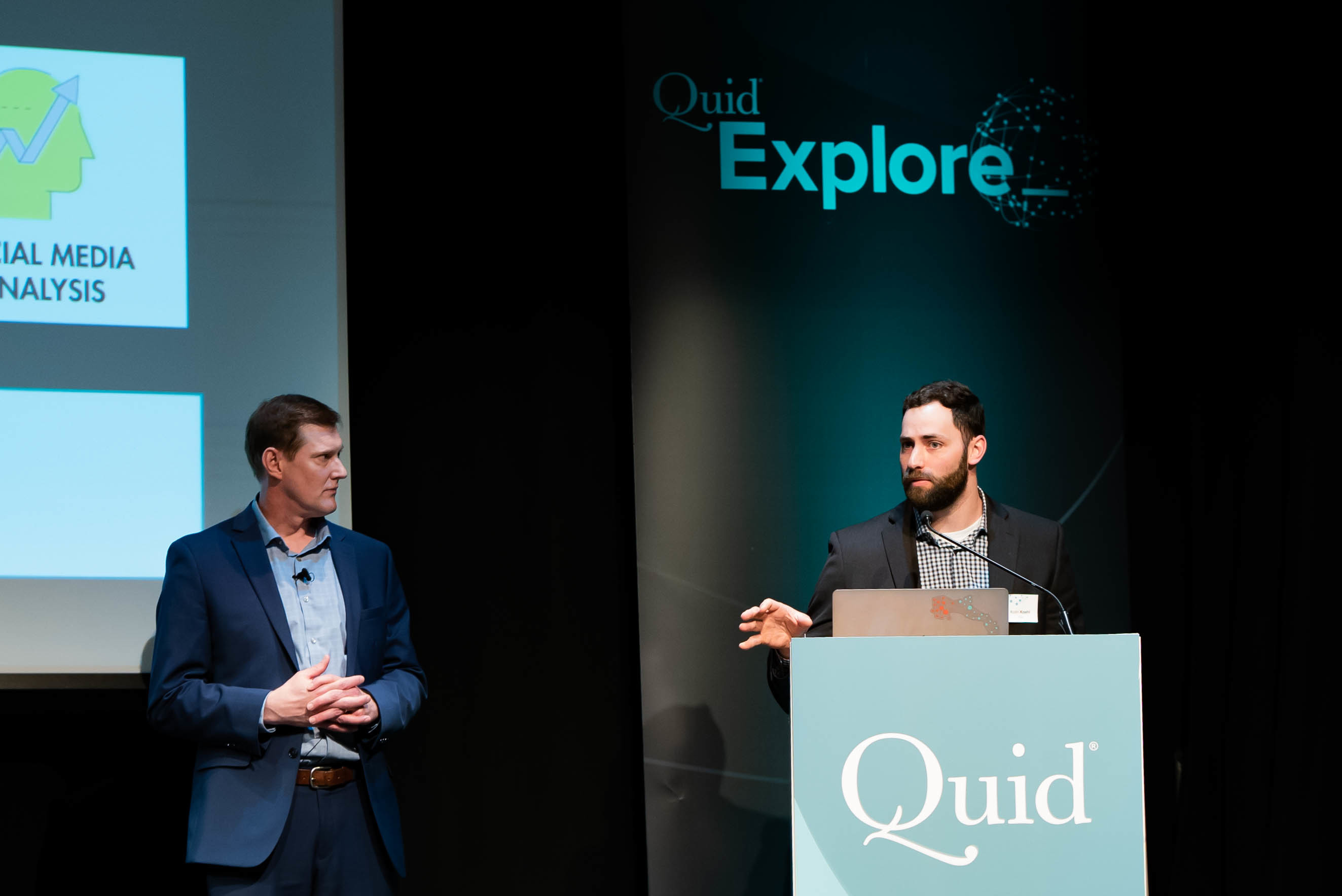 Land Ormiston, Quid's VP of Product, and Senior Project Manager Kolin Koehl discuss the Apps roadmap for the rest of 2019
Interested in joining us at a future Quid_Explore event? Explore returns September 2019 in Tokyo, followed by our flagship NYC event in October. Reach out to us at hi@quid.com for more information about attending those conferences.
Intelligence in your Inbox
Sign up for the Quid newsletter for a monthly look into how data and visualization are changing the way we view the world.