Health
Genetic Testing – What's Next?
In 1953, Watson and Crick discovered the DNA double helix structure. In 1990, the Human Genome Project made a huge impact on DNA sequencing technology with the aim of mapping the whole structure of the human genome and sequencing it over the course of 13 years. Today, at-home genetic testing is becoming easier and easier. We took a closer look at the companies around genetic testing and related technologies to learn about recent advancements in the space.
We started by looking at key technologies, emerging investment trends and players in the genetic testing space. Using Quid software, we mapped more than 1500 companies, with investments (publicly disclosed) of nearly $21B. You can see in the image below that the largest industry segments were cancer diagnostics, DNA extraction and synthesis, sequencing, drug discovery / therapeutics, and personal genomics.
Each node in network represents a company. The links and structure represent commonalities between companies' technologies, products, and services. We see that the cluster, personal genomics, is densely packed, telling us that the language used to describe these companies is highly similar. We also note the close proximity of drug delivery / therapeutics indicating that we have crossover companies bridging these areas.
Since 2014, we have seen a recent explosion of private companies focused on at-home genetic testing and related technologies. Personal genomics companies, like 23andMe, and early oncology detection companies, like Color Genomics, have been leaders in the news and in terms of investments. In the last year, top investments have been made by venture capital firms in the area of cancer diagnostics, personal genomics, and drug delivery / therapeutics and big data for drug discovery.
Sequoia Capital has been involved in the two biggest deals in recent months. Guardant Health, a cancer diagnostic startup, raised $360M in a round of funding led by a subsidiary of SoftBank, with participation from Sequoia Capital. While, 23andMe recently confirmed $250 million in a funding round led by Sequoia Capital.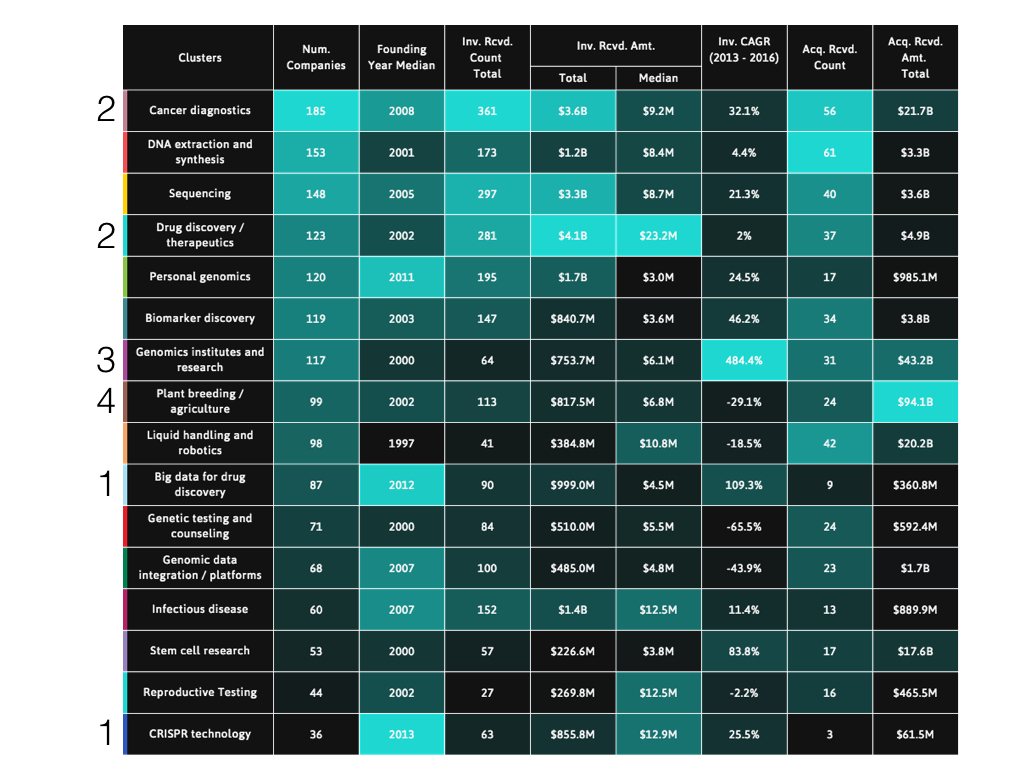 This Heatmap compares focus areas across multiple metrics to quickly extract investment, growth, and maturity trends.
Looking across the focus areas in a Quid heatmap reveals additional trends. (1) More recently, new companies are pursuing big data and machine learning and CRISPR gene editing. (2) Cancer diagnostics and drug delivery / therapeutics companies have high funding among the majority of companies in focus areas. (3) Genomic institutes and research centers have seen heavy growth in funding over the last four years. (4) While plant breeding / agriculture has not seen the most acquisition, companies in this space are highly valued.
Looking at investments from the top 5 Pharma companies (by market cap: J&J, Roche, Pfizer, Novartis, and Merck), we see that 28% of investments are in drug delivery / therapeutics and 18% is focused on early cancer detection. Smaller startups such as Cymabay Therapeutics, Epic Sciences, and ApoGen Biotechnologies have seen investment from more than one top pharma company.
There's no doubt the conversation around genetic testing and related technologies will only continue to grow and it will be interesting to track how these personal genomics companies make the shift from collection of genetic data to partnerships with companies to develop personalized treatment. Luckily, we can always turn to Quid to conduct a quick analysis of the industry landscape and check news and media to understand how consumers are reacting to these changes.
The insights above are just a few key findings around genetic testings, to learn more around this specific analysis, please reach out to us at hi@quid.com.
Intelligence in your inbox
Sign up for a monthly look into how data and visualization are changing the way we view the world.