Tech trends
From the assembly line to your home: 17 years of robots
Carlos Folgar and Ru Zhang
10.11.2017
This post is based on a talk Will Weisman, Executive Director of Summits at Singularity University, gave at the SU Global Summit where he used Quid to visualize the evolution of the robotics startup landscape during his introduction to exponential technologies. 
See the talk here. It starts around 1:20, and the Quid robotics evolution starts around 11:45.

How has this landscape evolved over the past 17 years? What are the trends over the years?

Quid is software that visualizes massive amounts of text, enabling organizations to make decisions that matter. When analyzing thousands of corporations and startups in a technology field, Quid is able to read text describing their technologies, products and services, to quickly organize them into categories. In order to answer the questions above, we asked Quid to first find all startups involved in robotics, then organize them into categories, and lastly break it down into several time periods based on the founding years of all the startups.
Here is a network map of over 2700 robotics companies founded since 2000: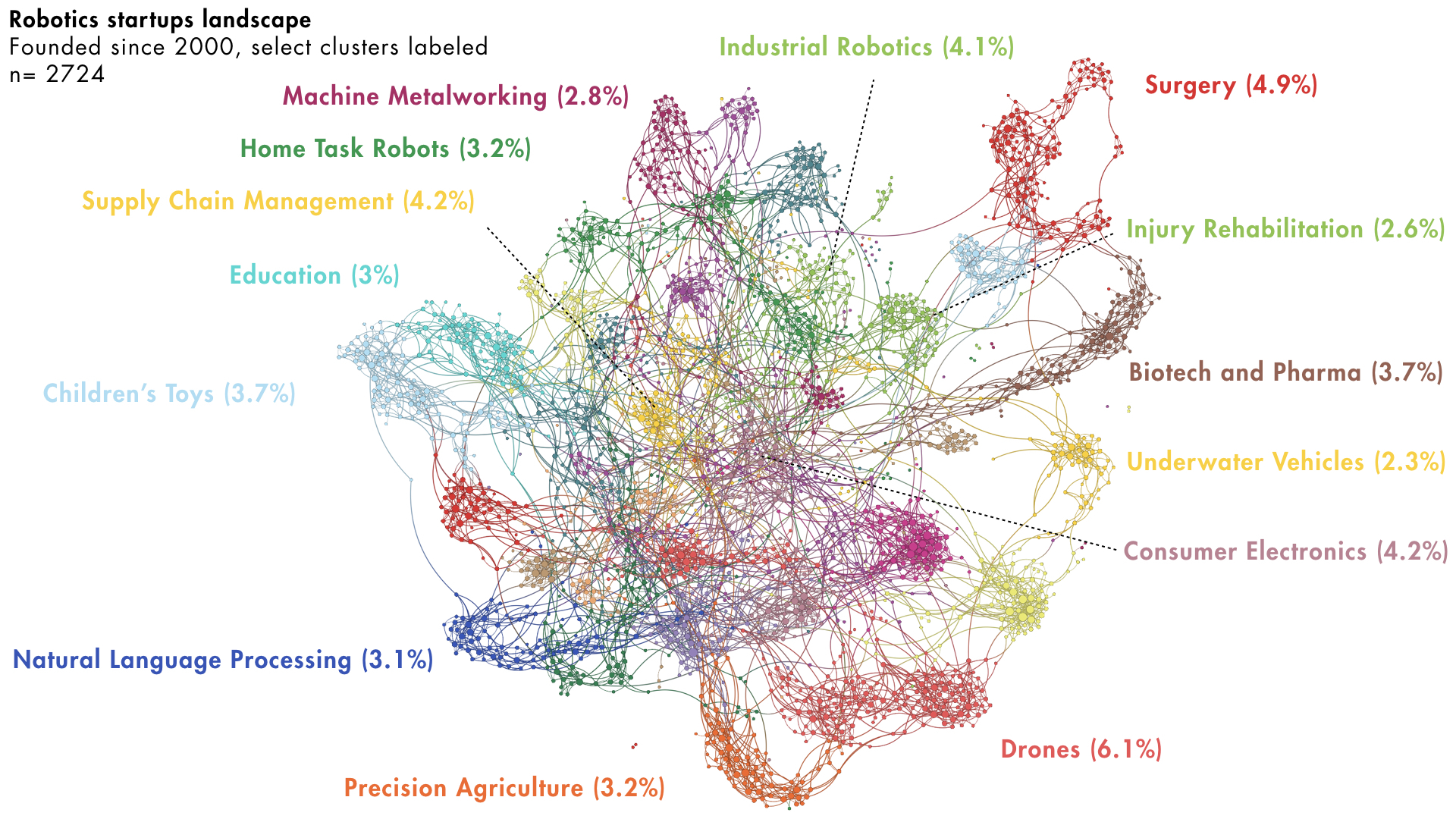 To see how the landscape evolved, we applied a filter based on founding year for different periods of time. We started at the very beginning -- the year 2000.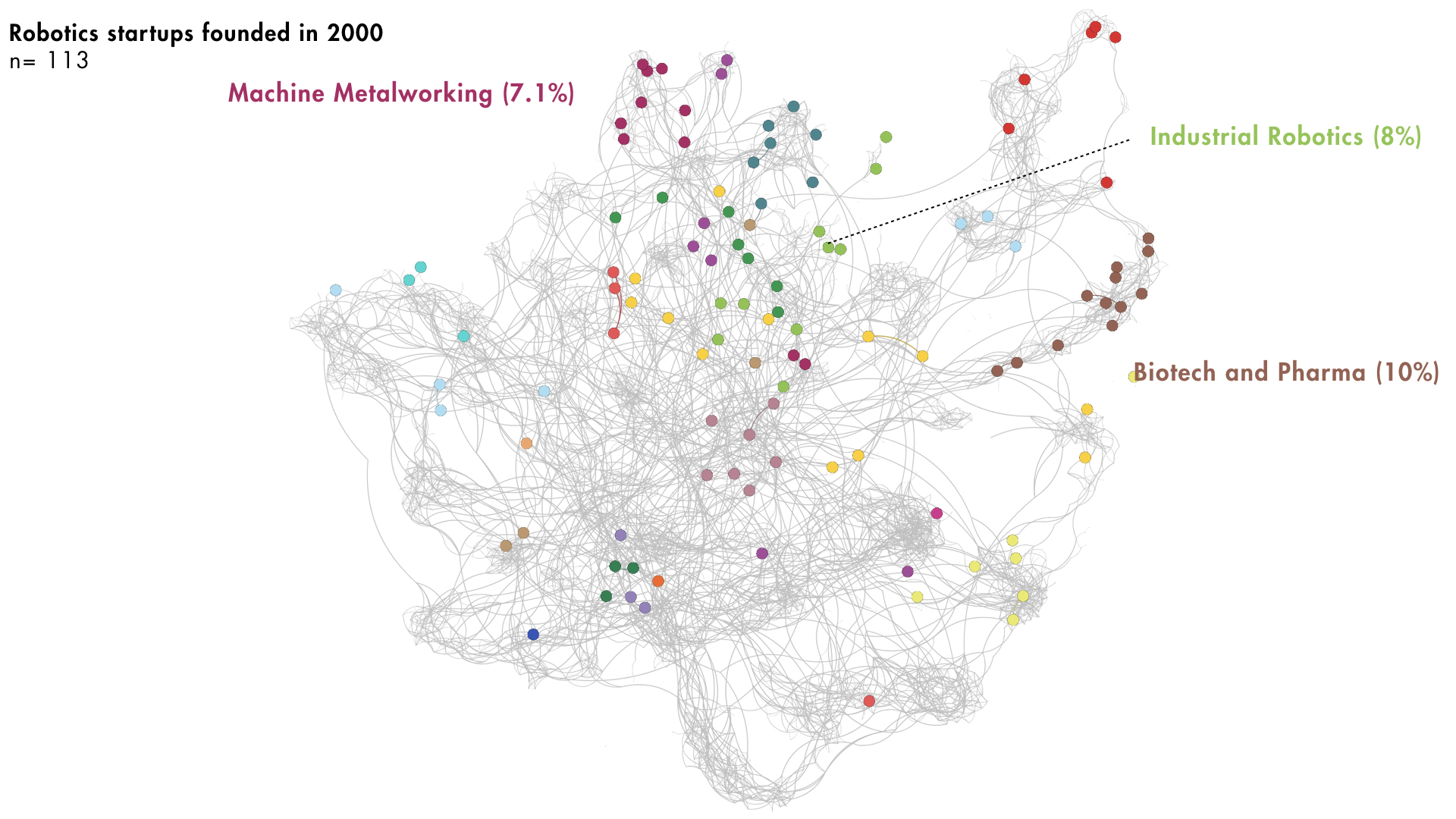 Most new robotics companies above focus on heavy commercial and industrial applications. Avantium and Serenex (acquired by Pfizer) appear in the areas of biotech and pharmaceutical laboratories, while TAL Manufacturing and Robolution build systems for industrial factories.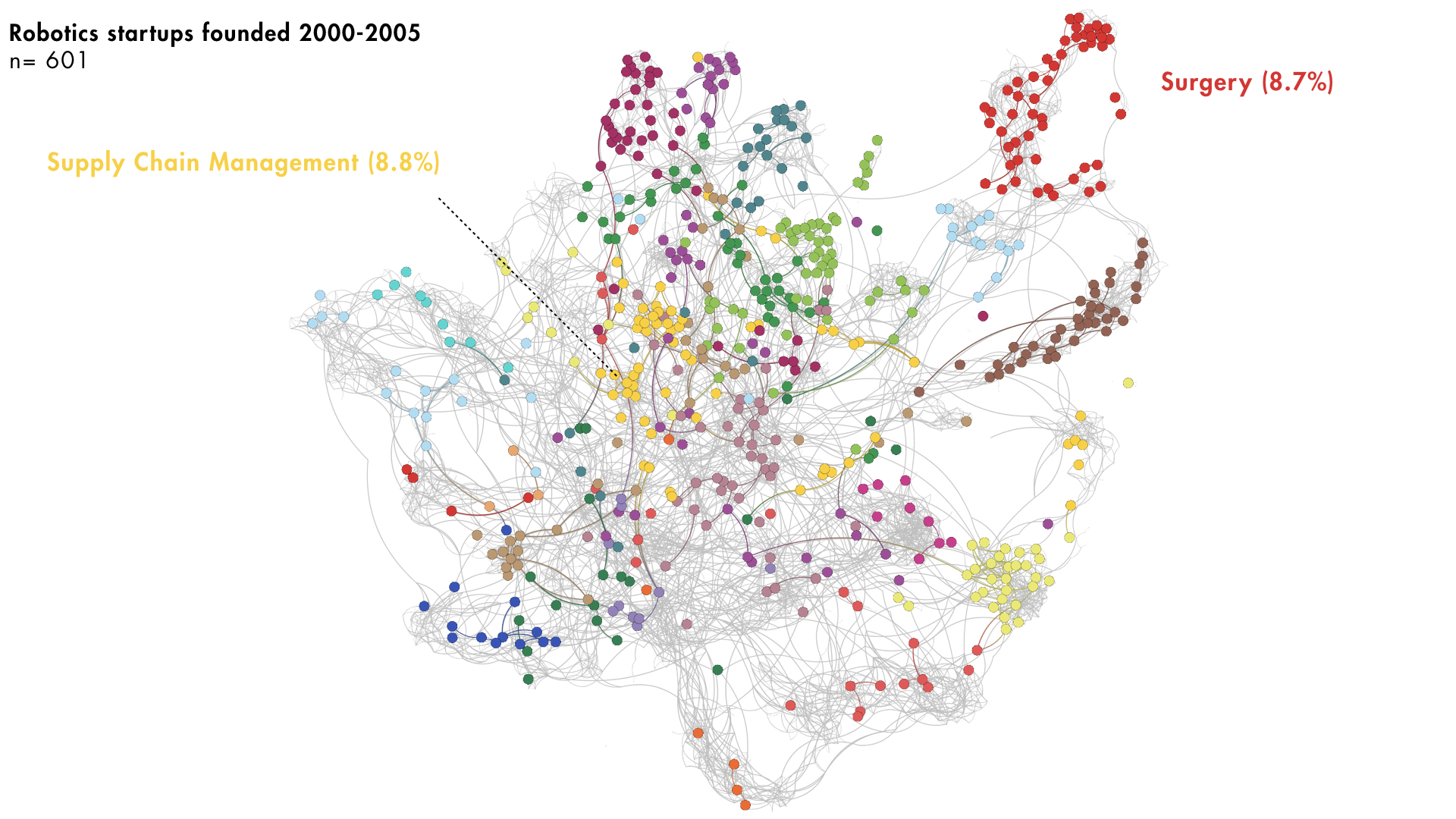 Over the next five years, we see about 500 new companies entering the robotics space. Many of them venture into the focus areas of medical surgery, such as Mevion Medical Systems and Medrobotics, and supply chain, such as Seegrid and Kiva Systems (acquired by Amazon).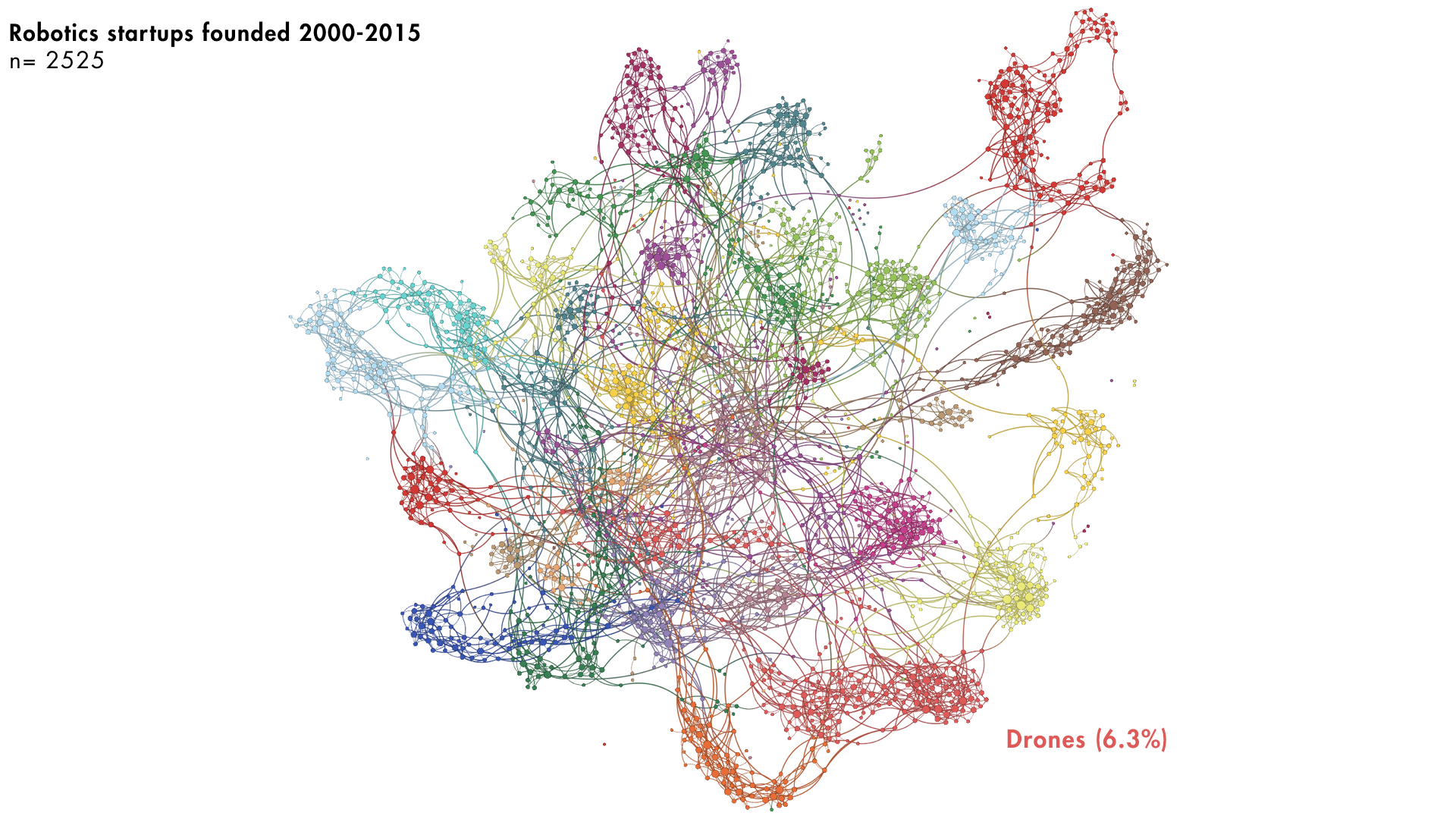 Jumping ten years later to 2015, we see an explosion of over 1900 new startups tied to robotics. At this point, drones emerged to become the largest category in the landscape. The big winners in this group attracting investment were Prioria, 3D Robotics, and Flypro.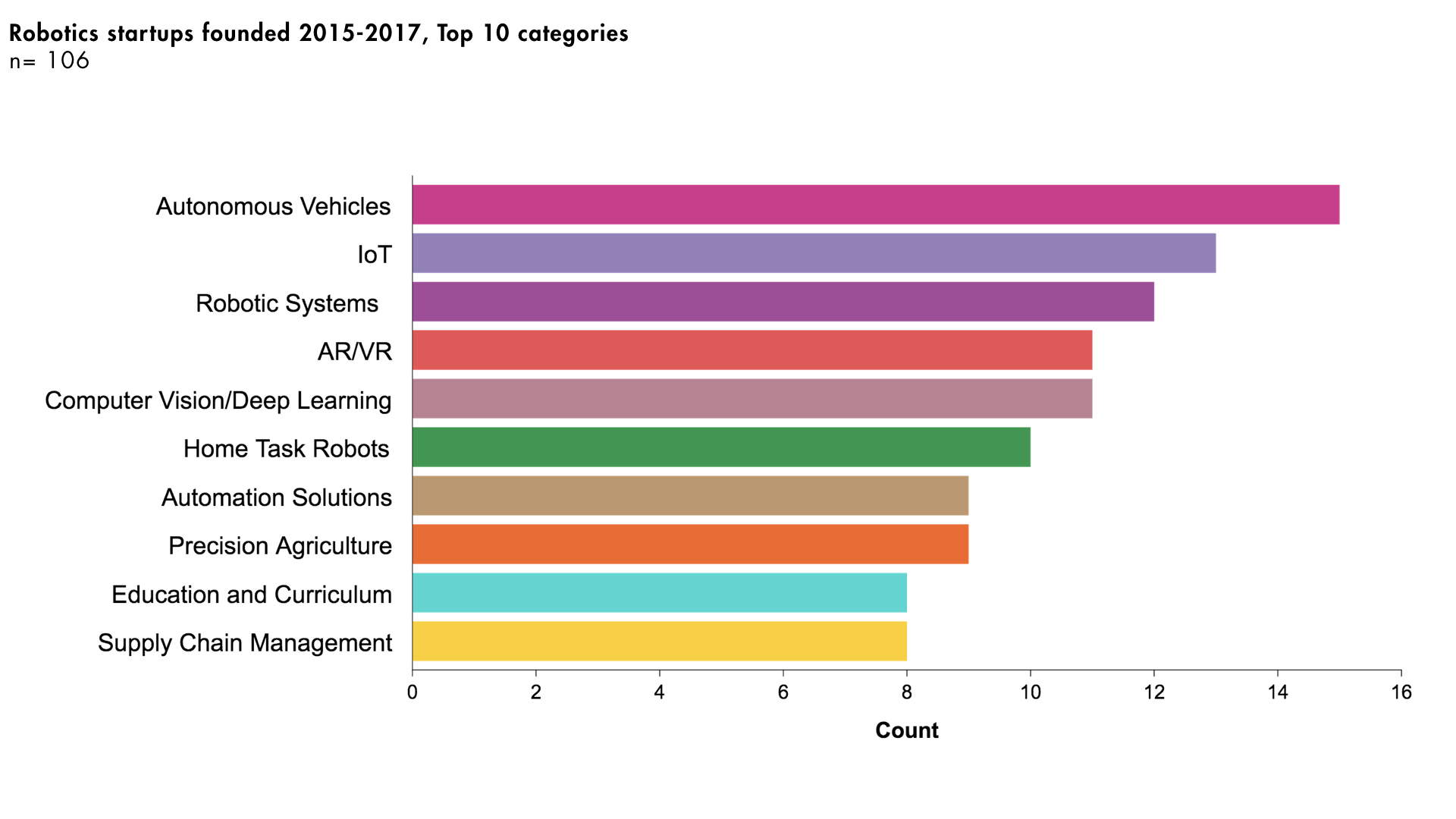 So what's occurred over the last two years? Looking at the top ten clusters for companies founded in 2016 and 2017, we get a glimpse of where the robotics industry is headed.
Autonomous vehicles are all the rage and many young robotics startups are developing sensors and software that is being applied to intelligent vehicle systems. Among these startups we find Blue Vision Labs, comprised of a team of highly distinguished academics and ex Facebook, Google, and Microsoft researchers developing cutting edge machine perception technologies; they have received funding from Accel Partners and Horizons Ventures.

Two other prominent categories are startups focused on connected devices and residential homes. Here we find Togg, which is using radar to capture residents' activities and location to intelligently automate home robotic systems. Variantz has developed a platform to connect cloud software applications with smart appliances; they are also starting to apply their technologies to commercial sector, such as in office buildings and retail stores.

For a deeper look into the robotics space, or any technology that interests you, get in touch at Hi@quid.com.
Intelligence in your Inbox
Sign up for the Quid newsletter for a monthly look into how data and visualization are changing the way we view the world.