Once unthinkable, the self-driving car now feels inevitable with prototypes hitting the streets in cities across the United States. Will a Jetson-style flying car be next? How about personal rocket ships for leisurely trips around the stratosphere? With rapid innovation happening in the transportation sector, let's see where we might be heading in the near future.  
Quid searched through more than 2.2 million global articles and blogs to map discussion around the future of transportation from the past year. Below is the entire media landscape, which represents 2,363 unique stories from more than 9,000 results.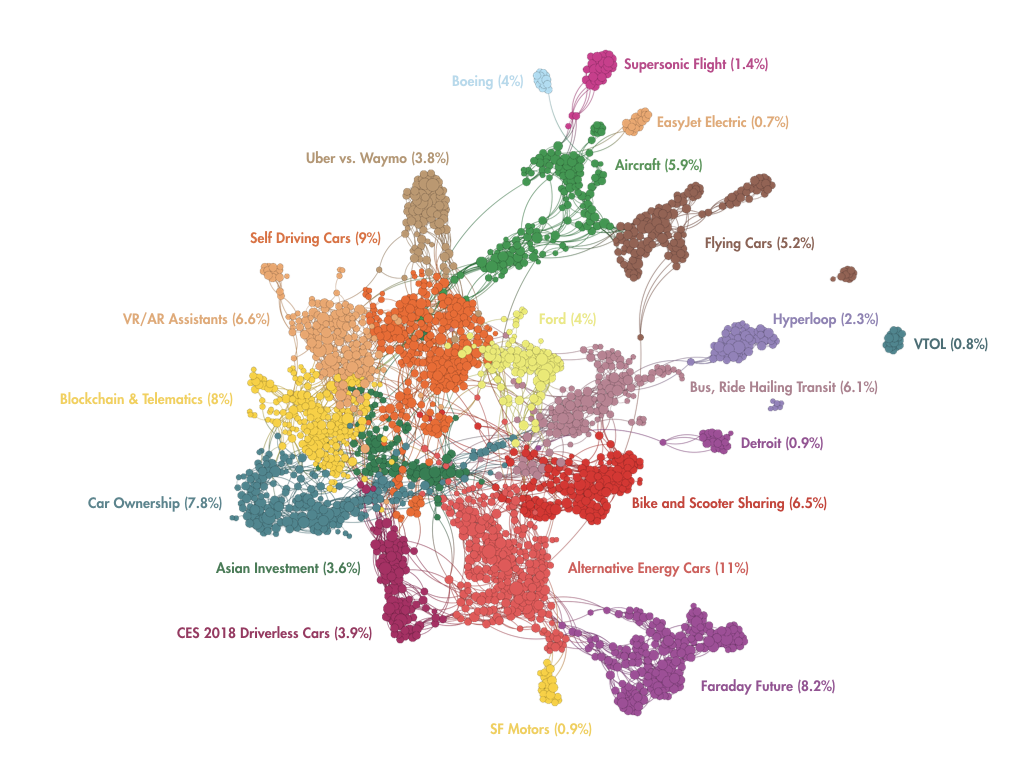 Cars overwhelmingly dominate the conversation from everything you might expect (alternative energy sources, new models of owning vs. leasing) to more powerful software tied to things like blockchain and telematics. The top five topics in our media landscape all focus of developments within the automobile industry: Alternative Energy Cars (11% of all discussion), Self-driving Cars (11%), electric car startup Faraday Future (8.2%), Blockchain & Telematics (8%), and Car Ownership (which primary examines how ride sharing will change traditional ownership models - 7.8%).
There is also a lot of innovation happening in air travel at the moment. The sector as we know it is slated to go largely electric with test flights already taking place. Want to get from London to New York in just over three hours? An entire cluster around Supersonic Flight tells us that testing on the "Baby Boom" will get underway later this year. The Richard Branson-backed venture from Denver's Boom Supersonic will reportedly be 10% faster, 30 times quieter, and 75% more affordable than the Concorde.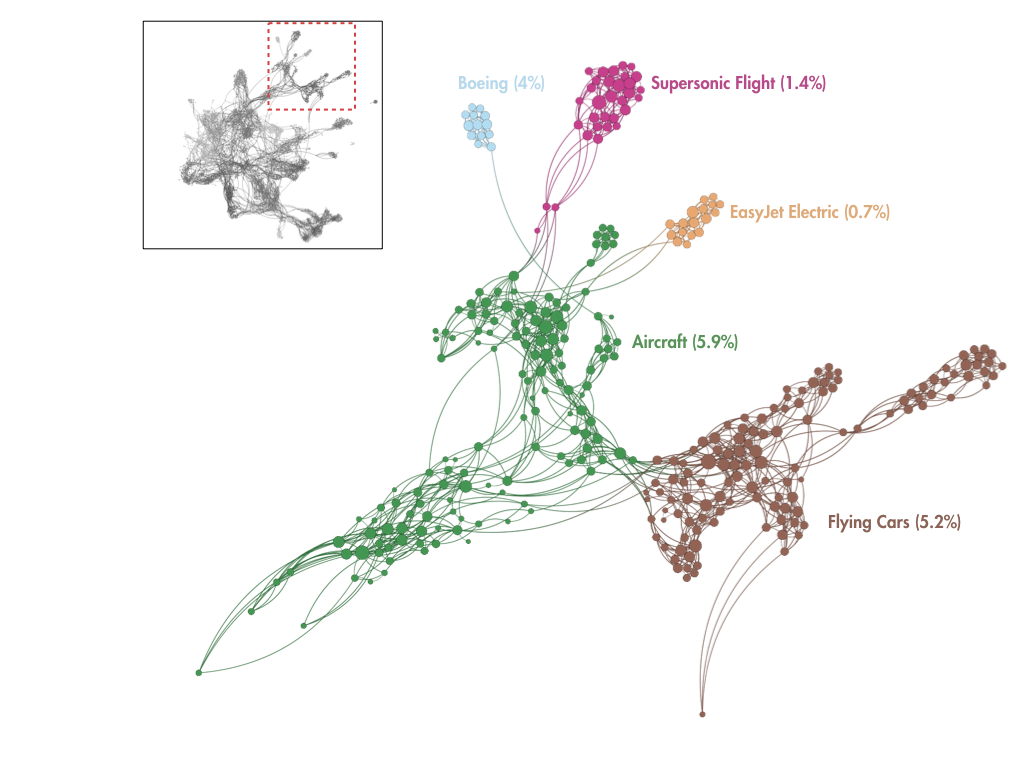 Blade Runner fans, get ready—the dream of a flying car may finally be here. A large offshoot from the Aircraft cluster tells us that compact, electric flying taxis that can take off and land vertically are currently being tested by a range of companies. Many of these look like large drones and they've already taken flight with companies like Lilium and Volocopter. A Google-backed startup has tested prototypes in New Zealand. And Toyota is working hard to have a flying car involved in lighting the cauldron at the Tokyo 2020 Olympic Ceremony.
If you look at the right side of the media landscape below, topics tend to focus on issues of sustainability—electric cars and planes or those using other forms of alternative energy (solar, hydrogen, and even a car running on biobutanol derived from whisky production). Large clusters also form around mass transit solutions like new kinds of ride shares, scooters, and e-bikes. This network visual shows how much we link future transportation efforts to lowering our impact on the environment.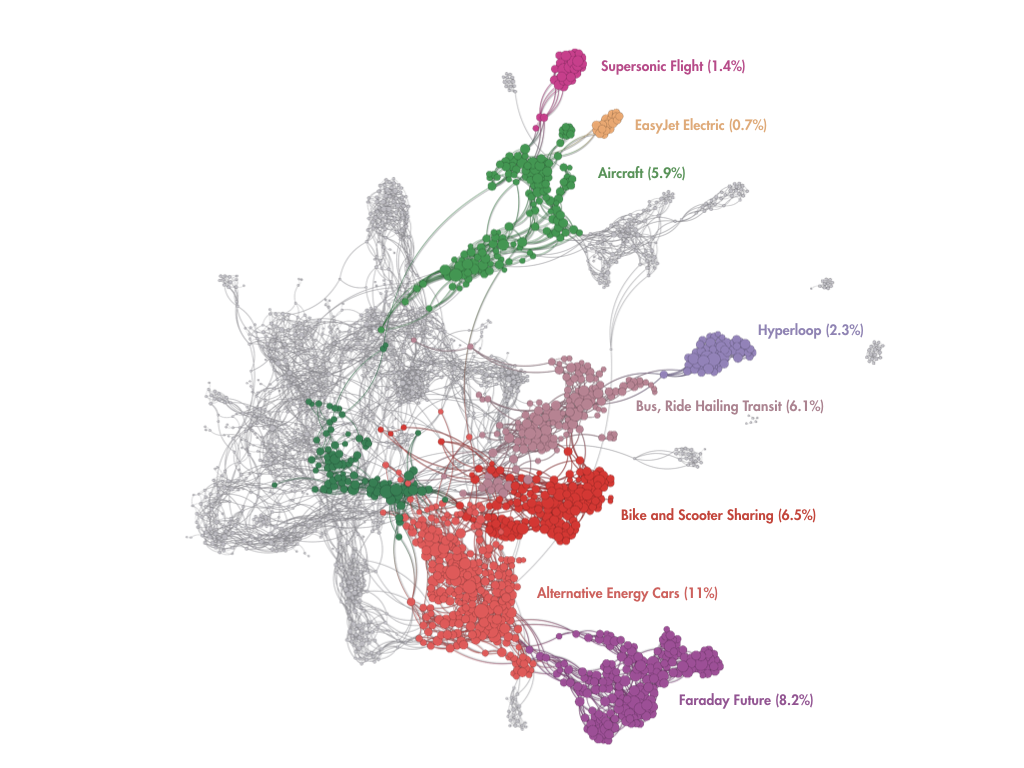 So where is all this innovation taking place? Largely, the United States and China. While San Francisco gets most of the attention in the U.S., Pittsburgh has become a surprising hotbed for autonomous vehicle development with most of Uber's self-driving team based there. Elsewhere, Dubai has already opened its airspace to flying cars.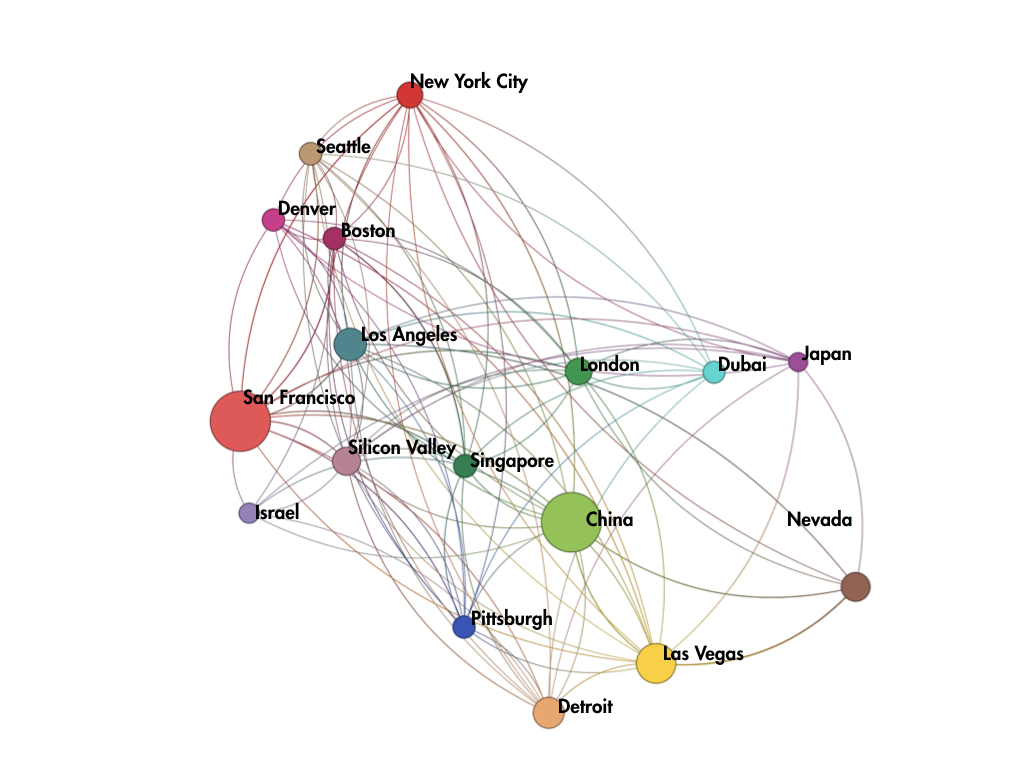 If you filter the network by company, you can see the complex web of players in the transportation sector. In addition to the well-known industry giants, there are a number of less familiar startups and international firms. The larger the nodes in this network, the more coverage they have received on this topic. Links between nodes indicate a large degree of connectivity between companies (i.e. co-mentions in articles about the future of transportation).
The top 10 companies (by volume of coverage) include traditional car makers (Ford, Toyota, BMW), tech entrants (Google, Uber, Lyft), and upstarts (Tesla, Faraday, and Byton which has developed facial recognition door locks). Airbus, the lone plane company in this list, links to competitors like Lockheed Martin and Boeing, flying car developers, and surprising companies you wouldn't expect like Tesla, Uber, Lyft, and Google. This view paints a vivid picture of how quickly these worlds are starting to converge.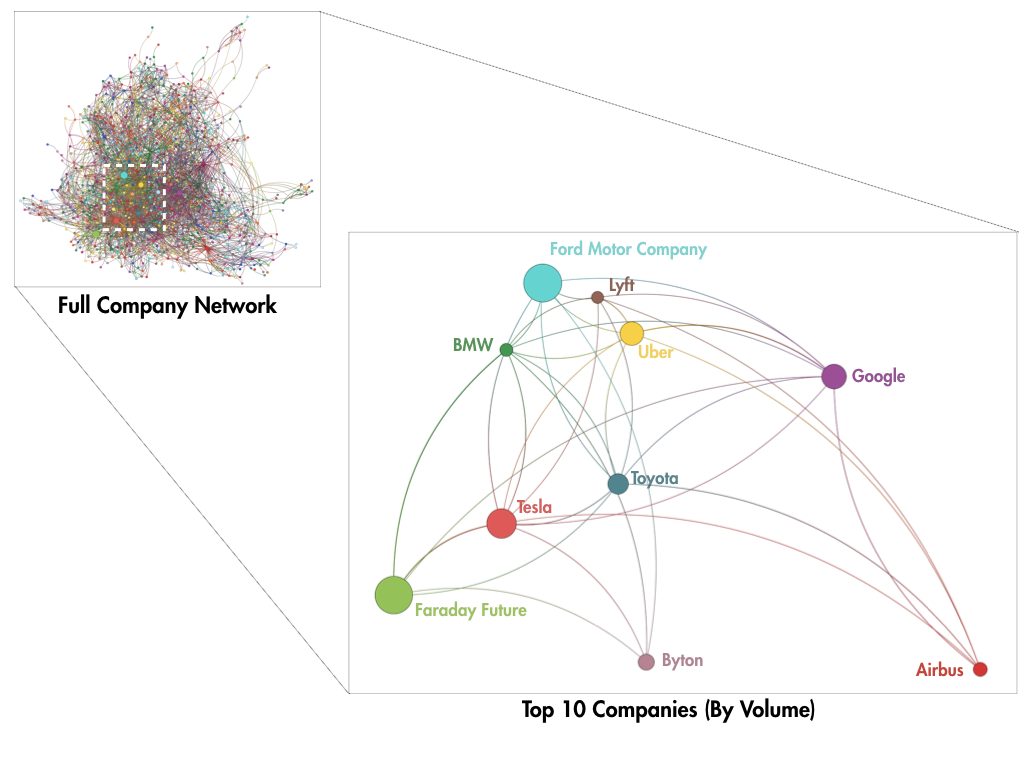 Topics less connected to the central narratives of the network can be seen below in this scatterplot, which isolates distinct language. Nodes further to the left differ most from the rest of the network. Innovations in car culture are a major theme here—you'll be able to get your car fixed and washed at the click of a button. Also, food delivery is being revolutionized in plenty of ways. Tests have already been run to bring your pizza via drone or robot, and trucks that cook it on the way to your house. So it looks like one of the innovations in transportation is that we'll need to travel less. Instead, everything will come to you.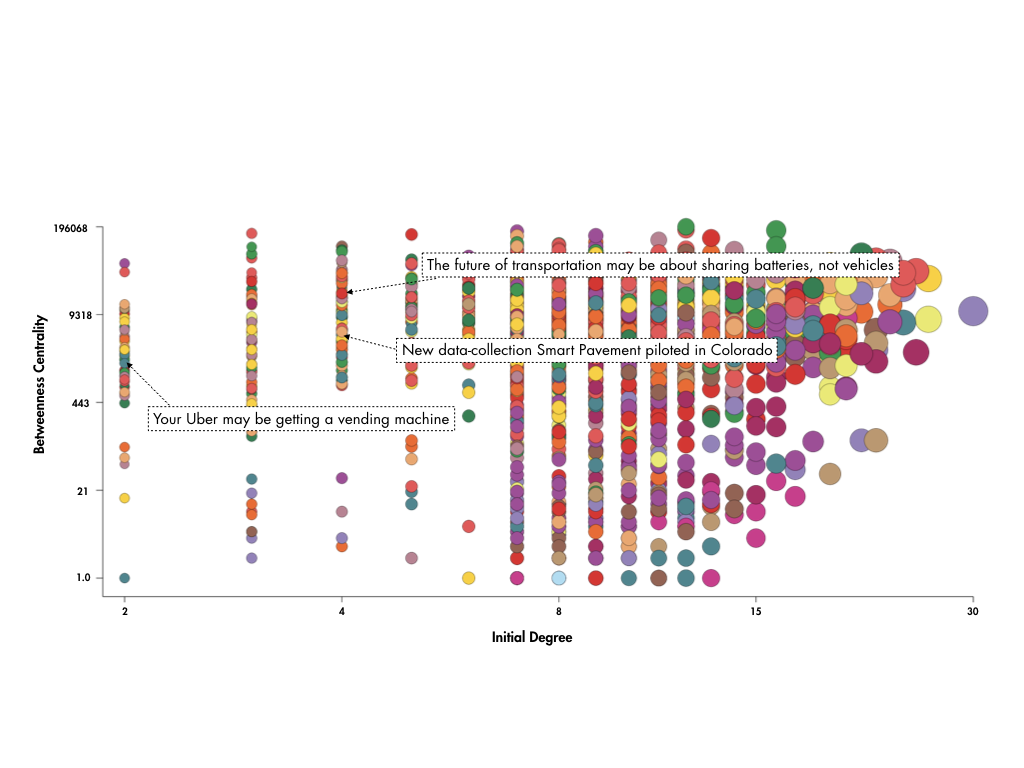 Here we also find battery swapping—the idea that we will share power sources rather than vehicles—and smart roads that would collect real-time traffic data and automate accident alerts. Riders using Gogoro Smartscooters in Taiwan, for instance, can pull up to a station and swap out their depleted battery for a fully charged one.
When it comes to the future of transportation, it seems to be less about the individual technologies and more about how they complement each other to completely revolutionize how we move from point A to point B.
Intelligence in your inbox
Sign up for a monthly look into how data and visualization are changing the way we view the world.