Nike knowingly walked into a political firestorm with the release of its new marketing campaign featuring former San Francisco 49ers quarterback Colin Kaepernick earlier this month. An especially polarizing figure, Kaepernick has drawn ire from some and praise from others for his decision to kneel during the National Anthem at games in protest of police brutality. Following Nike's initial announcement of its new partnership with Kaepernick, some fans posted videos of themselves burning Nike products on social media, while celebrities and political figures publicly weighed in either supporting or disagreeing with the ads. While Nike generated plenty of controversy and press, the attention also faded within a matter of days. We used Quid software to dig deeper into the overall effects from the campaign.
To start, the Kaepernick ad captured more media coverage than any other advertising controversy from the past 16 months.
Quid analyzed the volume of news coverage around advertising controversies during this time period and found that Nike had the largest portion of the conversation (15%), followed by Pepsi's Kendall Jenner ad (11%), and a divisive campaign ad from the Illinois Governor Republican Primary (8.5%). Backlash over an H&M image featuring a young black boy in a "Cutest Monkey in the Jungle" sweater also drove spikes in coverage for two weeks in January and captured 8.4% of the articles in our time frame.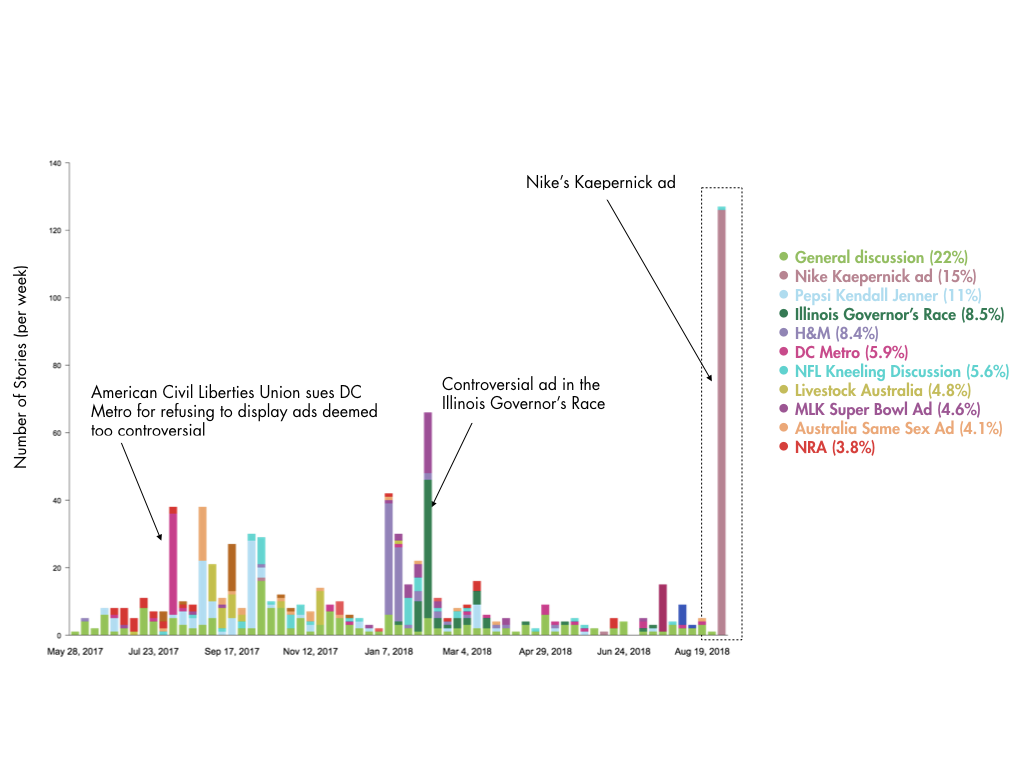 Timeline of media coverage around controversial advertisements from May 2017 to September 2018. Shown by unique stories written per week. Colored by cluster.
To track the focus and evolution of the public narrative around the Kaepernick ad specifically in the five days that followed its announcement on September 3rd, Quid identified 1,500 news articles and blogs that mentioned either "Kaepernick" or "Nike" and "ad" or "advertisement." The Quid network below displays this content visually by grouping these articles by topic.
Nike controlled 23% of the narrative around the Kaepernick ad, while 58% resulted from unplanned events.
News led by Nike such as the partnership's announcement, the ad's release date, and perhaps even Serena Williams' support (the tennis star is also featured in the ad and sponsored by Nike) account for roughly a quarter of all media coverage. Unexpected events, such as the reactions from individuals and associations outside of the Nike orbit, took a larger share of the conversation. Some of most discussed topics include the ad's impact on Nike sales and the company's stock price (6.9%), fans destroying their Nike products (6.7%), and Trump's reaction (6.1%). The remaining 19% of the media coverage from our five-day period discussed Nike's brand and messaging strategy.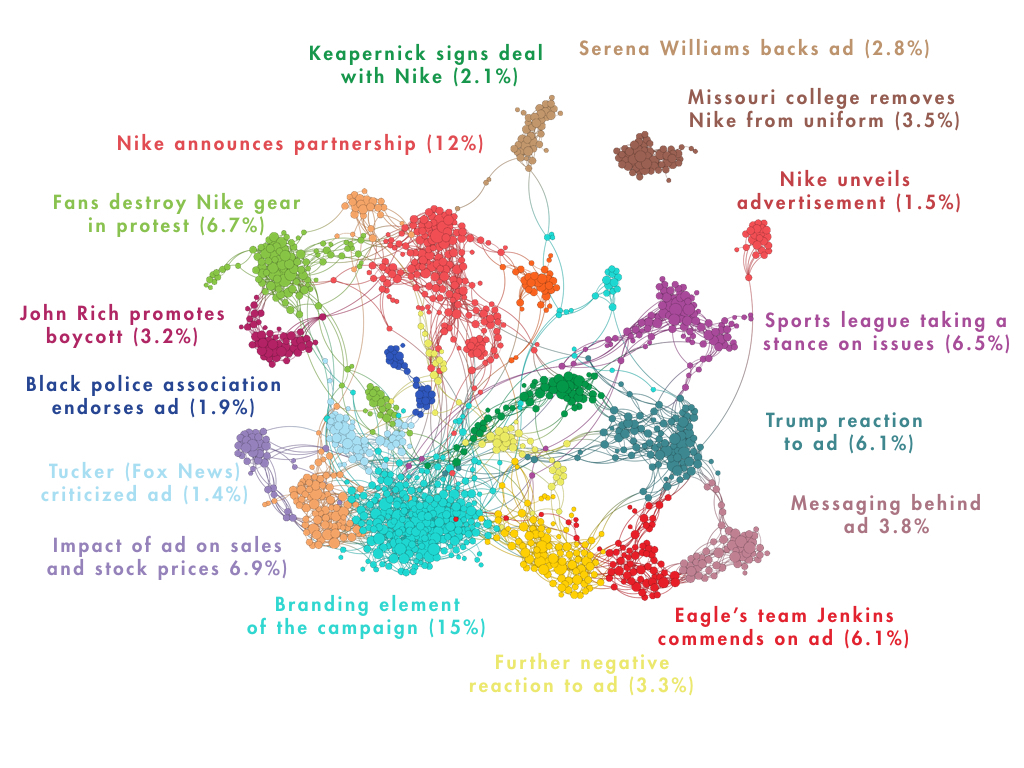 Quid Network showing the topics of 1,500 stories on Nike's Kaepernick advertisement from September 3-7, 2018.
Compared to the predominantly negative reception for other controversial ads from Pepsi and H&M—both seen as racially insensitive—coverage related to the Kaepernick ad reflected a more varied reaction.
More than half of all articles written on the Kaepernick ad used neutral language, while 31% skewed negative and 13% registered as positive. Within the network, negative stories clustered around the original advertisement release and President Trump's response, while positive clusters formed around Serena Williams' support and the impact of the ad on Nike sales. Nike almost certainly set out to spark intense debate by featuring the quarterback—the visual below indicates they did exactly that.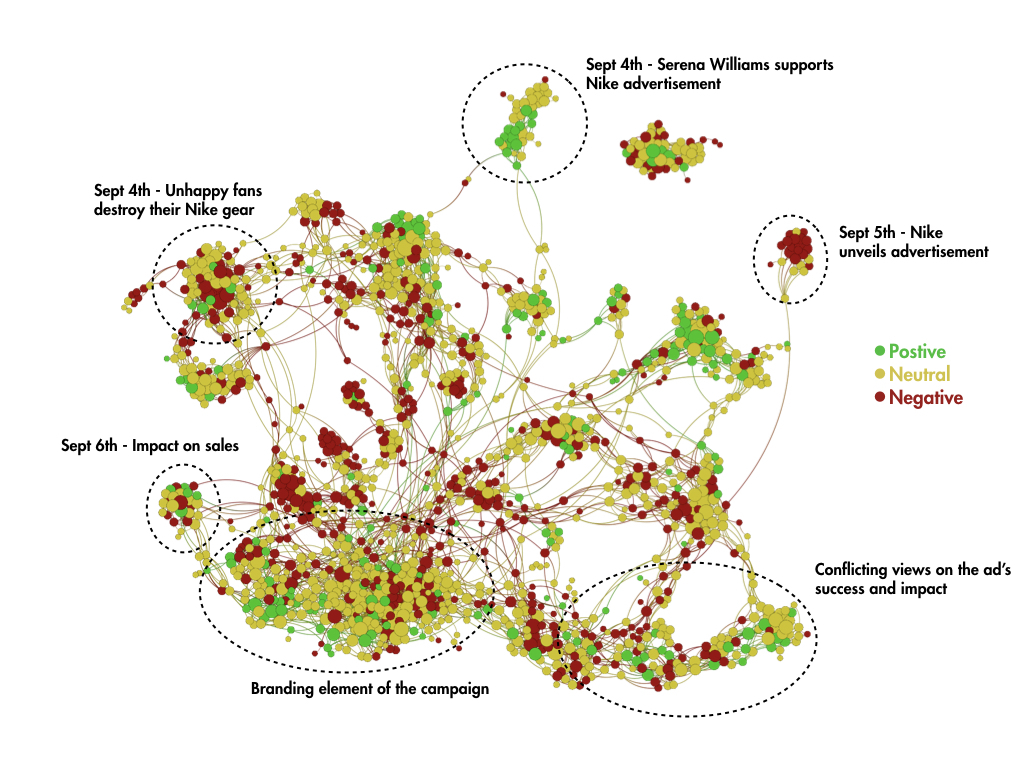 Quid Network for Kaepernick ad colored by sentiment
In contrast, negative articles dominated coverage of H&M's "monkey" gaffe and Pepsi's Kendall Jenner protest ad.
Despite the initial hype, social engagement around the Kaepernick ad declined after only two days.
Quid measured strong social traction on Facebook for the first 48 hours after the campaign's announcement on September 3rd. In fact, articles mentioning the ad were shared more than 8.5 million times. During these first few days, Nike released the print ad with Kaepernick's face , angry fans launched #BoycottNike, and public figures like Serena Williams, Donald Trump , and CIA Director John Brennan commented publicly on the controversy. By the third day, sharing rates had dropped dramatically and by the fifth day (September 7th) interest had waned. With the relentlessly fast news cycle, a surge of coverage across three days may be the best most brands can hope for but it's an open question whether this met expectations for Nike.
The campaign is largely being called a success.
Several pieces reported by the business press indicate the campaign has been a net win for the brand. Buzz from the ad's release and the Nike's perceived stance on social justice issues drove stock prices up to record highs. According to recent estimates, the ad has generated more that $160 million worth of buzz for the company and added a reported $6 billion in value.
The campaign far exceeded other controversial ads in terms of news coverage and, given the controversy was engineered by the brand instead of inadvertent, generated a wide variety of positive and negative views (as the company undoubtedly intended to do). While the coverage lasted only days, it appears to have increased both stock price and value for the company. Whether those increases are short-lived or longer-lasting remains to be seen.
Want to learn more about how Quid can help you better assess your campaigns and outreach? Reach out to hi@quid.com.
Intelligence in your inbox
Sign up for a monthly look into how data and visualization are changing the way we view the world.