Tech Trends
Customer reviews: Sony PS Vue is a hit but has a few areas to improve
While over-the-top (OTT) services are becoming mainstream, a few companies including DirecTV, YouTube TV, Sling TV and Sony Playstation compete to provide live television of cable-originated television channels direct to consumers online. As they launch and enhance their products, they all face the challenge of being informed of what their customers are thinking. Reading thousands of reviews and survey responses is time-consuming, so organizations are implementing natural language processing and machine learning technologies to help them carry out this essential task.
At Quid, we analyzed ~4,000 customer reviews of Sony's Playstation Vue from a leading online retailer. Overall, customers are quite happy with the product, but Quid's clustering capability revealed the needed improvements.
There are plenty aspects of the product being praised by reviewers: better value compared to cable and DirecTV, the cloud DVR, and channel selection.
The region in aqua representing ~9% of the reviews focuses on compatibility with Fire TV, both the box and stick. Isolating this region and coloring by star rating shows the reviews are mixed

Many customers are satisfied with the compatibility, while others are frustrated due to Vue not working on their Fire TV, slowness of stream, and error messages, such as location, 'out of country', and 'try later'. As for Fire TV Box vs. Stick, most of the lower rating reviews mention using Stick but there are 4 and 5-star reviews where the customer claims Vue works will with the Stick.
What is leading to 1 and 2-star reviews?
When it comes to analyzing customer reviews, most organizations will want to focus on what is not working, or in this case, what is leading customers to give 1 and 2-star ratings of their products. This task is easy in Quid.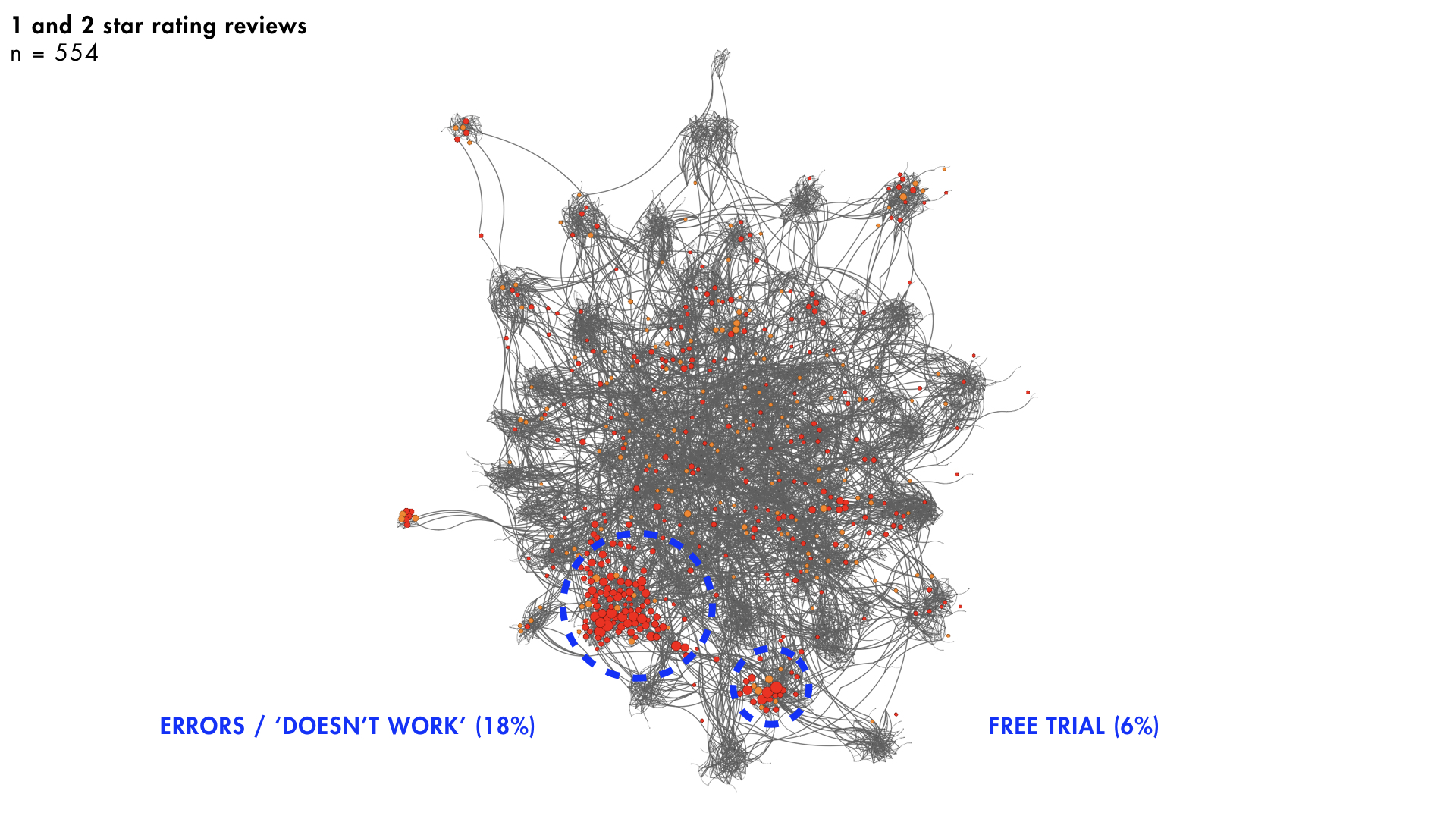 Coloring the entire map by star rating shows they are lightly peppered across the network map, but two clusters stand out in the bottom left and bottom right.
Leveraging Quid's categorization of the reviews (see map above), we can identify the top issues among 1 and 2 star rating reviews.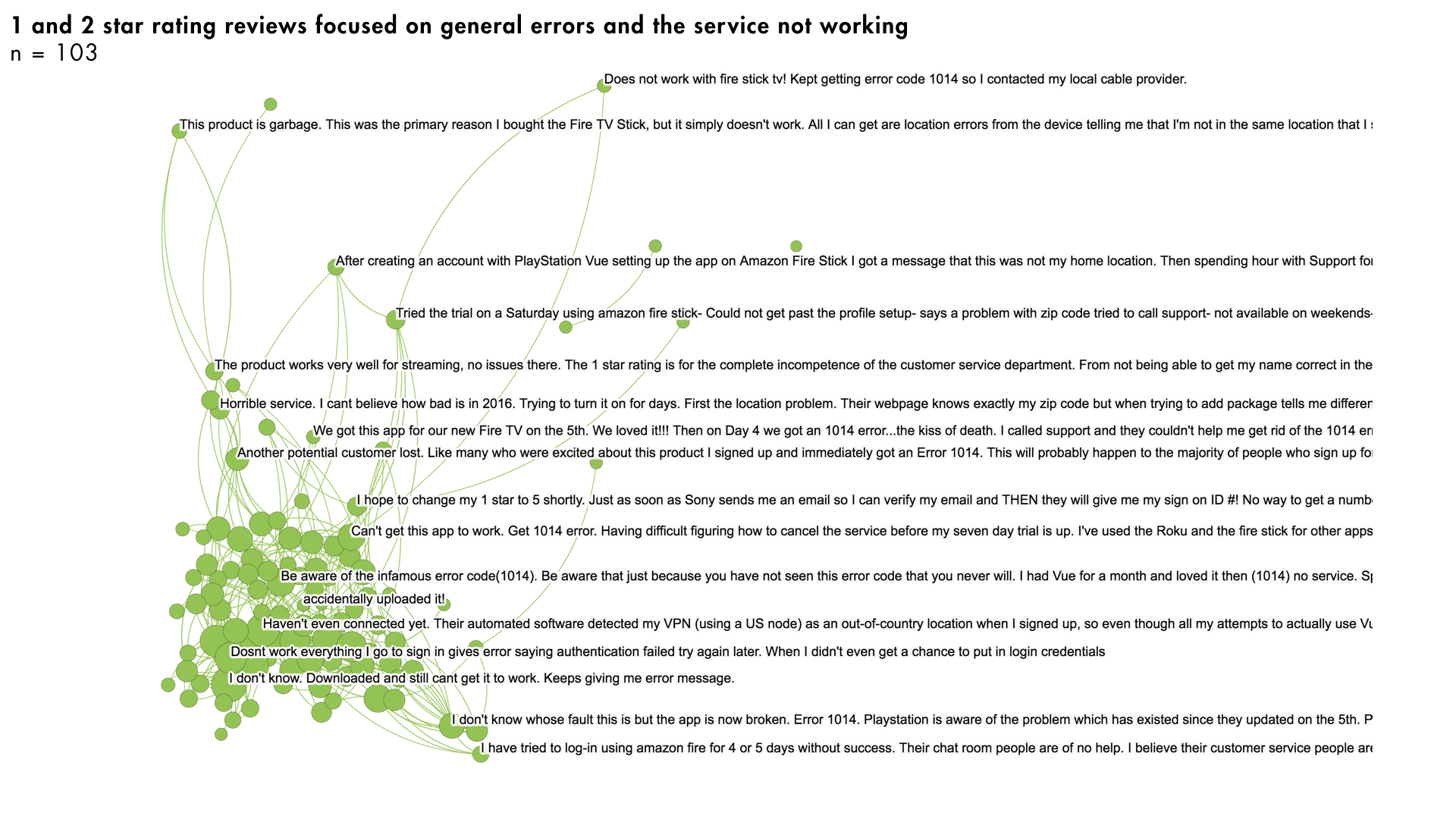 18% of 1 and 2-star reviews fall in the group of reviews focused on general errors (e.g. '1014', 'not at home', subscription error message) and reporting the service simply 'doesn't work'.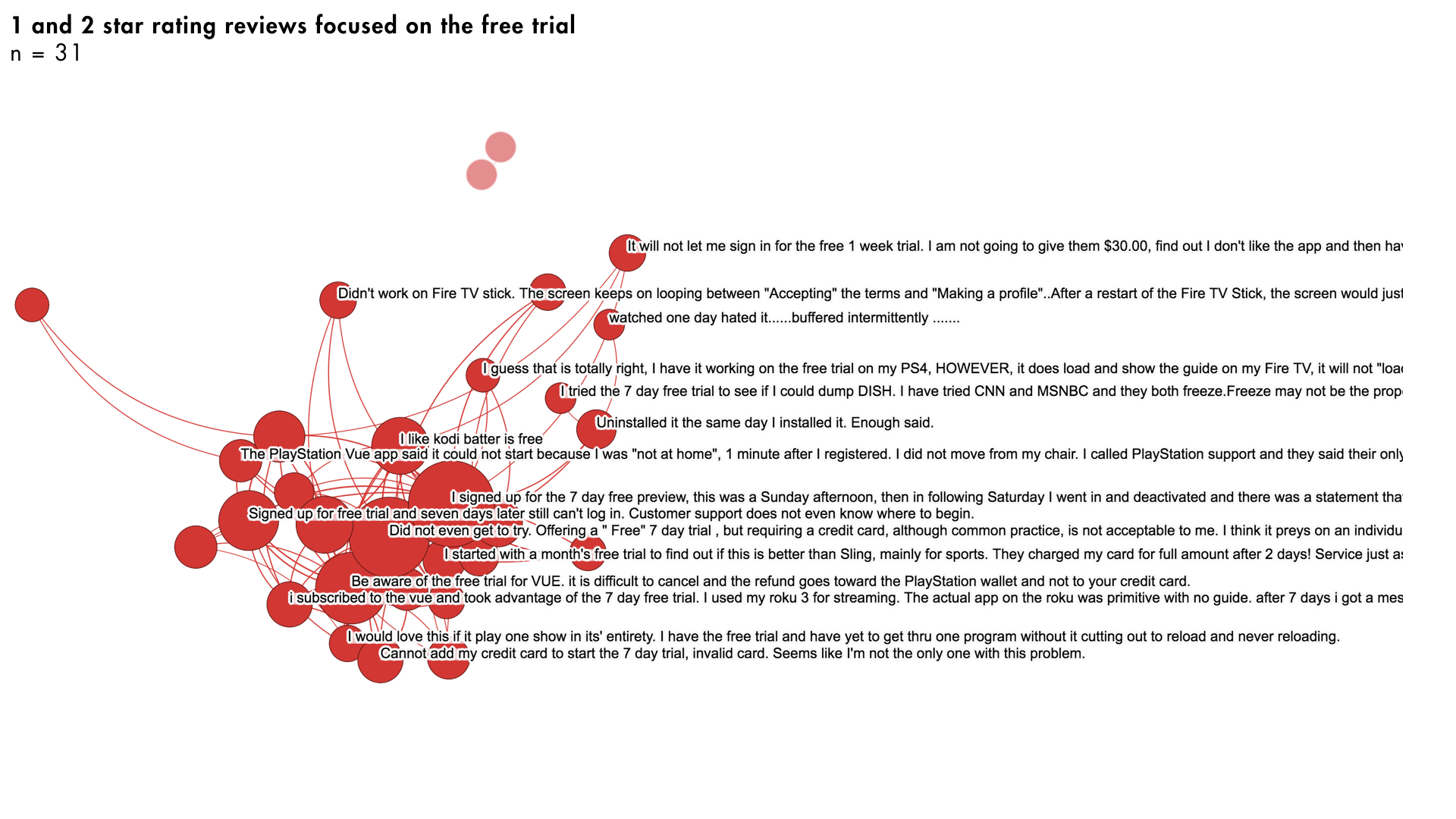 6% of 1 and 2-star reviews fall in the group of reviews focused on the Free Trials, reporting inability to log in with the trial, troubles attempting to cancel the trial, and receiving charges after canceling the trial.
Rounding out the top five focus areas with 1 and 2 star ratings: 
4% of low rating reviews are found in the reviews focused on customer service. 
Another 4% of low rating reviews focus on the service freezing and buffering time. 
3% of low rating reviews focus on the lack of Viacom channels, such as Comedy Central and MTV. On the other hand, 1.5% of low rating reviews are in the Quid cluster focusing on the need for live basic networks, such as ABC, CBS and NBC.
As more and more consumers move away from cable and satellite to over-the-top internet television services, companies offering these services will need to be fully informed of what their customers are experiencing in order to earn their hearts. Review forums and surveys are a rich source of data to understand the voice of your customers. Analyzing them using Quid's natural language processing visualizations can help surface the insights you need to make important decisions when it comes to prioritizing fixes and product development.
For a deeper look into this analysis or into customer reviews for your own product, get in touch at hi@quid.com.
Intelligence in your inbox
Sign up for a monthly look into how data and visualization are changing the way we view the world.