Health
Community Voices on PrEP: What are the Remaining Barriers to HIV Prevention?
Pre-Exposure Prophylaxis, or "PrEP", is a daily pill medication that prevents HIV infection for people at substantial risk of contracting the virus. PrEP has been shown to reduce the risk of contracting HIV by more than 90%.  Since the FDA approved PrEP as a preventive measure in 2012,incidence rates within the US have dropped significantly. While this is a major step forward in preventing HIV, the adoption of PrEP remains limited in many of the most at-risk populations.  
To better understand the public narrative surrounding the barriers to PrEP adoption in the US and globally, San Francisco AIDS Foundation partnered with Quid, a technology platform that analyzes and extracts insights from unstructured text data at scale.
Quid analyzed approximately 40,000 HIV online forum discussions from 2014 through today, 3,000+ global news articles from 2015-2018, and 15,000 tweets over the last year to understand the public narrative on PrEP and identify barriers to adoption.
Online Forum Discussions
1. Confusion & Worry
More than half of online forum discussions on PrEP demonstrate confusion around its usage.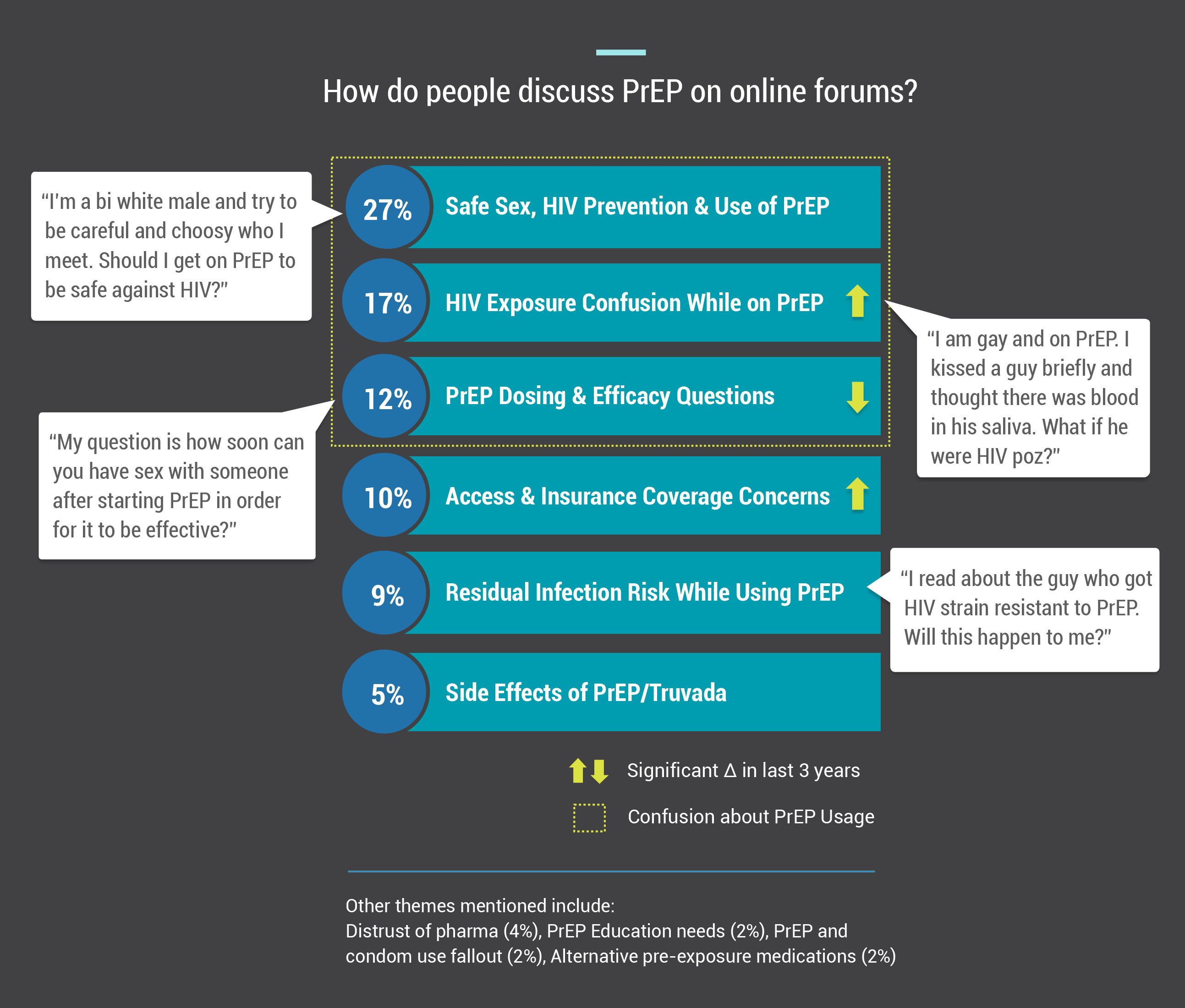 6 years after the launch of PrEP, it is clear that many current or potential PrEP users are still quite confused on a variety of PrEP-related issues, from basic information on how or when to use the drug to concerns about whether or not PrEP will fully protect them.  Although answers to these questions do exist online, many are not aware of how to find them.  
2. Access
Approximately 10% of online HIV forum discussions focused on access concerns, including questions about whether they would be covered and general comments about their experience having difficulty obtaining insurance coverage. Further, Quid trend analysis found that conversations around access have increased steadily over the last three years, demonstrating that access concerns are not going away.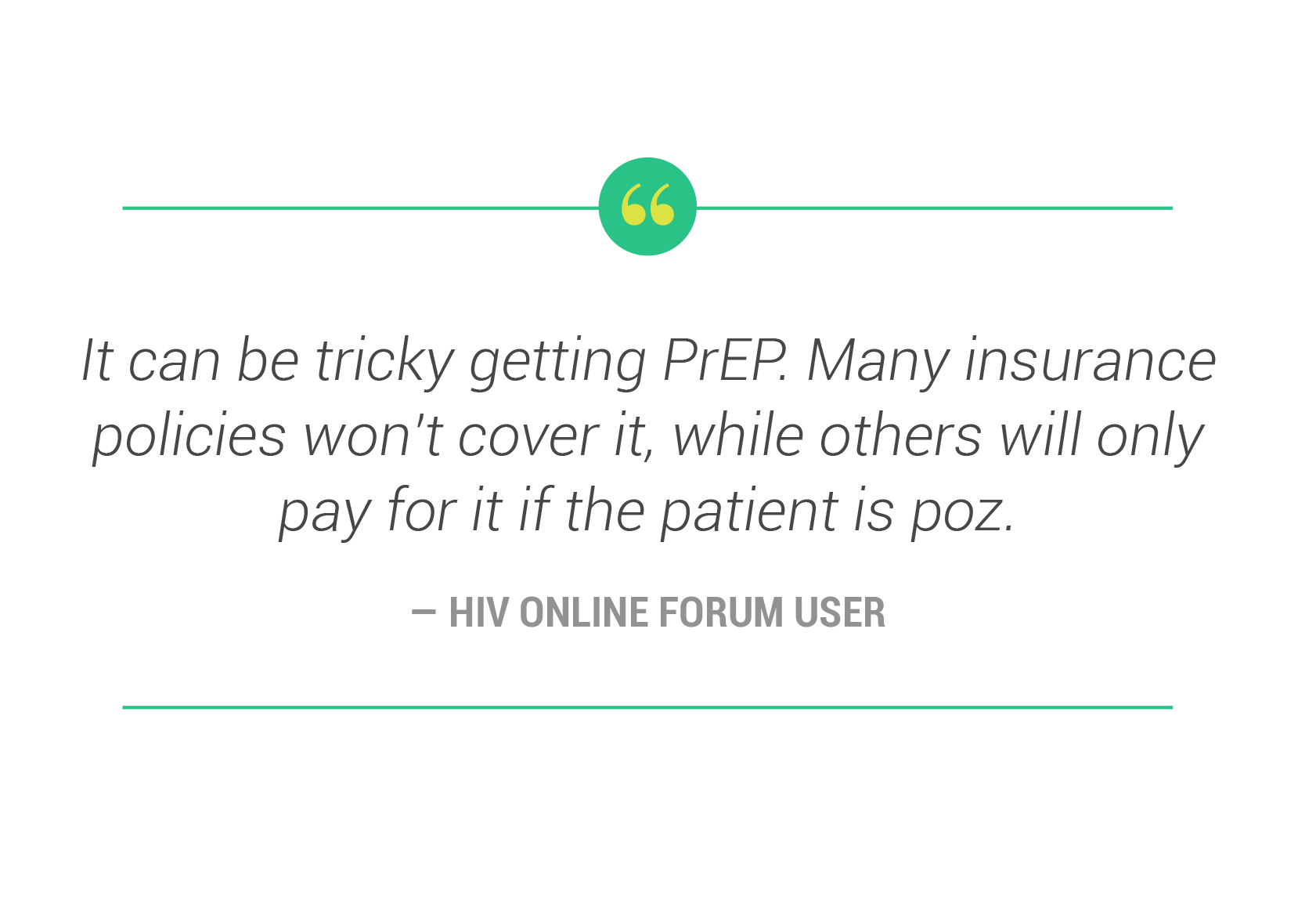 News & Media
Quid stratified its media findings in order to identify the themes that are resonating most in the public narrative.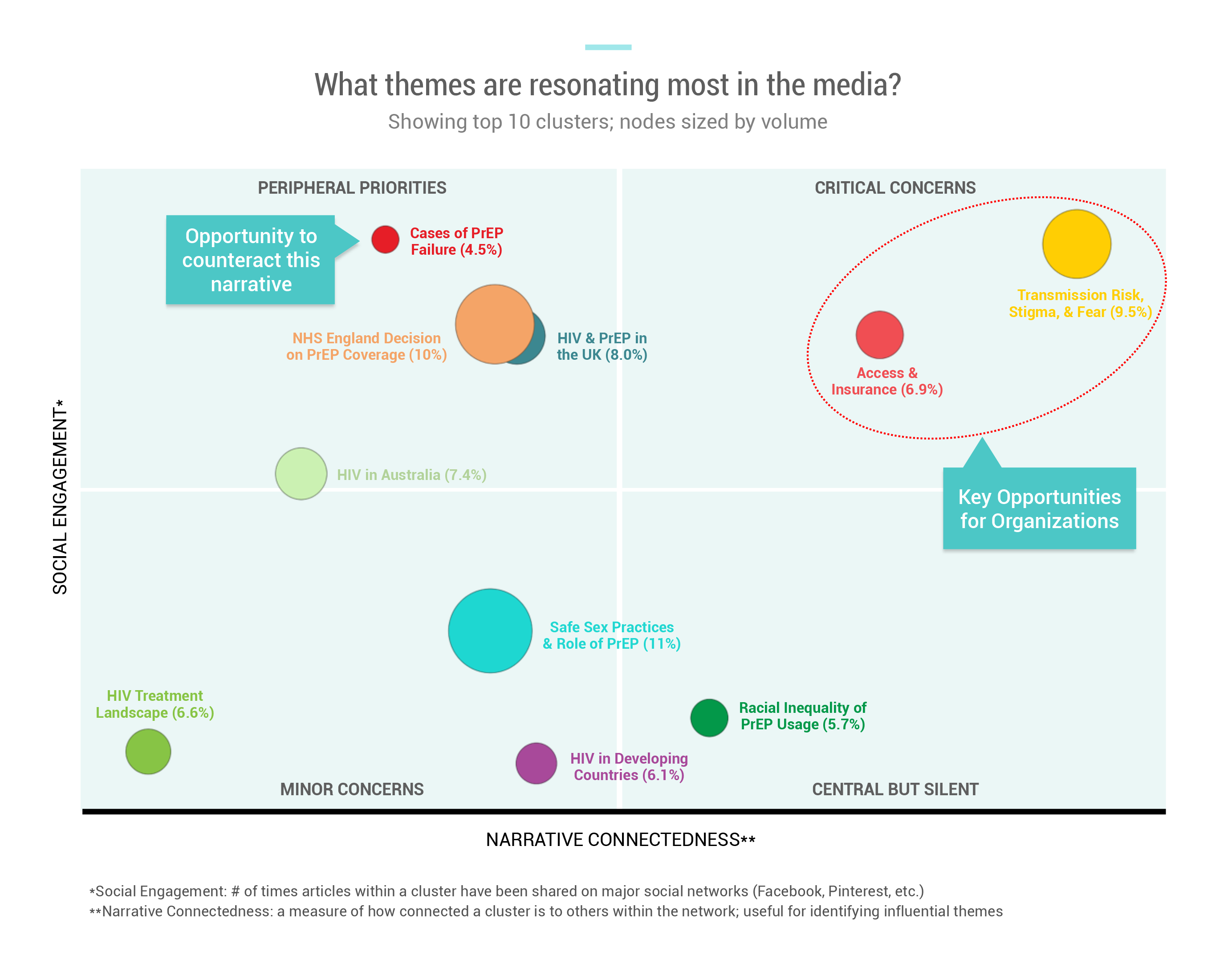 1. Access
Some people want PrEP but can't get it or can't pay for it, particularly outside of the US. In the global news & media narrative, access to PrEP is the dominant discussion topic -- accounting for 44% of the coverage. Much of the news is related to PrEP coverage decisions in the UK and Australia, while another significant portion is dedicated to difficulty obtaining PrEP for high risk populations (such as sex workers) in developing countries.
When analyzing the news & media in the US only, the discussion around access drops to 20%. Thus the attention to access is much more prominent globally but is still a significant issue in the US as well.
2. Fear & Stigma
In analyzing the global news narrative, Quid found that fear and stigma around HIV was the 3rd most covered topic in volume, constituting 10% of the total narrative (behind "Safe Sex" and coverage of the NHS UK decision on PrEP coverage). This cluster was also importantly the most "Connected", a Quid metric measuring how closely tied the language in the topic is across other topics in the network, and had the highest social engagement of any news theme.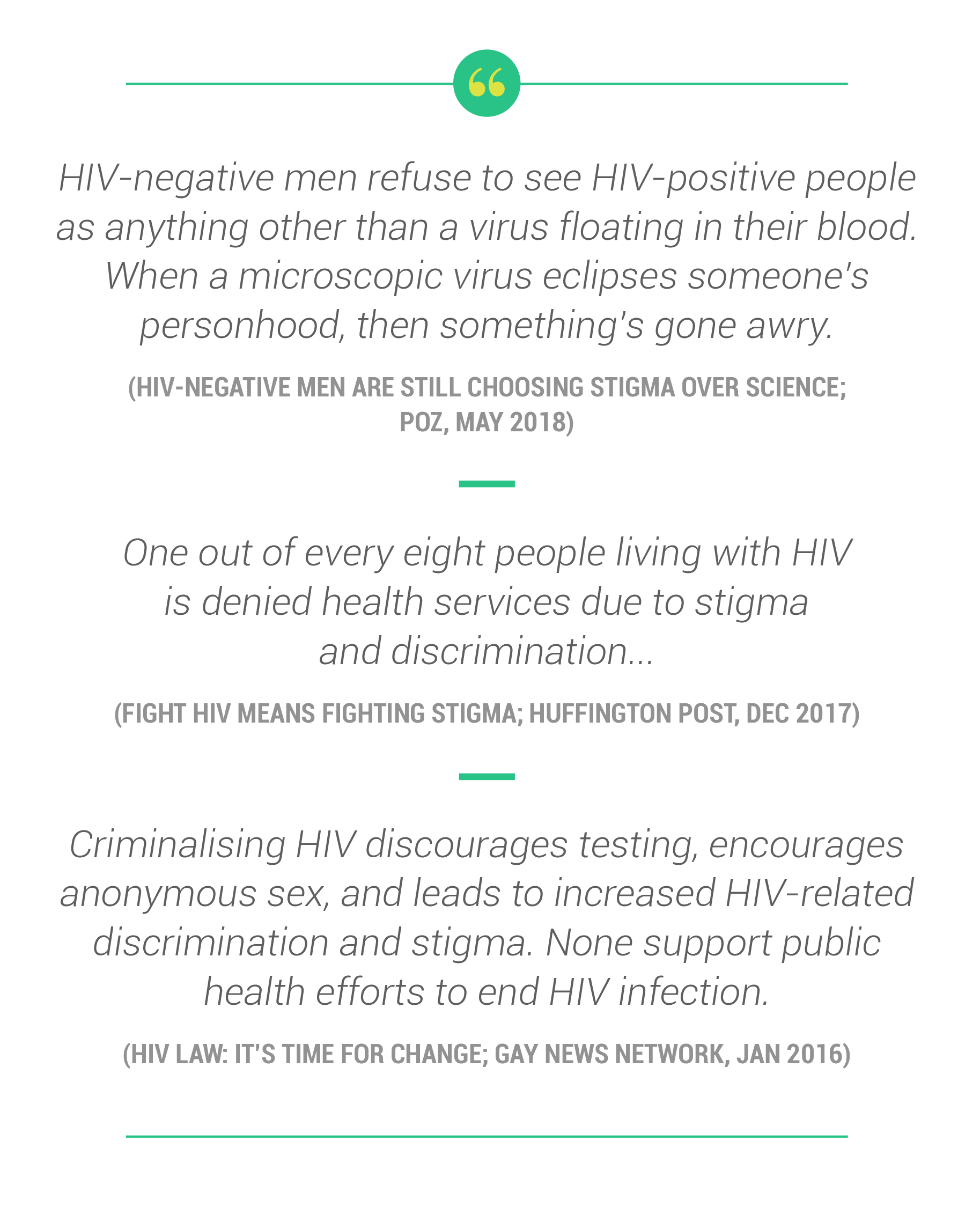 Media on cases of PrEP failure have high social engagement, suggesting possibly outsized attention to these rare cases.
Social Media (Twitter)
Overall, Twitter coverage on PrEP is nearly evenly split between 1: Barriers to Adoption (e.g. financial burdens, access), 2: Education & Information, and 3: Sharing PrEP's Impact Potential. Quid was able to dig deeper within these broader categories to determine whether Twitter posts are reaching or discussing any specific at-risk population segments and found that the social media narrative on PrEP largely discusses gay men, while less discussion is directed toward other important subgroups.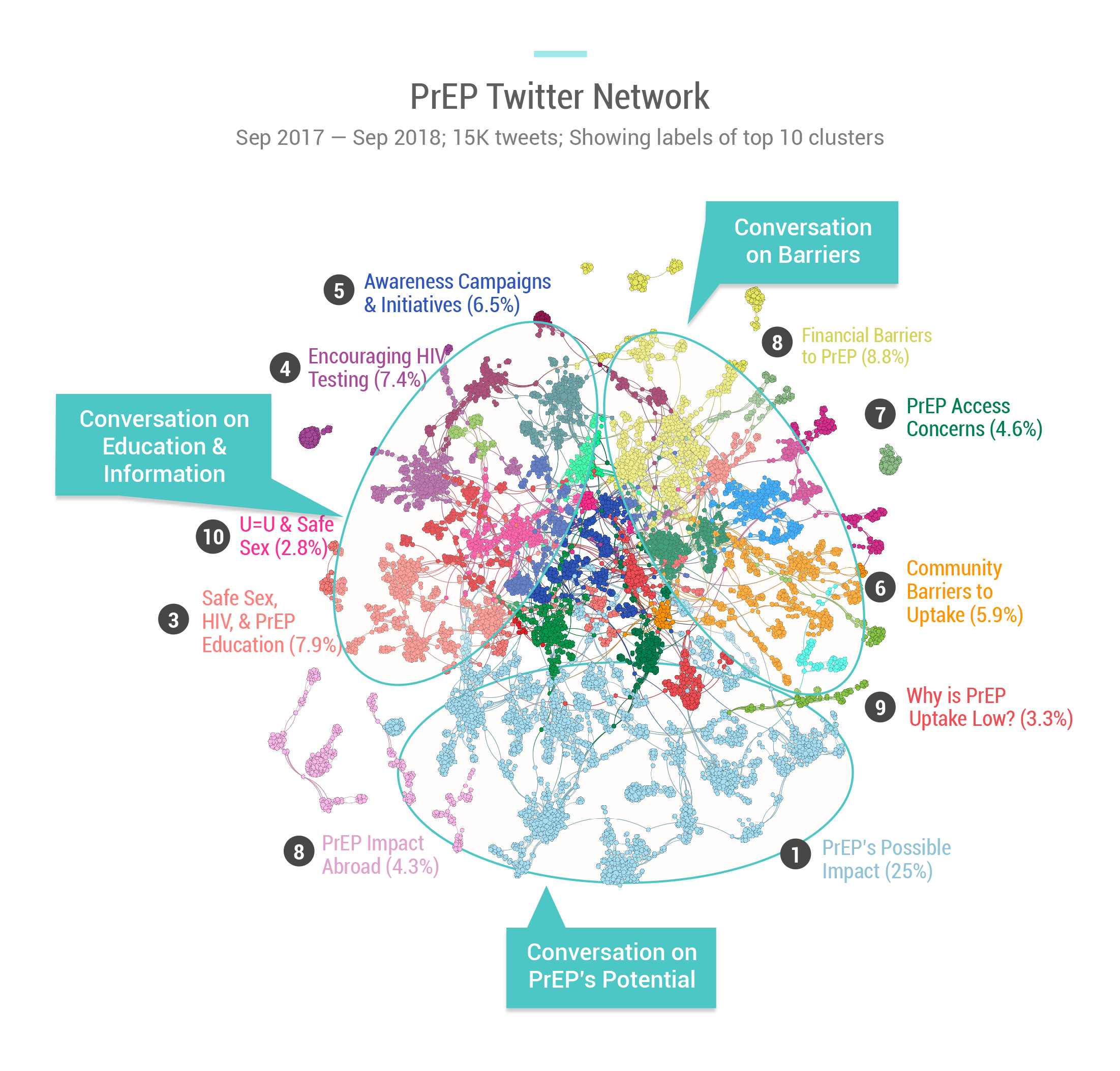 While these volumes in and of themselves may not explain the barriers to PrEP adoption across different communities, they do point to potential opportunities to target additional at-risk groups more often. For example, about 1 in 2 black men who have sex with men (MSM) and 1 in 4 Latino MSM are projected to contract HIV in their lifetimes if current diagnosis rates persist [link].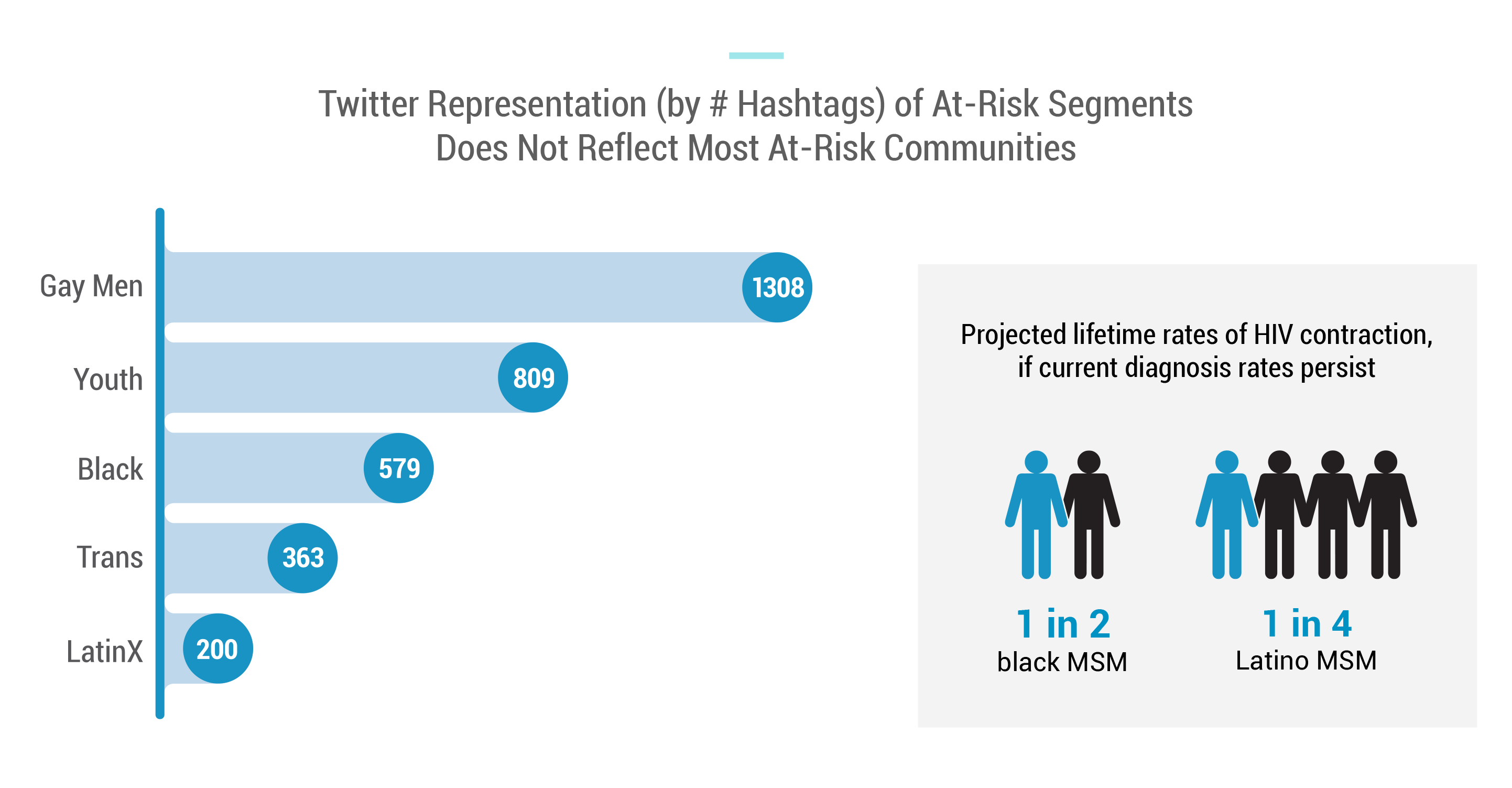 What can community and health organizations learn from this data?
Each of the above Quid findings suggests an opportunity for health and community organizations to more effectively engage and educate at-risk populations on PrEP. San Francisco AIDS Foundation leveraged Quid's data to consider which of their programs can be most effective, and what they can share with others looking to increase PrEP usage in at-risk communities:
1. Simplify PrEP Messaging
Because forum participants express confusion about PrEP's use, organizations should address the foundational questions at top of mind for potential PrEP users, such as "When will PrEP be effective?", "Will PrEP work for me?", "Can PrEP fail?"
As an example, San Francisco AIDS Foundation has comprehensive resources online to answer common questions and report on PrEP: PrEPfacts.org and BETA Blog. The Foundation also partners with local media outlets (e.g. News Up Now) to create fun and engaging educational content, and responds quickly to items that might cause clients to be confused or worried. For example, with the most recent case of PrEP failure, the Foundation responded immediately with what clients should know.
2. Target Specific At-Risk Demographics
Quid's analysis of the Twitter coverage on PrEP demonstrated that Black, trans, and in particular Latin communities are targeted far less than in PrEP-related messaging in social media than the gay community in general.
Some campaigns have already begun to address this disparity. The PrEP Supports Campaign by the San Francisco Department of Public Health, Lyric Center for LGBTQQ Youth PrEP Resources, and Viva PrEP, a spanish-language outreach campaign by Instituto Familiar De La Raza, are effective examples of campaigns specifically targeting more at-risk subgroups. Working with publications focused on at-risk groups, such as Efniks for queer and trans people of color, can also be effective.
Beyond message targeting, San Francisco AIDS Foundation stresses the importance of making diversity a priority for community organizations.  One way the Foundation is doing this is through a series of events for Queer and Trans People of Color (QTPOC) at Strut, its health clinic in the Castro neighborhood of San Francisco. During these events, clinic hours are designated specifically for people of color and staffed by people of color, to encourage comfort and enrollment in PrEP programs.
For San Francisco AIDS Foundation, focusing on priority communities has yielded positive outcomes: PrEP program enrollment among Black clients grew 32%, and participation among Latinx clients grew 36% in the last fiscal year. Overall, enrollment in the Foundation's PrEP program grew by 13%.
3. Foster Access
Quid demonstrated that access is a key concern and influential topic in the US and across the globe. While many health and community organizations are focusing on access at a policy level, one tactic local health and community organizations can employ is providing shadowing and training programs for other organizations. For example, San Francisco AIDS Foundation shares its clinical protocols and provides shadowing programs to newer or more rural organizations looking to expand their own PrEP programming.
4. Counter Fear & Stigma
Quid's analysis showed that fear and stigma around people with HIV is the most socially engaged topic in the news, and that online forum users often discuss their fears about PrEP failure or asking for PrEP. Key to counteracting this narrative is not only emphasizing the dramatic benefits of PrEP, but creating safe, comfortable environments to provide access to the drug.
San Francisco AIDS Foundation's QTPOC at Strut creates low-threshold programming such as movie viewings, panel discussions, and performances to foster engagement in environments that make it easy for clients to come in the door. These fun events have led to an average of 2 new enrollments on PrEP per event.
Moving towards a better future
The potential for medications such as PrEP is tremendous. San Francisco AIDS Foundation and Quid's healthcare data analytics tools have illuminated the obstacles and opportunities to achieve that potential by understanding what the community is saying today.  We hope that these insights inspire further actions and awareness to help the HIV community maximize the potential of PrEP.
About Quid
Quid is a platform that searches, analyzes and visualizes the world's collective intelligence to help answer strategic questions. We power human intuition with machine intelligence, enabling organizations to make decisions that matter. Learn more at quid.com.
About San Francisco AIDS Foundation
San Francisco AIDS Foundation works to eliminate new HIV transmissions and extend the longevity of people living with HIV through a network of direct programs and supportive services. Each year, more than 25,000 people look to San Francisco AIDS Foundation for access to sexual health, substance & behavioral health, engagement & retention, and social support services. Policy and public education initiatives are a critical part of supporting community health and wellness, and San Francisco AIDS Foundation advocates at all levels of government. Learn more at sfaf.org.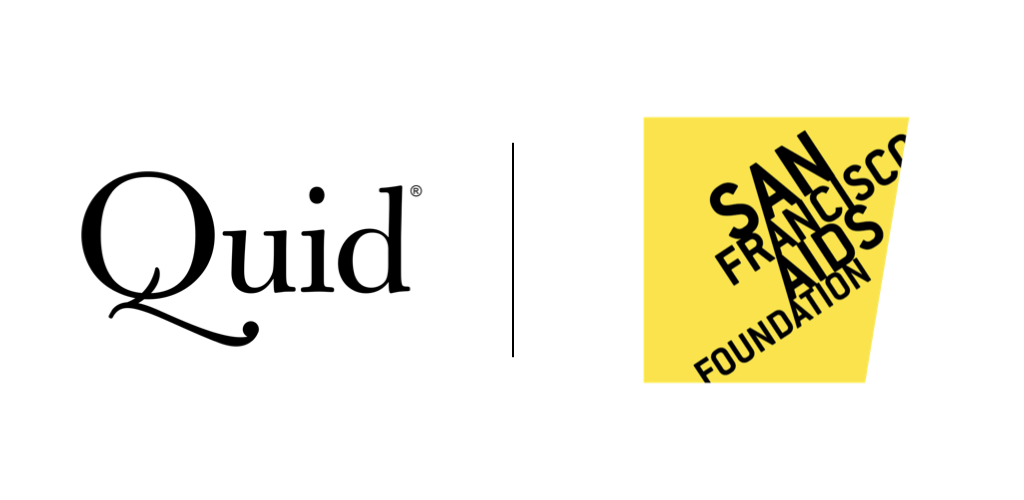 Intelligence in your inbox
Sign up for a monthly look into how data and visualization are changing the way we view the world.