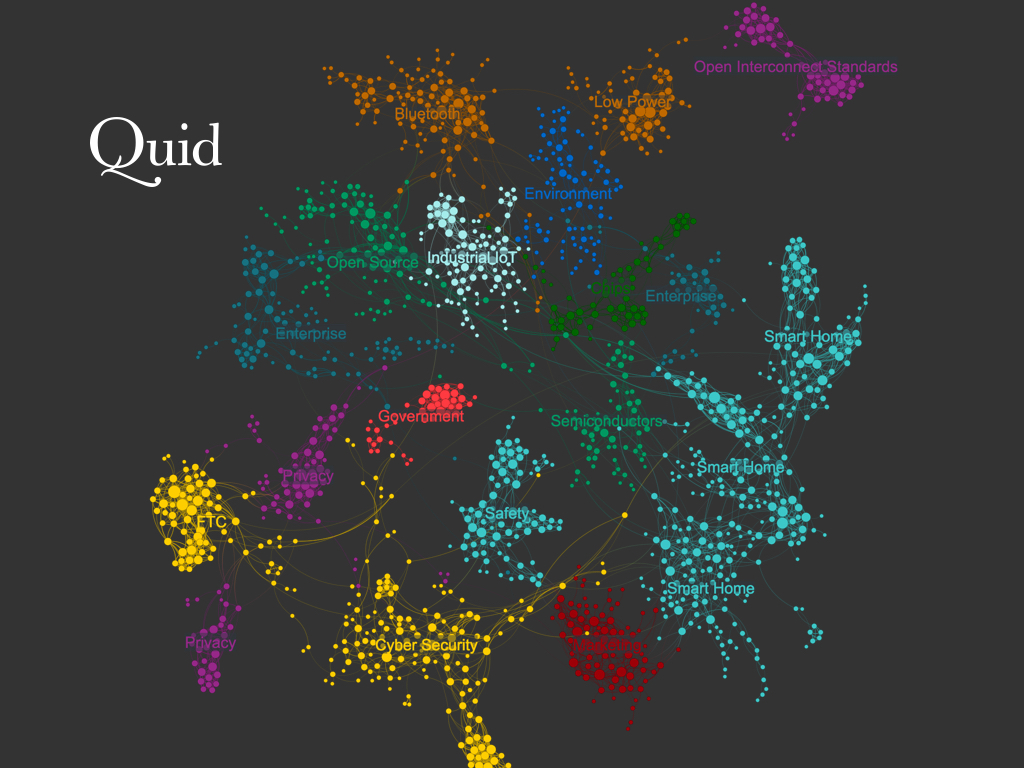 CES kicks off today in Las Vegas which means for the next week our news feeds will be inundated with product announcements and new must-have gadgets ranging from drones to 4K TVs.  While many electronics categories have experienced rapid growth over the 48 year history of CES, no category has taken over the show as rapidly as the all-encompassing Internet of Things.  Whether it is the smart home, connected cars or wearable technology; we will see an unprecedented number of companies showing off products that collect and exchange data about ourselves and the world around us.  
With all the noise surrounding IoT it can be challenging to understand what is really happening in this ever-evolving space.  So I turned to Quid to help me look at the big picture.  Quid is a software platform that enables people to take whatever data is relevant to them and understand it more easily and thoroughly than ever before.  Quid's web-based tool can read and visualize every article that has been published about IoT over the past two years to better understand the key players, emerging concerns, and how the conversation has evolved over time.  So what does big data teach us about IoT?
Security and Privacy Are Increasing Concerns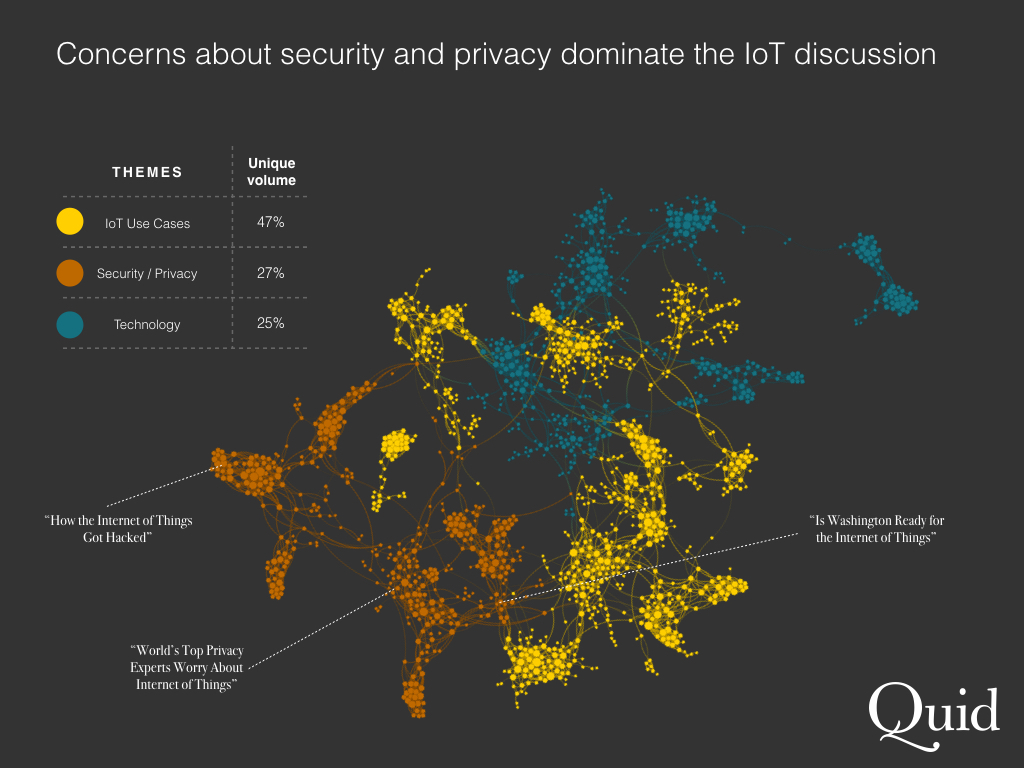 Above you can see a network map made up of thousands of articles on IoT, where each dot or node is an individual news story.  Using Quid's similarity of language algorithms stories begin to cluster together and we are able to identify some high-level themes.  As one would expect the majority of the IoT conversation revolves around potential use cases for these devices and the underlying technology driving this revolution such as bluetooth and low-power chips.  What is surprising, however, is that a major part of the discussion is focused on security and privacy and these concerns are growing rapidly as IoT technology becomes more prevalent.
Pivoting these stories into the timeline you see above, we can begin to see how this discussion has evolved since August 2013.  Immediately we see that shortly after the deluge of announcements from CES in 2015, there was a wave of privacy concerns driven in part by an FTC report discussing the benefits and risks of IoT.

Smart Home Is Leading the Charge But The Enterprise Is Rising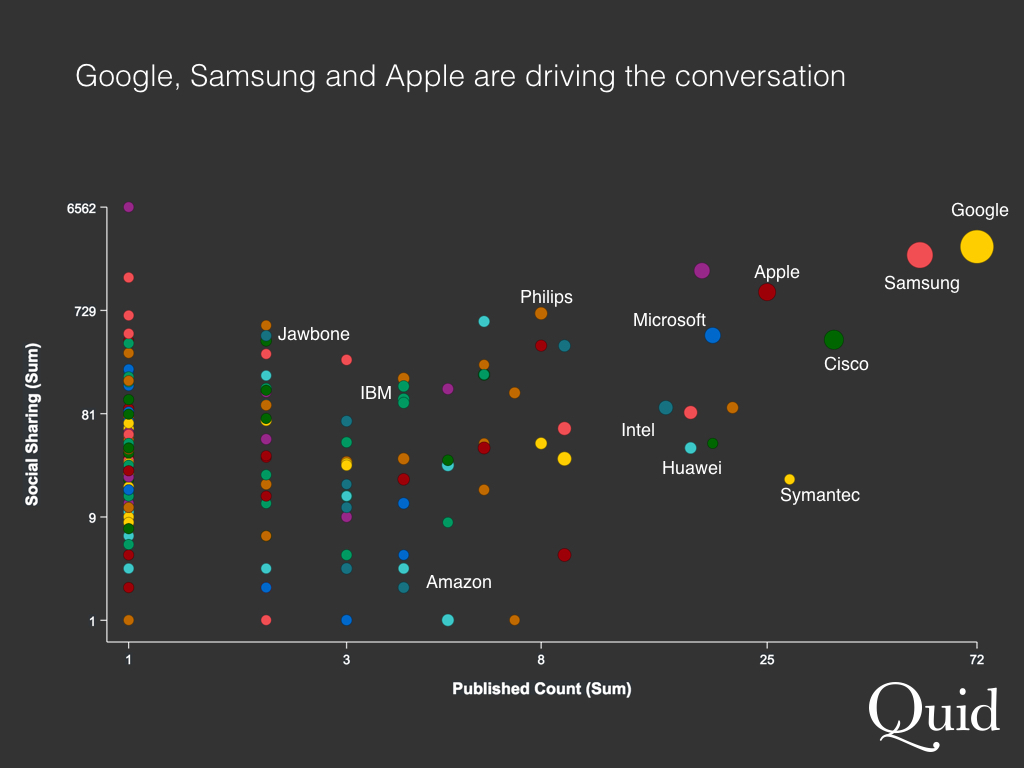 While IoT is certainly overhyped, there is no doubt that the smart home is already a reality.  According to NPD's Connected Intelligence team, the average U.S. Internet household now has over seven devices installed and connected.  Therefore, it is no surprise that close to 40% of the use case discussion focuses on smart home devices and applications driven by events like CES and companies like Samsung, Google and Apple.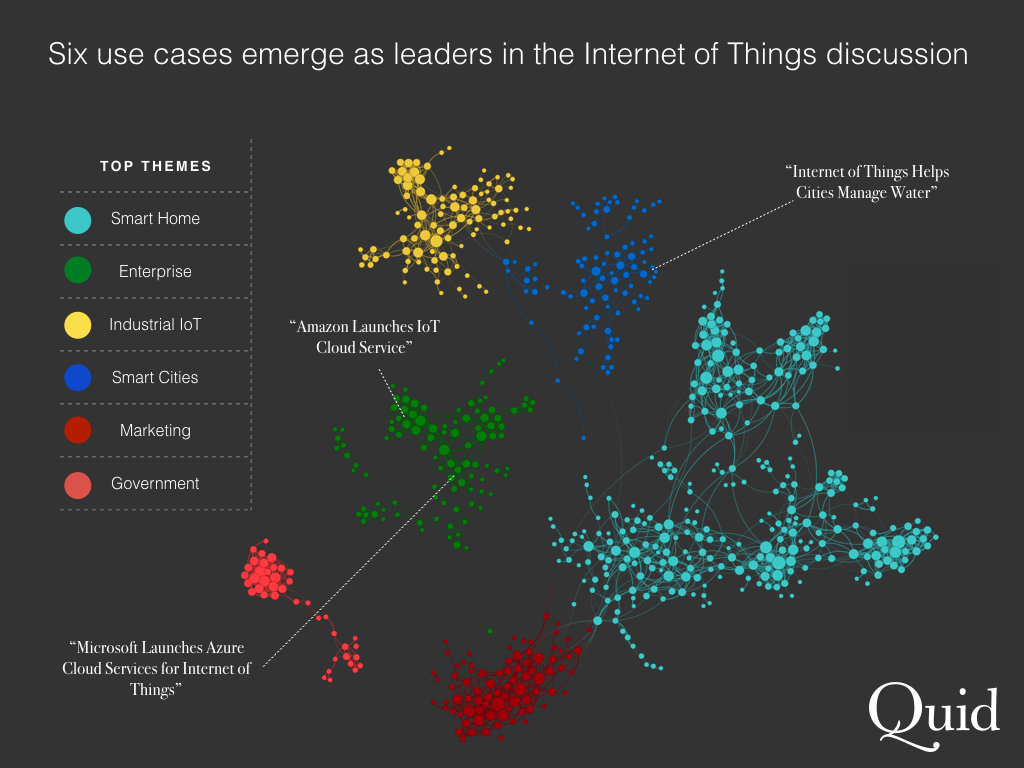 Despite the fact that smart home dominates the discussion, there are other IoT use cases that have risen over the past two years including Industrial IoT, enterprise applications and smart cities.  As we look deeper we learn that Cisco, IBM, and Intel are all playing major roles in the enterprise IoT movement and the launch of IoT cloud services from Amazon and Microsoft solidifies the role that these companies will play in securing and managing connected device data.

An IoT Communications Standard Has Still Not Emerged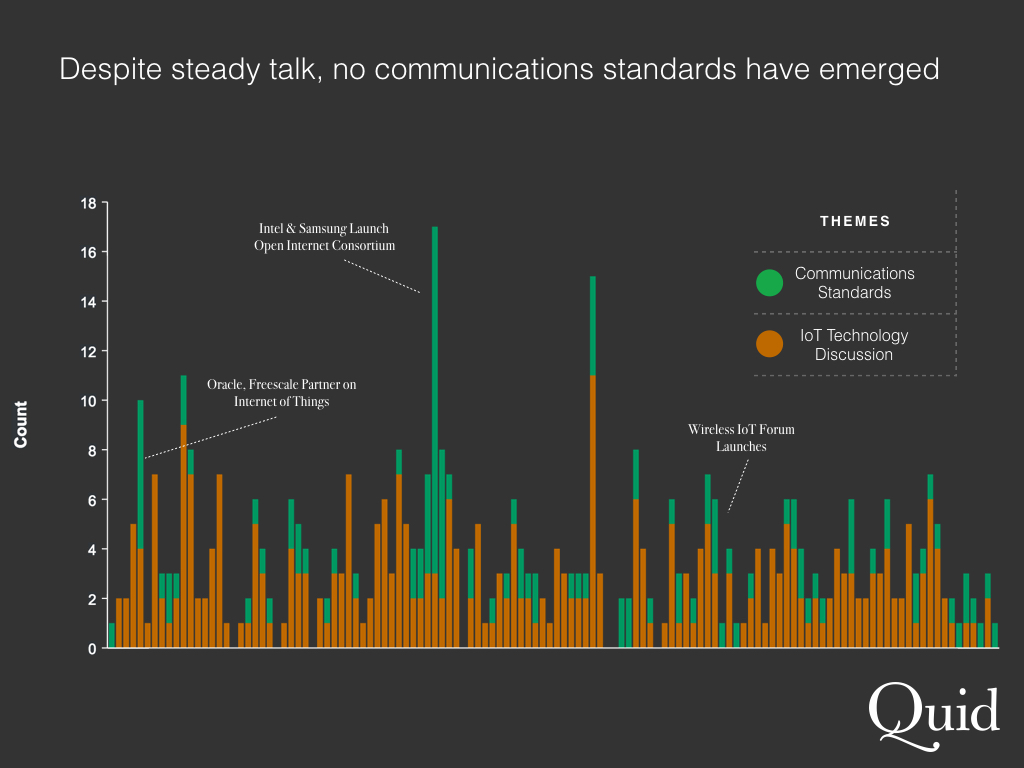 As we will see over the coming week at CES, there is no limitation to the amount of physical objects that can be embedded with sensors (remember last year's connected egg tray?).  However, as is often the case with emerging technology, the market has yet to agree on a common communications framework for all IoT devices.  As you can see from the timeline below, standards have been a recurring theme over the past two years, peaking in mid-2014 when Intel and Samsung created the Open Interconnect Consortium.  However, despite all this talk, the industry has yet to agree on a unified series of protocols.  When an agreement does finally come, we can expect a dramatic increase in adoption of IoT devices and plenty of new players popping up at CES 2017 and beyond.
Intelligence in your inbox
Sign up for a monthly look into how data and visualization are changing the way we view the world.