If you own any bitcoin, you likely know about blockchain technology. And if you work in finance, you may be worried it will shake up some aspect of your industry.
Essentially, blockchains make records more verifiable and permanent. A blockchain database is composed of ordered records (blocks) that have a timestamp, are secure by design and therefore impossible to hack (well, almost). As a result, the transactions in a blockchain database don't have to be policed by a middleman and are more transparent and trustworthy than other types of transactions.
Using the expanded companies dataset in Quid, we were able to identify several key aspects of the blockchain space — including top investors, IPOs, mergers and acquisitions, and notable under-the-radar startups. Companies in the space are extremely young, with the oldest median founding year being 2013.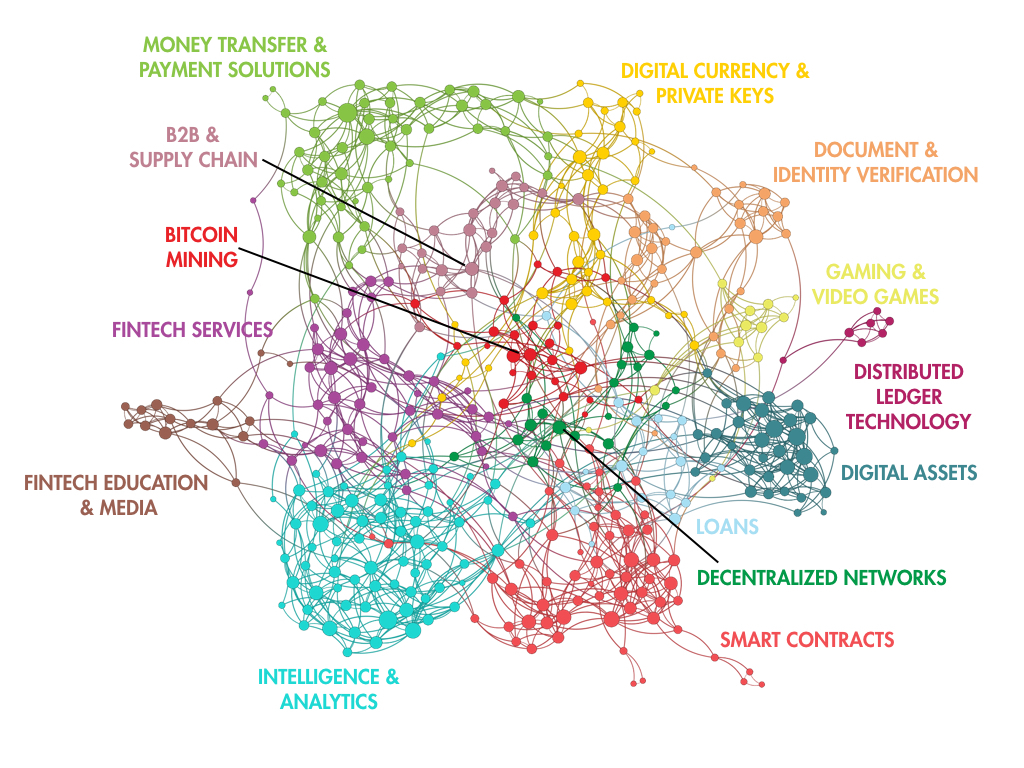 In the Companies dataset, we can see approximately 450 venture-backed companies using some form of blockchain technology. Investment in the area totals more than $1 billion, with median investment of around $1 million.
Companies using blockchains mainly focus on finance, with several secondary themes. In finance, the main focus areas are bitcoin, loans and cross-border payments.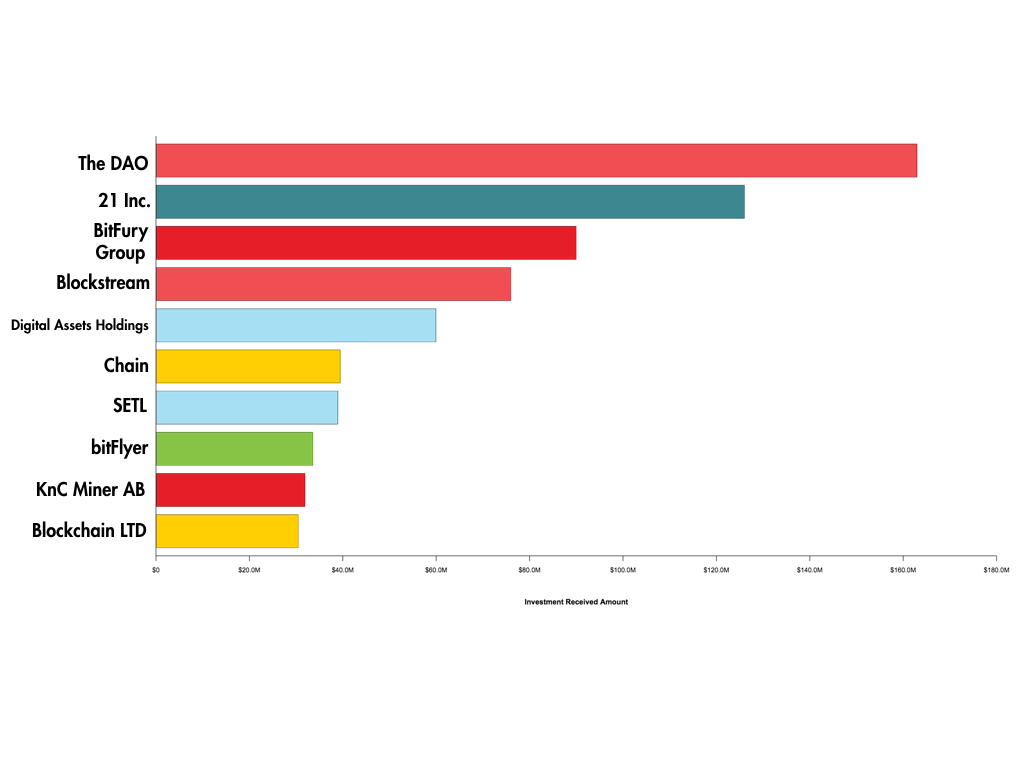 Dozens of companies deal specifically with bitcoin and digital currency exchanges —  with a top funding amount of $163 million.
Beyond banking
Despite being a rather novel area with roots in finance, we noticed that plenty of blockchain startups seemed to be moving into other areas.
For example, when we looked in Quid at top-funded companies but removed those with a purely financial focus, the list got much more interesting.
CloudMinds Technologies, at the top of the list, develops cloud applications to wirelessly control robots. And #9 on the list, Israeli startup Revelator, uses blockchain in an all-in-one music marketing and sales platform for musicians and record labels.
AscribeGMBH in Berlin helps artists and others solidify the ownership history of artwork and physical objects, tracing the work as it's shared around the web.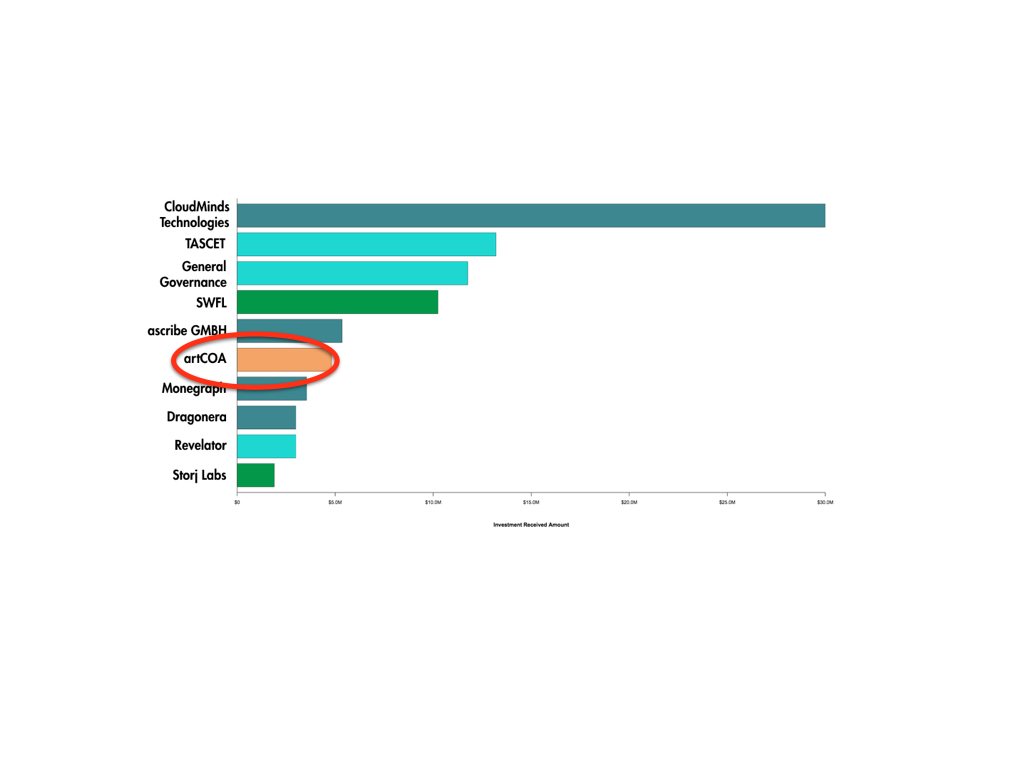 San Francisco-based artCOA creates similar software at the intersection of blockchain and the physical world. Its first commercial application? A secure platform for people buying, selling and trading collectible sneakers.  
To be sure, when you remove finance, the funding numbers are much lower. In the list without finance, top-funded CloudMinds has received just $30 million in venture funding since 2012. Total investment in the top 10 non-finance-related companies is $86.9 million -- a fraction of the total investment in the blockchain space.
Will blockchain transform every industry?
Perhaps not right away. But a Quid news analysis suggests that blockchain has big potential to transform a variety of industries, particularly those that rely heavily on data authentication and verification, including healthcare and digital media.
The above insights are only the beginning of our analysis. To see more about blockchain, email us at hi@quid.com. Existing Quid users, log in here to try out the new Companies dataset. 
Intelligence in your inbox
Sign up for a monthly look into how data and visualization are changing the way we view the world.