Drones are likely at the top of many holiday wish lists. 
Plenty of companies sell consumer-oriented remote control drones, but we were curious to learn what new innovative technologies and services are being created for the drone market in the realms of hardware, software, or accessories. So we looked in Quid, starting with a comprehensive view of more than 600 related companies, and then let the software guide us to some interesting nuggets. 
Each node in the map below represents a company, and the links connecting them represent a similarity of technology, products and services. Quid identifies focus areas among the network of companies and colors them accordingly.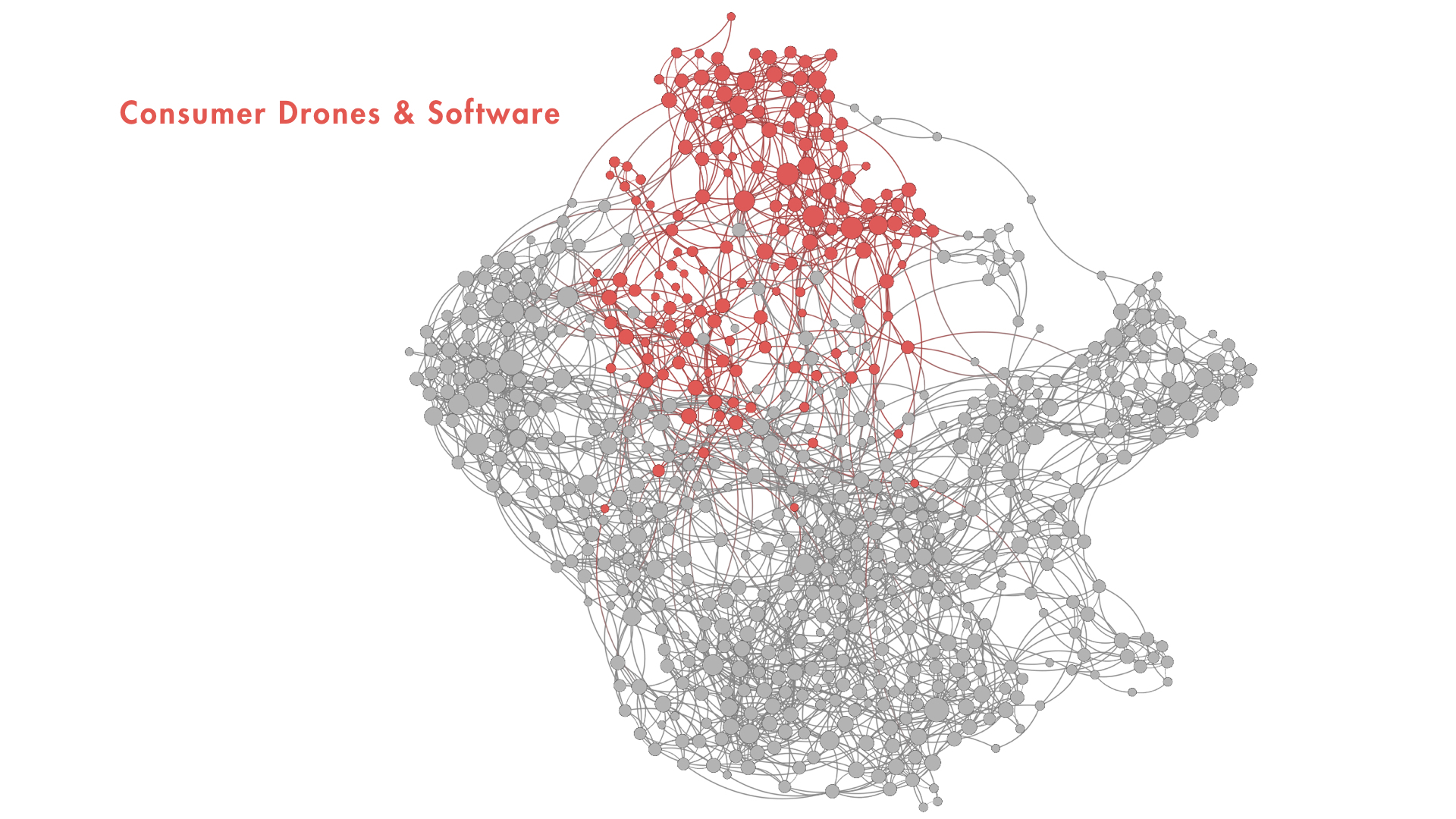 For example, here we see the region of companies focused on consumer drones and software, which will serve as a great starting point for researching holiday gifts.
Isolating this region of the network and applying a more granular theme-extracting algorithm, we were able to see an interesting divide in focus areas tailoring to consumers: Platforms & Apps and Hardware.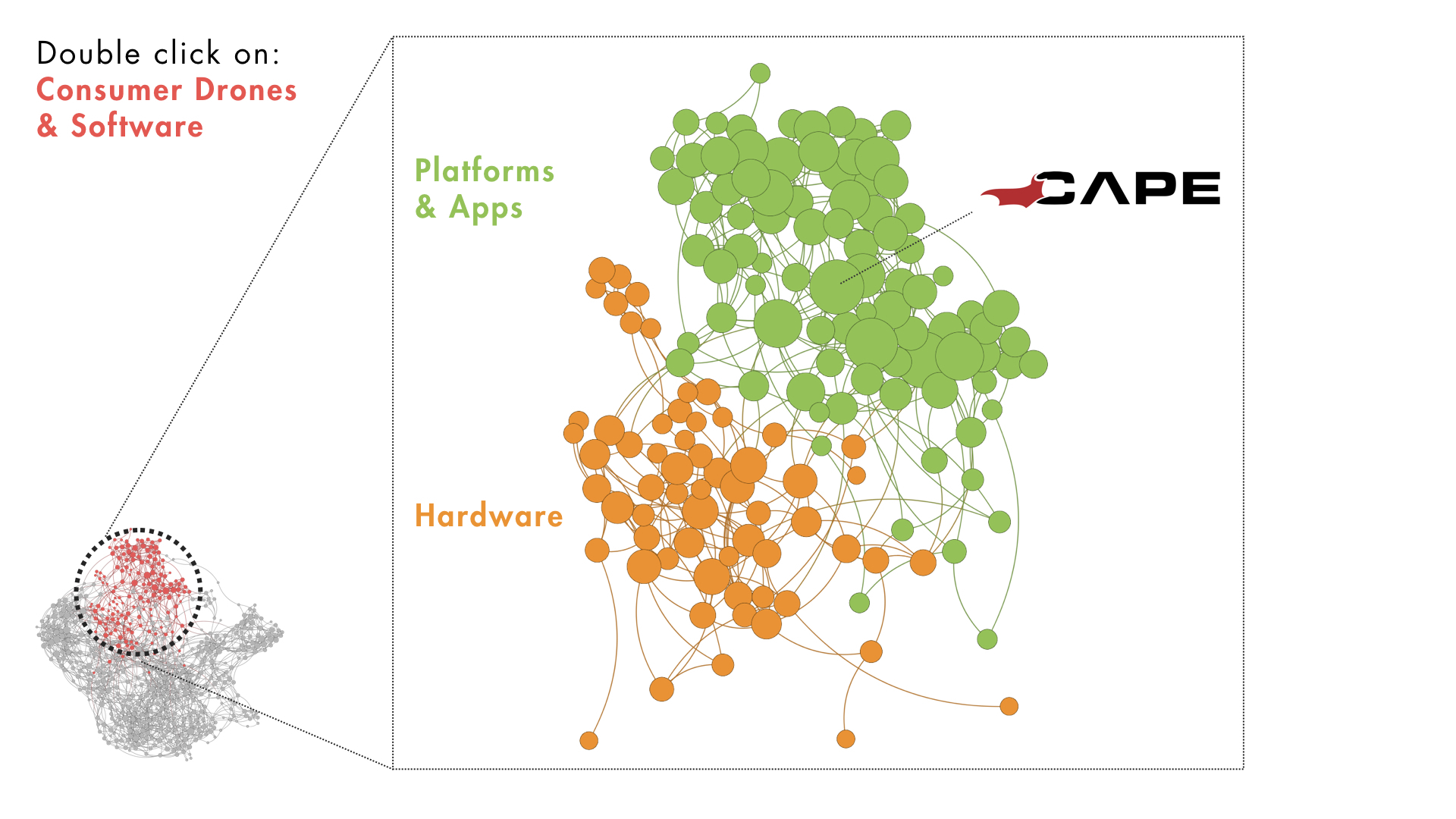 Smack dab in the middle of the Platforms & Apps focus area is a company developing an interesting business model for the winter sport enthusiast. Cape Productions Productions [$10M in funding led by New Enterprise Assoc., Madrona Venture Group and XSeed]  operates drones following you around the mountain and provides high-quality film of your excursion. They've partnered with ski resorts around the country, including Squaw Alpine at Tahoe.
But in Quid, we can see that the drone landscape extends far beyond consumer-focused devices, with drones interacting with everything from industrial consulting to search and rescue.
At the fringe of the Surveying, Inspecting & Advanced Imagery theme we find Skycision, [a recent graduate from Acceleprise] providing a data-driven platform that processes drone-collected aerial imagery. The company's aerial mapping application can map elevation, provide NDVI (normalized difference vegetation index) as an indicator of field health, and make critical field measurements.
In the Reconnaissance region, we find Singapore-based HUS Unmanned Systems [$5M in funding from ACA Investments], whose flagship product Dronebox is based on a grid-independent battery charging and data communication shelter that provides on-demand sensing drones routine inspections in the field. It also offers Hycopter, a hydrogen fuel cell-powered multi-rotor UAV (unmanned aerial vehicle) that makes use of its frame structure to store energy in the form of hydrogen instead of air, eliminating energy storage weight and thus pushing the limits on flight duration.
Bridging the Composites & Alternative Materials and Manufacturing & Maintenance focus areas of our network, Poland-based FlyTech [funded by ARP Venture and SATUS Venture] stands out by implementing solutions in the areas of composite structures, as well as aeronautical and ground control systems. 
Lastly, the Transmitters & Receivers-focused theme promised an opportunity to learn about advances in the communications aspect of UAVs. We quickly came across uAvionix [$5M led by Playground Global], manufacturing automatic dependent surveillance-broadcast (ADS-B) transceivers, receivers, and navigation tools to avoid flight collisions for drones flying in the National Airspace System.
Using the tools and underlying metadata found in a Quid visualization, we can interactively explore a wide net of companies in any technology arena to discover those pushing the boundaries.
Intelligence in your inbox
Sign up for a monthly look into how data and visualization are changing the way we view the world.